ZERO FUCKS GIVEN (Rien à foutre)
(director/writer:Emmanuel Marre and Julie Lecoustre; cinematographer: Olivier Boonjing; editor: Nicolas Rumpl; cast: Adèle Exarchopoulos (Cassandre), Alexandre Perrier (Jean, dad), Mara Tarquin (sister), Jonathon Sawdon (Obnoxious Passenger); Runtime: 110; MPAA Rating: NR; producers; François-Pierre Clavel, Benoît Roland: Wrong Men North/Kidam/RTBF; 2021-France/Belgium-in French with English subtitles)
"What the film does a good job at is showing how empty a flight attendant's working life can be."
Reviewed by Dennis Schwartz

Co-directors and co-writers Emmanuel Marre and Julie Lecoustre are first time feature filmmakers from France. They present a depressing character study probe for a seriocomic drama that has a profane title for shock value but nothing in its dry story is particularly shocking. It tells the story of a not too ambitious 26-year-old flight attendant, Cassandre (Adèle Exarchopoulos, won the Palme d'Or  in "Blue is the Warmest"), and her struggles with a job she's worked at for the last three years, where her bosses only care about profits. She works for little pay and at long hours for a low budget airline, Wings, based in Lanzarote (part of the Canary Islands), an airline that flies throughout Europe. She shares a  condo with flight attendant roommates and for free time either goes clubbing, boozes it up, has quickie affairs with guys she met on Tinder or just lounges by the pool. She's still not over grieving for her recently deceased mom, killed in a car accident.

Most of the cast is made up of non-professional actors who are employed by the airline.

We observe the wasted Cassandre as she's stuck in a rut she can't get out of, who does her duties with a robotic efficiency and finds no enjoyment in work or in the training program, where the airline trains her to hold a smile for thirty seconds or teaches her how to deal with unruly passengers. Also, in a questionable ethic move, Wing forces the flight attendants to sell on the plane perfumes and various retail items. The staff must meet a quota and are regularly checked in an app.

At the film's final act, the flight attendant because of a downshift in the airline's budget is given another assignment but her new role is not yet ready for her and she's forced to return home to Brussels to stay with her burdened dad Jean (Alexandre Perrier) and her uninteresting sister (Mara Tarquin) until further notice. It's a long segment telling us a few things about her family life, but not enough things that made it go on for so long.

We are sympathetic to Cassandre's plight and are not sure what fate awaits her, but the film lacks the energy (like its title tells us) to give us much emotionally to get charged up about.

What the film does a good job at is showing us how empty a flight attendant's working life can be, and that they are at the mercy of all the airline bosses even if the workplace rules seem cruel.

The talented Adèle Exarchopoulos is in every scene and does what she can to get the heavy film off the ground, but could have used more help from a more demanding story.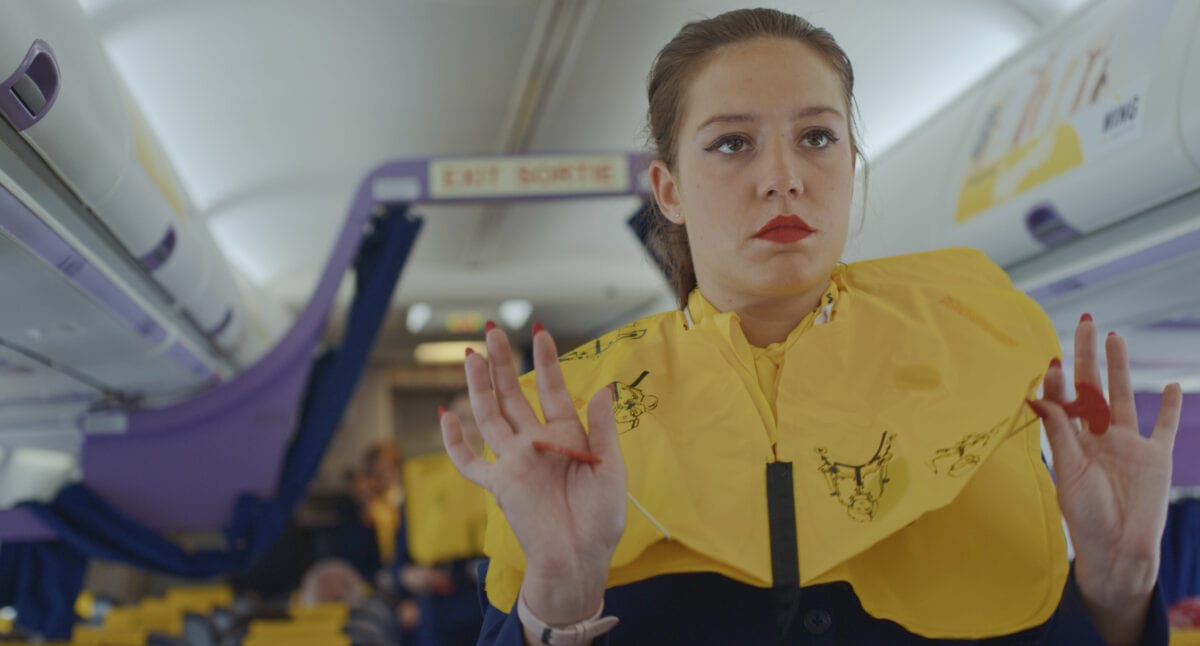 REVIEWED ON 7/22/2021 GRADE: B –