ZAPPA
(director/writer: Alex Winter; cinematographer: Anghel Decca; editor: Mike J. Nichols; music: John Frizzell; cast: David Bowie, Arsenio Hall, Kathie Lee Gifford, Frank Zappa, Steve Vai, Pamela Des Barres, Gail Zappa, Ian Underwood, Bunk Gardner, Mike Keneally, David Harrington; Runtime: 129; MPAA Rating: NR; producers: Jade Allen, Devorah DeVries, John Frizzell, Alex Winter, Ahmet Zappa, Glen Zipper; Magnolia Pictures; 2020)

"The definitive biopic doc long awaited by Zappa fans."
Reviewed by Dennis Schwartz

The definitive biopic doc long awaited by Zappa fans. It celebrates the zany musician, who looked weird in his T-shaped goatee, and died from cancer at age 52 in 1993. It took six years to make this comprehensive film on the gimmicky, groundbreaking, enigmatic, non-conformist, eccentric and, at times, aloof southern California musician Frank Zappa (1940-1993). He was best known as the absurdist leader of the " flower-children" band of the 1960s, the Mothers of Invention, who found the love philosophy of the "flower children" shallow and phony. In his lifetime the prolific musician made over 60 albums and after death another 50 or so were released. The musical biopic was written and directed with love and reverence by Alex Winter ("Showbiz Kids"/"Panama Papers"), the Bill & Ted actor who turned director.

It features digitized videos, photos, audio,  home movies and a ton of collected work from Zappa's private archive. The project was blessed by the Zappa family (his wife Gail died in 2015 and he had four children). Alex was given full access to all of the talented artist's materials. It was filmed a few months before Zappa's death. Much of the stuff had never been seen before, which makes it essential viewing for those who loved the self-taught musician. He was someone you either loved or hated. Though I liked most of his music but not all. It's filmed with a robust dry humor and a sense of urgency for the artist's freedom. It told his life story from his childhood years in the 1950s, as the son of a chemist, to his first realization music was his thing when he dug the album by French composer Edgard Varèse. Then came his introduction to R&B and the blues thanks to Don Van Vilet, the future Captain Beefheart. After framed by the vice squad in Cucamonga, Zappa became a lifelong rebel and never looked back.

The film points out the establishment hated him because he refused to play accepted styles of music or want record hits like all the other musicians.
By the 1970s he changed his ways again and was producing far-out crossover pieces like "Roxy & Elsewhere" and "One Size Fits All," and to his chagrin he put out in 1982 the hit song "Valley Girl" with his 14-year-old daughter Moon. The industry musical chiefs in the 1980s considered him an enemy because it was a time they were more interested in a band's style or looks rather than if their music was good or not. He remained true to his craft and himself, as the perfectionist who did not do drugs but slept with his groupies while living a quiet suburban life with his family. He was adored and honored by the Czech Republic and President Havel for his advocacy of freedom and independent thought when they pulled away from the Soviet occupation, and was beloved by most of the great musicians in the world while being an inspiration to many up-and-coming innovative rockers. The film notes that the debatable genius' various styles of music recorded and zest for life lives on long after his death.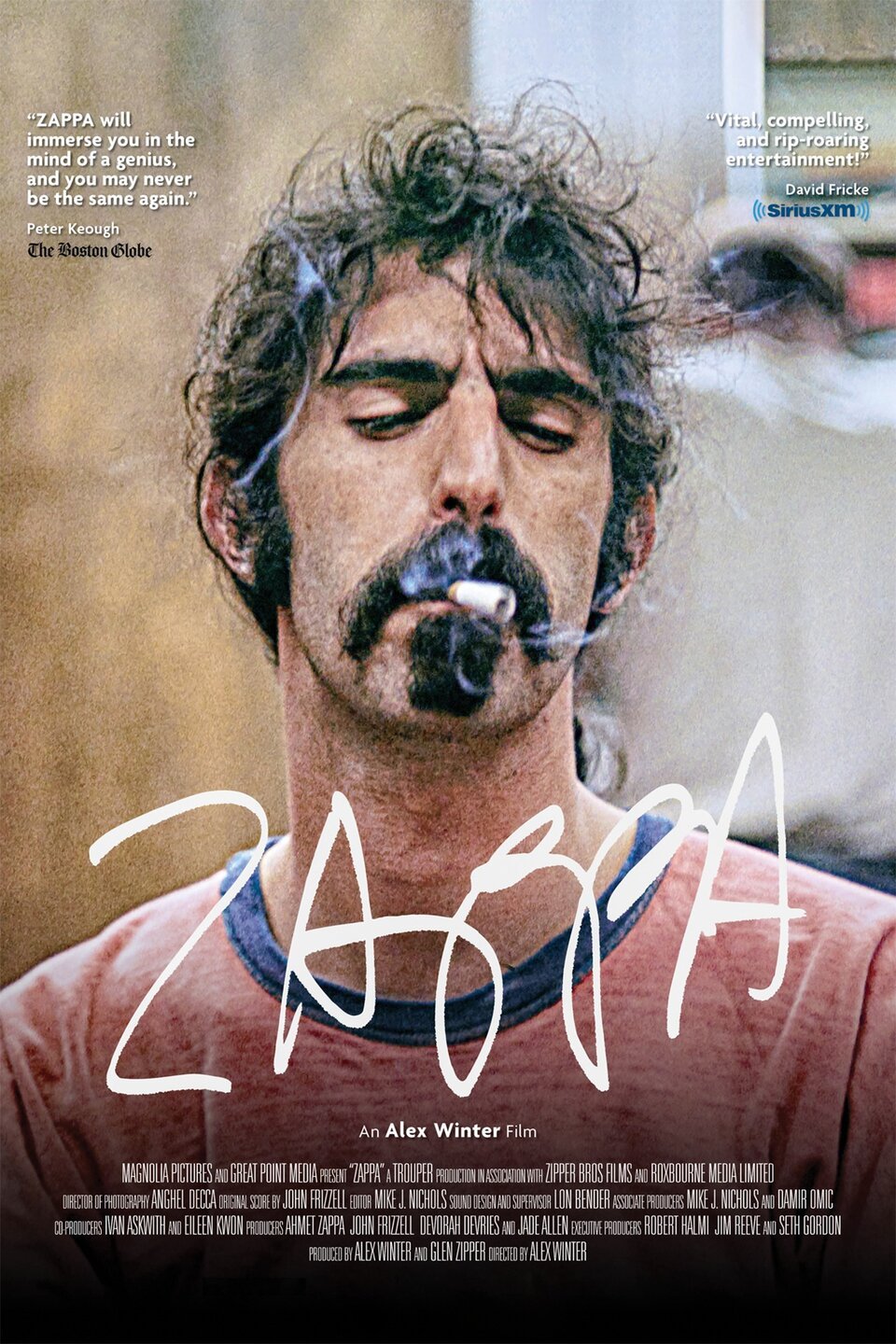 REVIEWED ON 12/15/2020 GRADE: B+