YOU HURT MY FEELINGS
(director/writer: Nicole Holofcener; cinematographer: Jeffrey Waldron; editor: Alisa Lepselter; music: Michael Andrews; cast: David Cross (Jonathan), Amber Tamblyn (Carolyn), Julia Louis-Dreyfus (Beth), Tobias Menzies (Don), Michaela Watkins (Sarah), Owen Teague (Eliot), Arian Moayed (Mark), Jeannie Berlin (Georgia), Zach Cherry (Jim), Sarah Steele (Frankie), LaTanya Richardson Jackson (Sylvia); Runtime: 93; MPAA Rating: NR; producers: Anthony Bregman/Stefanie Azpiazu; A24; 2023)
"Delivers with a light touch a well-observed drama."
Reviewed by Dennis Schwartz

Nicole Holofcener ("Enough Said"/"Friends With Money") is writer/director of this chic comedy on privileged Manhattan dwellers, that delivers with a light touch a well-observed drama.

Beth (Julia Louis-Dreyfus) is a published writer, whose memoir had a modest success. She has for the last two-years been working on a novel, but is concerned with the slow response about it from her editor (LaTanya Richardson Jackson). Her aging and vain husband, Don (Tobias Menzies), is a therapist considering an eye lift and wondering if he's starting to lose it professionally.


Don is openly supportive of Beth's new book. But with her sister Sarah (Michaela Watkins), Beth overhears Don tell Sarah's actor husband, Mark (Arian Moayed), that he thinks the novel is not good and that the many drafts has not improved it.

Beth doesn't let Don know what she heard, but turns frigid toward him.

The marital woes lead to a number of amusing scenes. In one of Don's therapy sessions, an unhappy couple played with fervor by the real-life spouses David Cross and Amber Tamblyn, is a hoot as they go off complaining about the years and money they've spent on therapy without making any improvements over their hostility issues. There's also funny moments in watching Sarah's demanding customers in her decorator business and how she feels low over it. Then there's Mark, who feels great when he's cast in a play but that joy goes away when he's fired.


The couple's attention turns to the unhappiness of their aspiring young adult son, Eliot (Owen Teague), who has been working on his first play since college. Meanwhile, he works as a manager of a weed store. When he's dumped by his girlfriend, Eliot blames his failures on his mother for never telling him what she truly thinks of his writing ability.


Also funny, in this slight but appealing film, are scenes with Georgia (Jeannie Berlin), Beth's cranky mother. Her scene in which Beth and Sarah volunteer to give used clothing to the homeless accompanied by Sarah's blunt candor in her comments are amusing.

It's the wry performance by Julia Louis-Dreyfus that holds things together.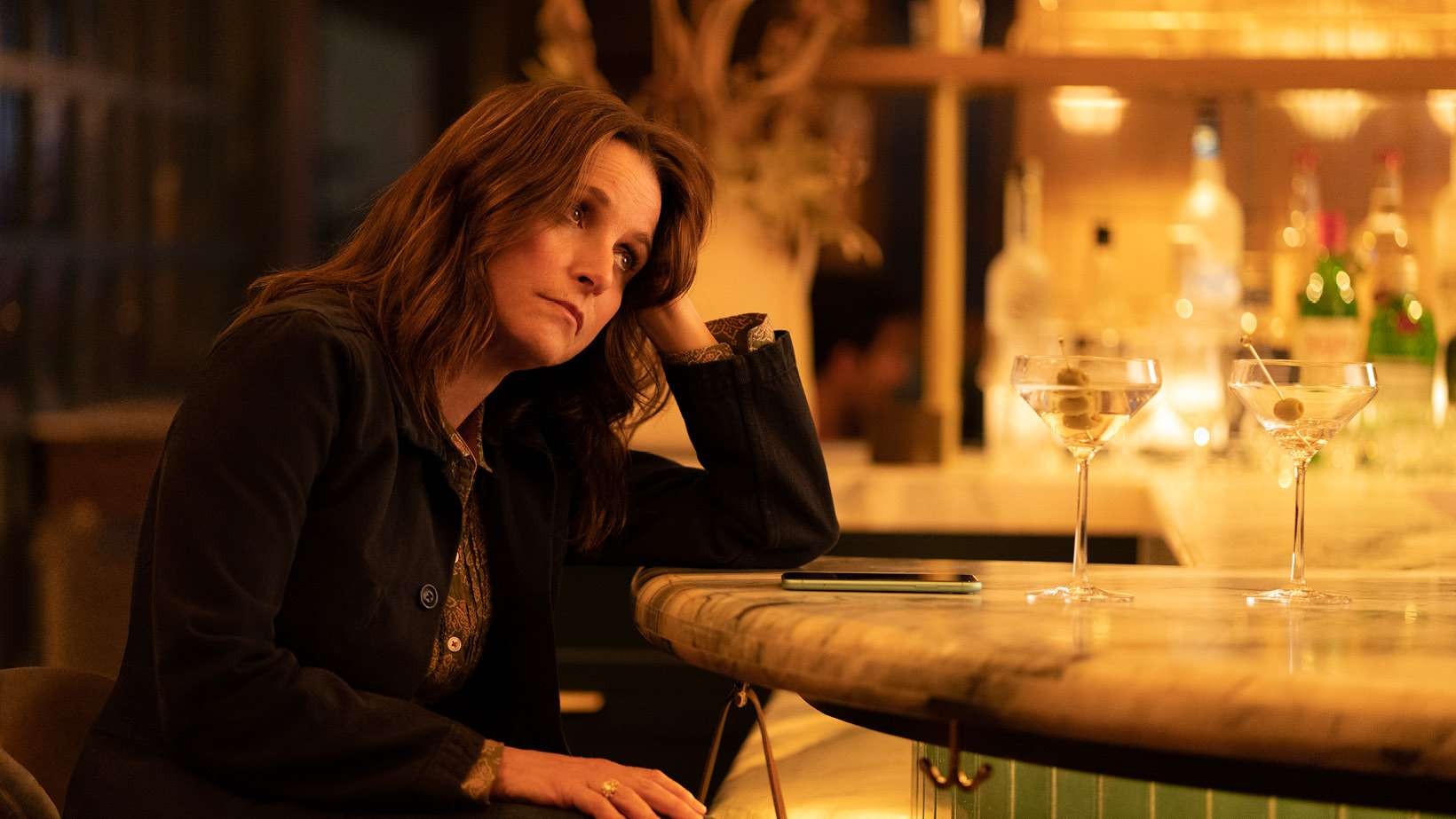 REVIEWED ON 2/10/2023 GRADE: B