YESTERDAY'S ENEMY
(director:Val Guest; screenwriter: Peter R. Newman; cinematographer: Arthur Grant; editors: Alfred Cox/James Needs; cast: Stanley Baker (Captain Alan Langford ), Guy Rolfe (Padre), Leo McKern (Max), Gordon Jackson (Sgt. McKenzie), David Oxley (Doctor), Richard Pasco (2nd Lt. Hastings), Philip Ahn (Major Yamazaki); Runtime: 95; MPAA Rating: NR; producer; Michael Carreras:  Sony/Columbia; 1959-B/W-UK-in English, Burmese, Japanese-with English subtitles)
"Intense but grim WWII drama."
Reviewed by Dennis Schwartz
 
The talented Brit filmmaker Val Guest ("Jigsaw"/"Hell is a City") does a good job handling the nuances of this intense but grim WWII drama (adding to the grimness is that it had no music & was shot in B/W). It was called in England "the most controversial…ever filmed, because it said the Brits were not always honorable in combat." It's based on the television play by Peter R. Newman (though some film authorities claim it's an original story). The writer's theme is that war is an uncivilized experience that can cause actions that are inhumane that one might commit during war but not in civilian life.

It tells of a brigade cut off from their division in the Burmese Jungle in 1942. They locate a small force of Japanese staying in a remote village. The Brits defeat them and uncover on the killed Japanese commander a top-secret document. The Brits start executing the villagers when they refuse to explain the paper's meaning. A protest is lodged by the brigade's chaplain (Guy Rolfe) and an embedded war reporter (Leo McKern). Nevertheless the Brits get the info and it offers intel of a Japanese invasion, but they are captured by the enemy before they can return to home base with the info (their radio was destroyed). In the prison camp, they suffer the same ordeal they put the villagers through., on the orders of the commander, the Japanese Major Yamazaki (Philip Ahn).

Stanley Baker plays the brigade leader, Captain Alan Langford, who willingly commits war crimes for his mission's success. Though a hard-ass and not popular with the men, he will take risks to save his troops. Gordon Jackson plays Langford's loyal Sgt. McKenzie, who goes along with the war crime order.

The Brit company Hammer had a deal with the American studio Columbia to be partners in making the film, with Hammer actually making it. Hammer signed onto co-produce five films per year for Columbia over a period of five years.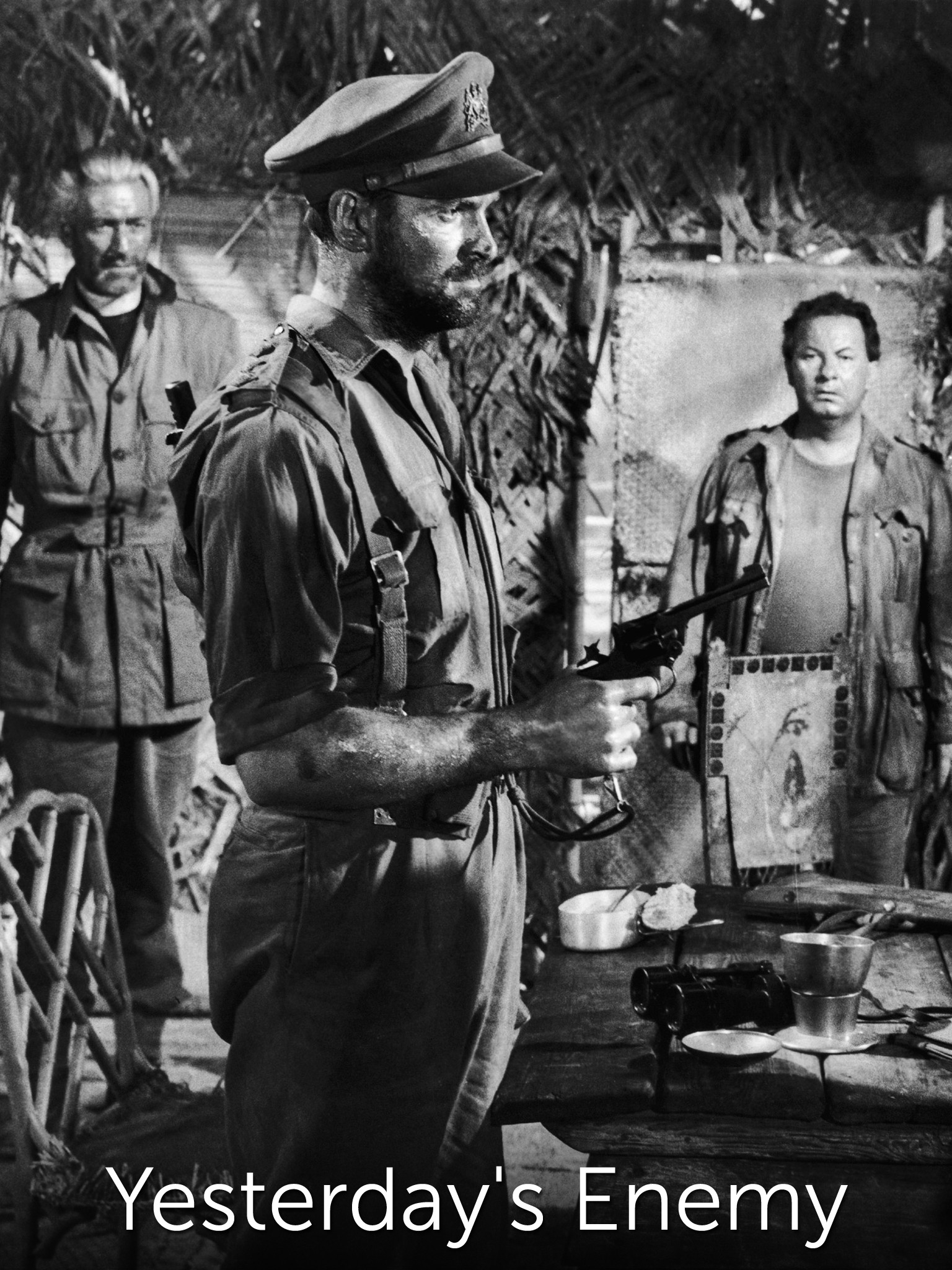 REVIEWED ON 1/20/2022 GRADE: B