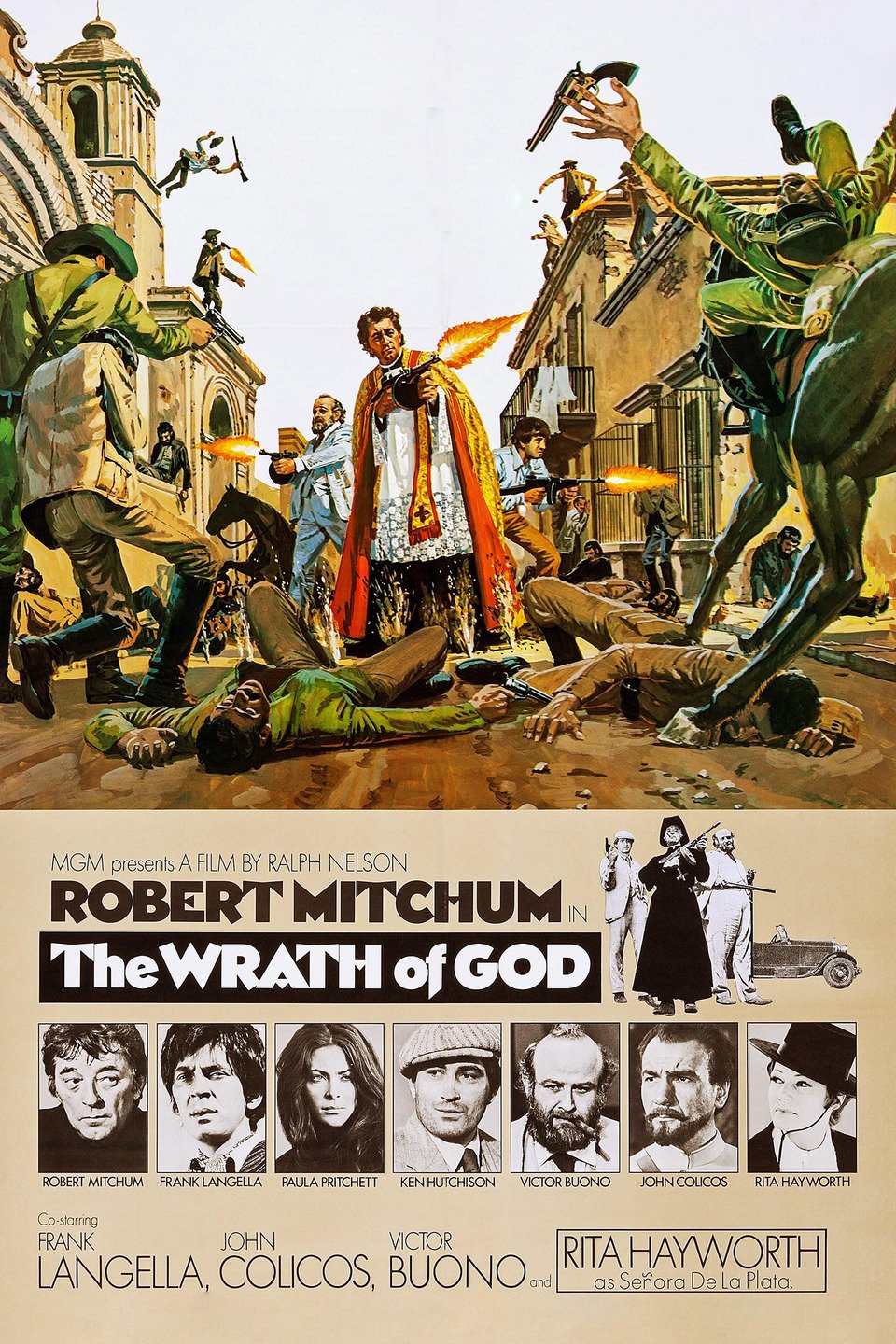 THE WRATH OF GOD
(director/writer: Ralph Nelson; screenwriter: based on the novel by James Graham; cinematographer: Alex Phillips; editors: Richard Bracken/J. Terry Williams/Albert P. Wilson; music: Lalo Schifrin; cast: Robert Mitchum (Van Horne), Ken Hutchinson (Emmet Keogh), Victor Buono (Jennings), John Colicos (Colonel Santilla), Frank Langella (Tomas De La Plata), Rita Hayward (Senora De La Plata), Paula Pritchett (Chela), José Luis Parades (Pablito), Victor Eberg (Luis Delgado); Runtime: 111; MPAA Rating: PG-13; producer: Ralph Nelson/Peter Katz; MGM; 1972)
---
"It slowly builds to an action-packed conclusion that saves it from the doldrums."
Reviewed by Dennis Schwartz
This was the 53-year-old Rita Hayworth's last film, as she was battlingthe effects of Alzheimer's disease and could no longer memorize her lines. It was based onthe book by James Graham (a pseudonym for Jack Higgins) and directed and written in a workmanlike by-the-numbers way by Ralph Nelson ("Lilies of the Field"/"Father Goose"/"Soldier Blue"). Meant as a satirical tongue-in-cheek western that takes pot shots at the Catholic Church, revolutionists, gun-runners, despots, the frightened masses and the upper-class rulers. The satire is awkward, muddled and weak, which leaves the film with a flat feeling. It slowly builds to an action-packed conclusion that saves it from the doldrums. It's shot in Mexico, but depicts an unnamed Central American country in the 1920s in the midst of a revolution.
Defrocked gun-toting American priest Van Horne (Robert Mitchum), who carries in his luggage a machine gun, a crucifix with a hidden knife, a gun concealed inside his Bible and $53,000 he stole from churches in his travels around the world, rescues from drunken thugs the IRA hit man Emmet Keogh (Ken Hutchinson), who is on the run in Central America. The thugs want to execute him for being an unwitting gun-runner, who thought he was carrying bootleg whiskey. And also for his rescue of a pretty mute Aymara Indian named Chela (Paula Pritchett), they wanted to gang-rape. Keogh was hired through trickery by the unscrupulous cashiered soldier Englishman Jennings (Victor Buono) to deliver in a jalopy supposedly the cases of bootleg liquor. After the rescue Van Horne, Keogh and Chela flee together, but they are captured by the army'sColonel Santilla (John Colicos). In the jail cell is Jennings, who is identified as the boss-man gun-runner. The Colonel makes a deal with the three foreigners that he will spare their lives if they kill a counter-revolutionary wealthy despot, Tomas De La Plata (Frank Langella), who with his private army runs a town and hates the church for doing nothing when revolutionists killed his father, raped his mother (Rita Hayward) and after gang-raping his sister she committed suicide out of shame. How the misfit trio come together to take down the powerful despot, brings the cheeky pic back into typical western territory.
It's a forgettable film that easy to forget, but the wonderful Mitchum is still able to rise above the mediocre screenplay and give this noisy adventure tale something to get noisy about.
REVIEWED ON 10/20/2012 GRADE: C+   https://dennisschwartzreviews.com/