WIND RIVER
(director/writer: Taylor Sheridan; cinematographer: Ben Richardson; editor: Gary Roach; music: Nick Cave/Warren Ellis; cast: Jeremy Renner (Cory Lambert), Elizabeth Olsen (Jane Banner), Gil Birmingham (Martin), Althea Sam (Annie), Teo Briones (Casey, Cory's son), Jon Bernthal (Matt), Graham Greene (Ben), Julia Jones (Wilma), Tokala Clifford (Sam Littlefeather), Kelsey Asbille (Natalie), Eric Lange (Dr. Whitehurst), James Jordan (Pete Mickens), Hugh Dillon (Curtis), Martin Sensmeier (Chip); Runtime: 111; MPAA Rating: R; producers: Matthew George, Basil Iwanyk, Elizabeth Bell, Peter Berg, Wayne Rogers; The Weinstein Company; 2017)
"An intriguing murder mystery set on a Native American reservation in wintry Wyoming."
Reviewed by Dennis Schwartz

An intriguing murder mystery set on a Native American reservation in wintry Wyoming. The brilliant screenwriter of Hell or High Water and Sicario, Taylor Sheridan, makes his directing film debut an auspicious one in this bleak but powerful American frontier film on modern Indian life on the reservation. It's written with a fierce sense of reality and place, and is skilfully directed to allow its fully-developed characters to walk us through the desolation, poverty and violence found in such an isolated area as large as Rhode Island, where we are told the marginalized and the Native Americans live with only "silence and snow." This intelligent pro-Indian story is with sharp insights into dealing with Indian issues of survival, grief and misery. It's also a well-deserved star-turn by Jeremy Renner, who inhabits his wise-man wilderness character with competence and passion.

Cory Lambert (Jeremy Renner) is the U.S. Fish & Wildlife agent who while tracking a mountain lion predator finds the murdered frozen body of the Indian teenager Natalie (Kelsey Asbille) in the snowy wilderness of Wyoming's Wind River Indian Reservation. Cory, who is married to an Indian woman (Julia Jones), is still grieving his own teenage daughter who was murdered three years ago, and makes up his mind to help catch the guilty parties who raped and caused Natalie's murder. The Indian tribal police chief Ben (Graham Greene) calls in the FBI to take charge, and they send a female rookie agent, Jane Banner (Elizabeth Olsen), who is not from the area. The agent must investigate in harsh winter conditions and in unfamiliar territory. She wisely recognizes her limitations and unites with Cory, as they visit the vic's grieving father (Gil Birmingham) and then her good-for-nothing hostile trouble-making brother Chip (Martin Sensmeier), who lives with some bad-tempered Indian drug pushing jailbirds in a run-down mobile home in the wilderness. When the flustered FBI Agent asks for back up, she is told by Ben 'this is the land of you're on your own.'

The investigation further leads the local cops, Ben, the FBI agent and Cory to the wilderness retreat of a private security force used by an oil-company to police the land. When we get there, the mystery unfolds and the action becomes bloody. It, unfortunately, takes us one scene too far, as it becomes over-written in shooting for an audience pleasing revenge closing and thereby tosses over the artistic subtlety it had throughout to become pulp fodder.

It should be noted that Sheridan lived on an Indian reservation to do research for his screenplay. Also, in the end credits, we sadly learn that missing Indian women on the reservation aren't reported or tracked.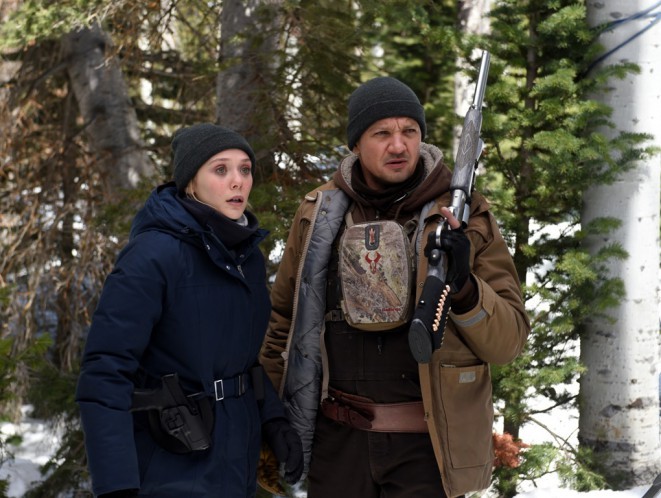 REVIEWED ON 8/24/2017 GRADE: B+