WHITE NOISE
(director/writer: Noah Baumbach; screenwriter: based on the book by Don DeLillo; cinematographer: Lol Crawley; editor: Matthew Hannam; music: Danny Elfman; cast: Adam Driver (Jack Gladney), Greta Gerwig (Babbette), Don Cheadle (Murray Siskind), Jodie Turner-Smith (Winnie Richards), Bill Camp (Professor), Raffey Cassidy (Denise), Sam Nivola (Heinrich), May Nivola (Steffie), Sam Gold (Professor), Francis Jue (Dr. Lu), Barbara Sukowa (Sister Hermann Marie), Lars Eidinger (Arlo Shell); Runtime: 136; MPAA Rating: R; producers: Noah Baumbach/David Heyman/Uri Singer; Netflix; 2022)
"Serves as an allegory of American modern-day life."
Reviewed by Dennis Schwartz
Noah Baumbach ("Marriage Story"/"De Palma") is the deadpan comically inclined writer-director of this unconventional free-swinging gender mashup, a satirical drama/mystery story and raucous campus comedy that's adapted from Don DeLillo's 1985 acclaimed novel, a tough one to film because its satire is so dense and its ideas are so unwieldly. It serves as an allegory of American modern-day life, as it rails against consumerism in particular, as well as religion and death issues used as inoculations against things going completely wrong in society, plus climate change and medical drugs.

 The world Baumbach sees is going through a massive social upheaval as a result of the pandemic. Its apocalyptic nature brings about a strange humor and an upsetting way of looking at things.

Its "airborne toxic event," an eco tragedy, is what fuels its doomsday plot with a toxic cloud. The environmental disaster is caused by a bourbon drinking truck driver transporting gasoline that crashes his truck into a train carrying volatile toxic waste, that causes this horrendous explosion.

The story is set in the 1980s, and is divided by loosely connected segments which veer weirdly between reality and fantasy.

The Midwestern middle-aged paunchy college professor Jack Gladney (Adam Driver) made a rep as a Hitler expert without being fluent in German. The chatty professor lives with his chatty distracted fourth wife, Babette (Greta Gerwig), and have many children and stepchildren. The family has health issues over chemical spills, and the wife is addicted to Dylar, a fictitious pill with dangerous side effects. The motormouth couple are meant to be sympathetic figures that are not easy to be sympathetic to.

Jack's friend and colleague, Murray Siskind (Don Cheadle), is a lover of conspiracy theories, and uses Elvis in a similar way Jack does Hitler. They both deconstruct the iconography of their subjects without touching on any of their tragic contexts.

In this postmodern period, it seems for every fact or opinion, there's an opposite one that rings just as true and what is heard seems like 'white noise' that cancels everything out.

All this chic talk between the academics leads to a stylishly choreographed finale, as an LCD Soundsystem song blasts through in one of America's large supermarkets (used as an example of America's materialist universe), that's certainly splashy and distracting and mesmerizing.

If you're in the market for a cynical view on how capitalism operates, there's much to like in Baumbach's entertaining black comedy that delivers some of the goods lifted from the source book and gives you something to ponder if you can find the time and right place to meditate. 

It played at the Venice Film Festival.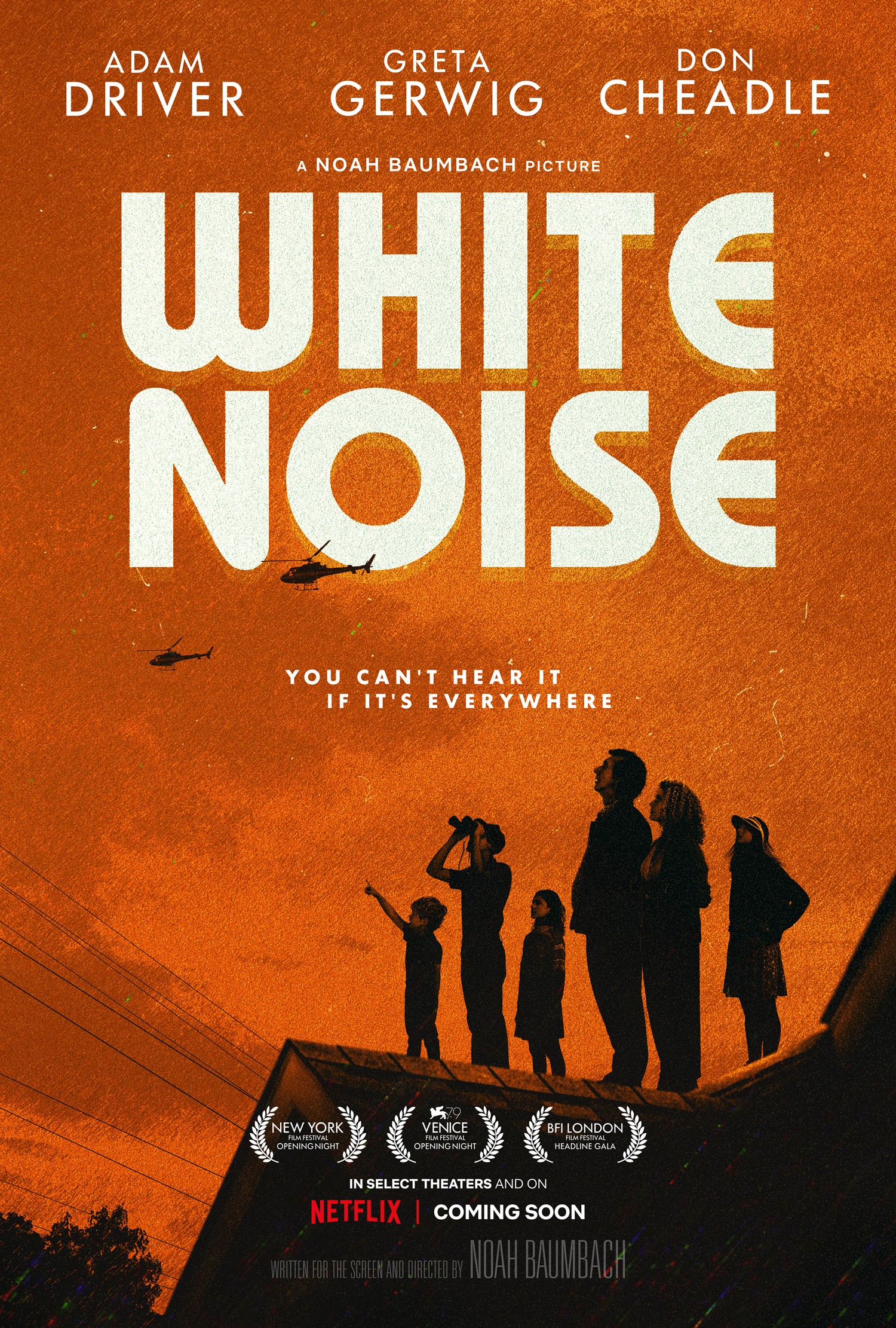 REVIEWED ON 1/4/2023  GRADE: B