WHITE LINE FEVER
director/writer:  Jonathan Kaplan; screenwriter: Ken Friedman; cinematographer: Fred Koenekamp; editor: O Nicholas Brown; music: David Nichtern; cast: Jan-Michael Vincent(Carrol Jo Hummer), Kay Lenz (Jerri Hummer), Slim Pickens (Duane Haller), Leigh French (Lucy), Dick Miller (Birdie Corman), LQ Jones (Buck Wessle), Don Porter (Cutler), Sam Laws (Pops Dinwiddie), Martin Kove (Clem), Ron Nix (Deputy), R. G. Armstrong (Prosecutor); Runtime: 85; MPAA Rating:NR; producer; John Kemeny: Columbia Pictures; 1975)
"Hard to believe but exciting thriller about racketeers corrupting the trucking industry."
Reviewed by Dennis Schwartz

Jonathan Kaplan ("Mr. Billion"/"Over The Edge") is writer-director of this hard to believe but exciting thriller about racketeers corrupting the trucking industry, as an independent trucker takes them on by himself. It's co-written with a wooden plot by Ken Friedman, though filled with good action sequences and the constant noise of the big rigs.

The handsome and clean-cut Carrol Jo Hummer (Jan-Michael Vincent) comes home to Arizona after serving as a pilot in the Air Force, marries his factory worker nice girl sweet-heart Jerri (Kay Lenz) and buys on credit a truck to become an independent trucker and be like his late dad. His first job is with his father's former business partner, the sleazy Duane Haller (Slim Pickens), who to survive in this cutthroat business partners with ruthless smugglers. Things get dirty fast when the kid refuses to take contraband on his truck load and he gets stopped on the road by a crooked deputy (Ron Nix) he knows, who nevertheless chains him to the truck and three thugs who work for the racketeer boss Buck (LQ Jones) work him over.

The honest, hard-working good guy is undaunted, and after recovering at home from broken ribs decides to go back on the road, but finds he's been blacklisted. Thereby he starts a truckers' war by organizing his fellow independent drivers to fight back.

After threatened and fired upon, framed on a murder charge, harassed with rattlers planted in his truck, survives a fire, and that his pregnant wife loses the child while attacked, the glutton for punishment finds that things improve when some of the crooks get punished and his trucker friends organize a crippling state-wide strike.

Despite his small victory, the big bosses remain on the top and are still running things, as he struggles to survive economically and make his marriage work. The final shot has him coming out of the hospital in a wheel-chair to the cheers of throngs of his trucker cohorts. His smile indicates he might have won the battle for now, as the film ends on this cautionary ambiguous note.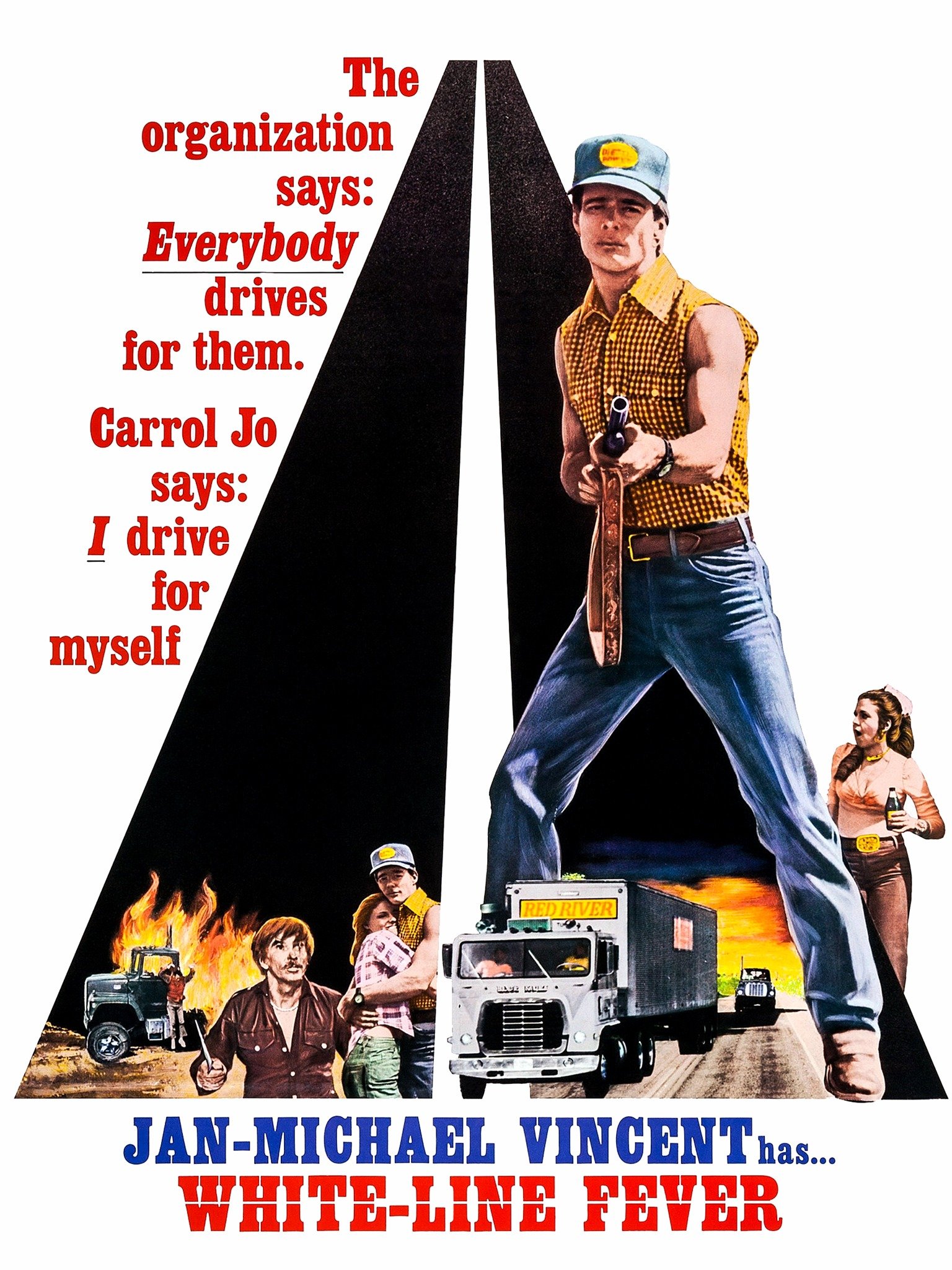 REVIEWED ON 6/25/2021 GRADE: C+