WEST SIDE STORY
(director/writer: Steven Spielberg; screenwriter: Tony Kushner, based on the stage play conceived, directed and choreographed by Jerome Robbins, with book by Arthur Laurents, music by Leonard Bernstein, lyrics by Stephen Sondheim; cinematographer: Janusz Kaminski; editors: Michael Kahn, Sarah Broshar; music:Leonard Bernstein; cast: Ansel Elgort (Tony), Rachel Zegler (Maria), Ariana DeBose (Anita), David Alvarez (Bernardo), Mike Faist (Riff), Brian d'Arcy James (Officer Krupke), Corey Stoll (Lt. Schrank), Ben Cook (Mouthpiece), Josh Andrés Rivera (Chino), Rita Moreno (Valentina), Ana Isabelle (Rosalia), Iris Menas (Anybodys), Kyle Allen (Jet), Maddie Ziegler (Velma); Runtime: 156; MPAA Rating: PG-13; producers; Kristie Macosko Krieger, Kevin McCollum, Steven Spielberg: 20th Century Studios; 2021)
"It's a classic film that still sings to America again in its new version."
Reviewed by Dennis Schwartz

Director-writer Steven Spielberg("Ready Player One"/"The Post"), his first musical, and his regular co-writer Tony Kushner, offer a stirring re-imagining of "West Side Story" from the 1957 groundbreaking musical stage version and the 1961 film version directed by the great Robert Wise (winner of Best Picture). The Spielberg version appears to be fresh and energetic, and holds up really well with the original. It explores forbidden love and the racial hatred between the Manhattan gangs of the white Jets and the Puerto Rican Sharks.

Though I never thought of it as more than entertainment, a pop culture thing that has little to say about real racial hatred other than offering a superficial look at gangs, racial hatred and at class-differences. It at least tries to say something real and meaningful, and its upbeat music alone might attract you to the film.

The story is an update to Shakespeare's Romeo and Juliet, where instead of a class-war feud between the Capulets and Montagues of Romeo and Juliet, it's a fight over turf between whites being threatened by a larger Puerto Rican community taking over their spots as they move in with their large groups. With the gangs representing each ethnic group, they aim to protect their own kind.

Riff (Mike Faist) is the half-crazed leader of the Jets. His friend is the parolee Tony (Ansel Elgort, good voice but an unconvincing actor), once a tough Jet leader who now lives in a dumpy basement apartment while trying to stay out of trouble by working a low-paying legit job.

The Puerto Rican Sharks are led by the quick-tempered Bernardo (David Alvarez), an aspiring boxer. The fiery girlfriend of Bernardo's is Anita (Ariana DeBose)–playing the role Rita Moreno had when she became a star. Bernardo's teenage high school student sister Maria (Rachel Zegler, superb as both a singer & actress) meets Tony at a school dance, and they enter into a forbidden romance (which shakes up both gangs and leads to the highlight rumble scene).

The brilliant original choreography by Jerome Robbins is missed, as the dance numbers here by the talented Justin Peck are good but seem more pedestrian. But the amazing score by Leonard Bernstein with the virtuoso lyrics by Stephen Sondheim comes over as magnificent: from such great numbers as "Somewhere" to "America" to "Tonight" to "One Hand, One Heart," set at the Cloisters museum. The orchestra music is conducted by Gustavo Dudamel.

The 90-year-old Rita Moreno plays a new film character named Valentina, who counsels both hot-head gang leaders to keep cool and appears interesting enough in a scene with DeBose – playing the role she made Rita famous back in the day.

There's one great scene after another. In one of those scenes Maria sings "I Feel Pretty" while she's at her after-school job cleaning a department store display..

You don't have to adhere completely to what it's about to either love it or at least like it. It's a classic film that still sings to America again in its new version, a great one by Spielberg.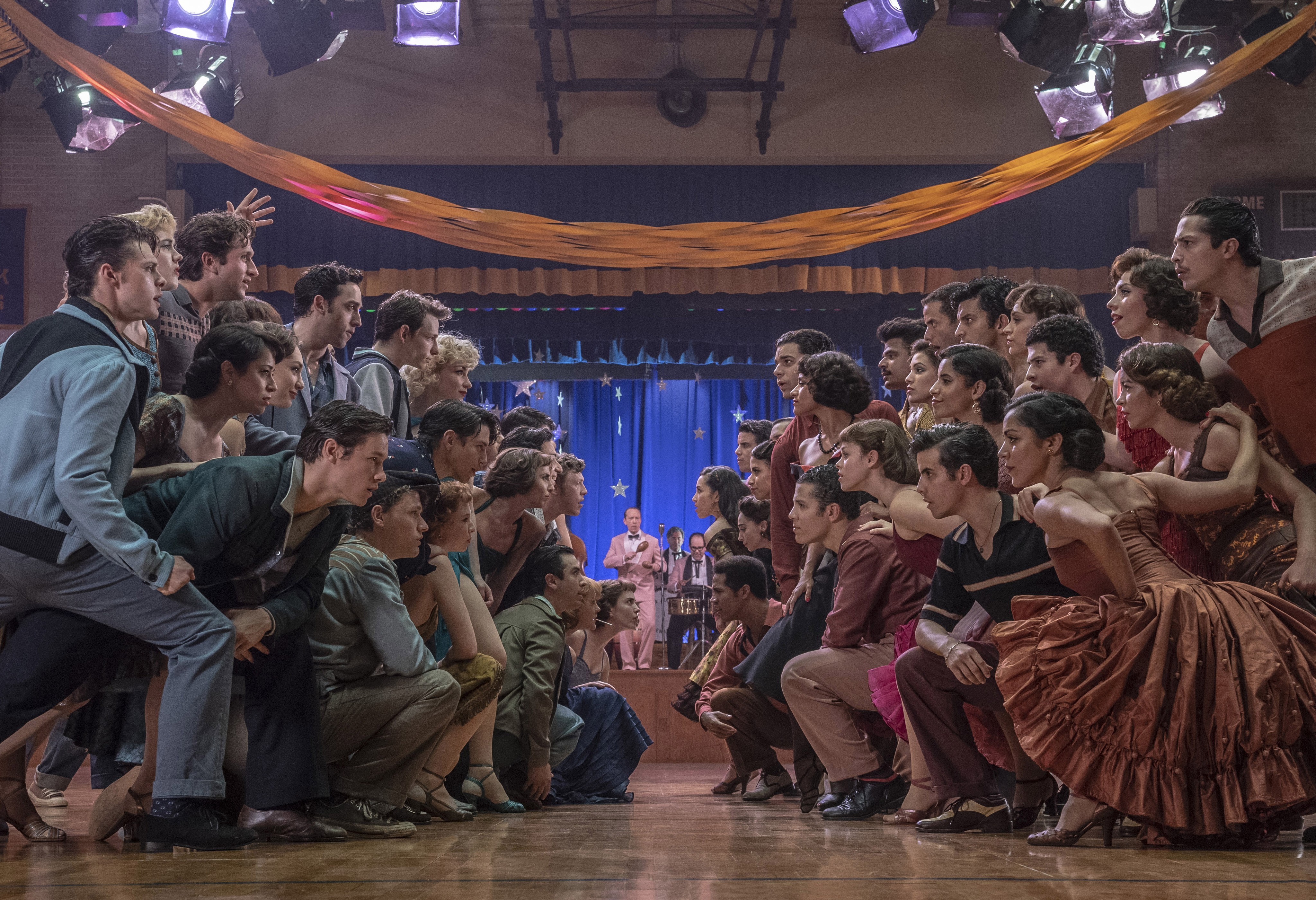 REVIEWED ON 12/4/2021 GRADE: A-