WE HAVE A GHOST
(director/writer: Christopher Landom; screenwriter: based on the short story "Ernest" by Geoff Manaugh; cinematographer: Marc Spicer; editor: Ben Baudhnin; music: Bear McCreary; cast: Jahi Winston (Keith Presley), David Harbour (Ernest), Anthony Mackie (Frank Presley), Isabella Russo (Joy Yoshino), Tig Notaro (Dr Leslie Monroe), Erica Ash (Melanie Presley), Niles Fitch (Fulton Presley), Steve Coulter (Deputy Director Arnold Schipley), Tom Bower (Ernest Scheller), Jennifer Coolidge (Judy Romano), Faith Ford (Barbara Mangold, realtor); Runtime: 126; MPAA Rating: PG-13; producers: Marty Bowen, Dan Halsted, Nathan Miller; Netflix; 2023)
"Not much here to see."
Reviewed by Dennis Schwartz

Christopher Landon ("Happy Death Day"/"Freaky"), the son of the actor Michael Landon, is the director and writer. His kid-friendly comedy ghost story is at best only mildly amusing. It's based on the short story "Ernest" by Geoff Manaugh.

Frank Presley (Anthony Mackie) and his wife Melanie (Erica Ash) and their two teenage sons, the younger one Keith (Jahi Winston) and Fulton (Niles Fitch), move into a big house in the suburbs they bought that was inexpensive because it was so in need of repairs. When Keith spots a friendly mute ghost in the attic, he names him Ernest (David Harbour) and puts him on video. The video goes viral.


The house becomes the site of hordes of curiosity seekers.

The family all react differently to the ghost: the lonely Keith views Ernest as a friend, dad wants to get rich by exploiting the ghost by selling merchandise of him, mom is frustrated by the whole thing, while Fulton wants to use it to meet girls who come to his house to meet Ernest.

The TV ghost hunter Judy Romano (Jennifer Coolidge) comes over to communicate with the ghost, while Keith and Joy Yoshino (Isabella Russo), the teen girl next door, go on the road with Ernest to find his identity. At the same time, the C.I.A.-connected paranormal researcher,  Dr Leslie Monroe (Tig Notarowants), wants to experiment on Ernest on behalf of the government.

Not much here to see. There's nothing compelling about this silly ghost story that would make me want to see it.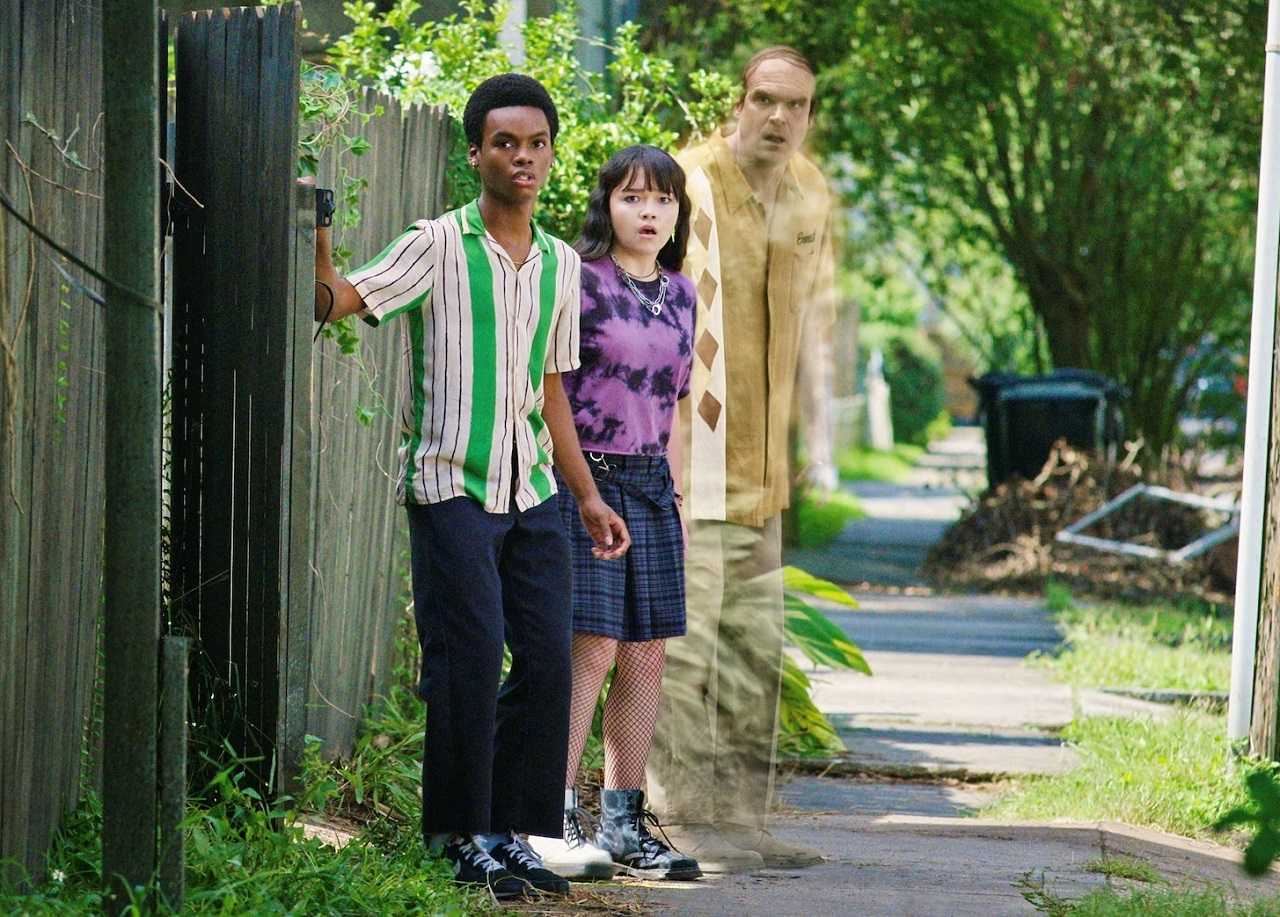 REVIEWED ON 3/17/2023  GRADE: C