WARNING SHOT
(director: Buzz Kulik; screenwriters: Mann Rubin/based on the novel by Whit Masterson "711-Officer Needs Help"; cinematographer: Joseph Biroc; editor: Archie Marshek; music: Jerry Goldsmith; cast: David Janssen(Sgt. Tom Valens), Ed Begley (Capt. Klodin), Keenan Wynn (Sgt. Musso), Sam Wanamaker (Frank Sanderman), Alice Willow (Lillian Gish), Eleanor Parker (Mrs. Doris Ruston), Walter Pidgeon (Orville Ames), Stefanie Powers (Liz Thayer), Walt Cody (George Grizzard), George Sanders (Calvin York), Paul Knowland (Steve Allen), Joan Collins (Joanie Valens), John Garfield Jr. (Police Surgeon), Brian Dunne (Philip 'Rusty' Ruston), Donald Curtis (Dr. James Ruston); Runtime: 100; MPAA Rating: NR; producer; Buzz Kulik: Paramount; 1967)
"I love films that end in L.A. pet cemeteries."
Reviewed by Dennis Schwartz

Longtime TV director Buzz Kulik ("Shamus"/"Villa Rides") tries the movies to direct for a change and comes up with this nifty noir crime film that looks more like a TV program than a movie, but it's good TV programming. The movie is about excessive police force effecting the community, a theme that still seems relevant today. It's scripted by Mann Rubin and based on the novel "711-Officer Needs Help" by Whit Masterson (Bob Wade & William Miller co-authored the crime novel under the pseudonym of Whit Masterson). The film's star, David Janssen, was in the very popular TV show at the time, The Fugitive (it ran from 1963 to 1966), and his presence in the film was a major reason it did well at the box office.

There's a serial killer loose in L.A., and on a foggy night Sergeants Tom Valens (David Janssen) and Ed Musson (Keenan Wynn) are on stakeout duty at a luxury apartment complex, the Seaside Apartments, in Brentwood, because someone phoned in a tip there was a prowler on the premise. When Valens spots a suspicious person running from the apartment building he identifies himself as a cop and tells him to halt, instead the harried man pulls a gun and Valens fatally shoots him. When no gun is found and the dead man turns out to be the respected and wealthy medic, Dr. James Ruston (Donald Curtis), the press goes after the cop for shooting an unarmed man, and Valens is placed on desk duty by his boss, Captain Koldin (Ed Begley). After a grand jury hearing, under the urging of the embittered DA (Sam Wanamaker), who hates cops like Valens because they're the kind who beat his father when he was growing up and called him nasty ethnic names like Hunkers (?- I guess meant as an ethnic generic slur).

Well, the cop is suspended and will go to trial facing a murder charge. He's told by the DA to lawyer up, but when he confers with a top lawyer (Walter Pidgeon) and is told to plead guilty and make a plea deal with the DA to get off with probation, he refuses (saying he's innocent and is positive he saw a gun) and decides to investigate Ruston on his own as if he were a private detective. He thereby looks for the gun and for answers as to why the doctor pulled a gun on him–which he's sure he did even if the gun hasn't been found. He believes if the gun is found it would help solve the case (He apparently read the script).

It leads to Valens contacting Alice Willows (Lillian Gish) at home, she was a witness at the hearing who lives with her pet dog Caesar in the luxury building complex, where the murder took place. It was thanks to Ruston's generosity that she got the place so cheaply. The Doc visits every week and treats her for diabetes.  In the same building Valens meets an over-friendly, smug, playboy co-pilot (George Grizzard), who seems to be helpful when Valens questions him.

The beset cop's investigation starts to get more involved when he learns the doctor was broke three years ago and is now rolling in money thanks to his shady stock broker Calvin York (George Sanders). Valens visits the hostile and smug York with no results, and then visits Ruston's young nurse (Stefanie Powers) in the doctor's office. After the visit, he is ambushed in the hallway by Ruston's damaged goods teenage son (Brian Dunne) and beaten by him and four of his angry rich boy friends. Then comes a visit by the detective to Ruston's crass widow (Eleanor Parker, who is wonderfully floozy), who comes on to the no nonsense guy and is rejected. Valens then returns to see the nurse who befriended him. Unable to see her, he soon learns that she's been brutally murdered and he's suspected of being the killer because he was the last one seen at the nurse's office by the custodian.

In an act of desperation, Valens overtakes Musso when he arrests him and takes off in his car to the pet cemetery, where Alice's dog was just buried. The taciturn Valens takes along the helpful co-pilot to help him dig up the dog's grave.

 I love films that end in L.A. pet cemeteries.

In curious supporting roles are Joan Collins as Janssen's incompatible wife who is divorcing him in a few days, and Steve Allen as the deceitful vile talk show host only interested in promoting himself and getting ratings.

By the way, I learned in LA they don't fire warning shots because it might injure an innocent bystander.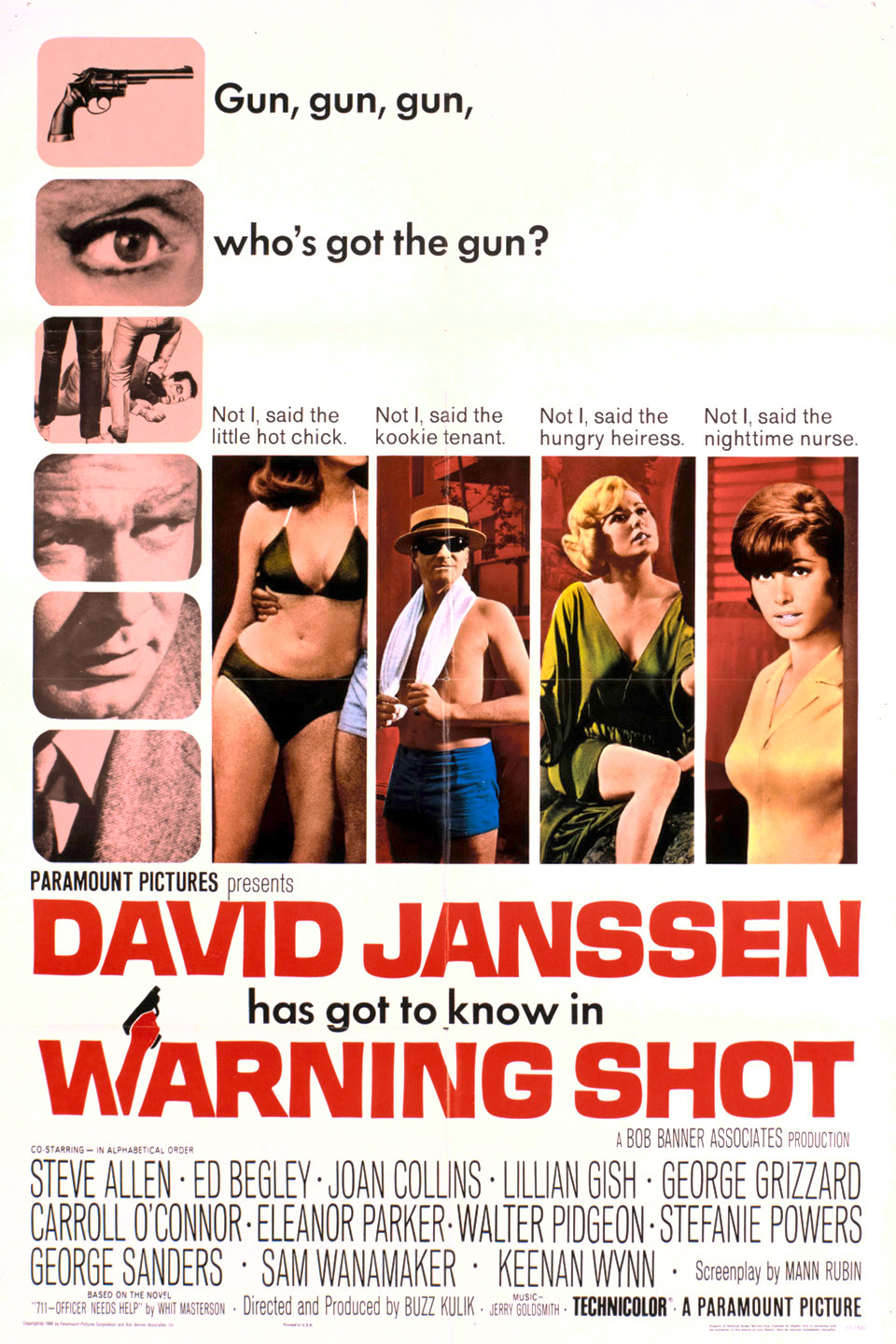 REVIEWED ON 7/8/2021 GRADE: B