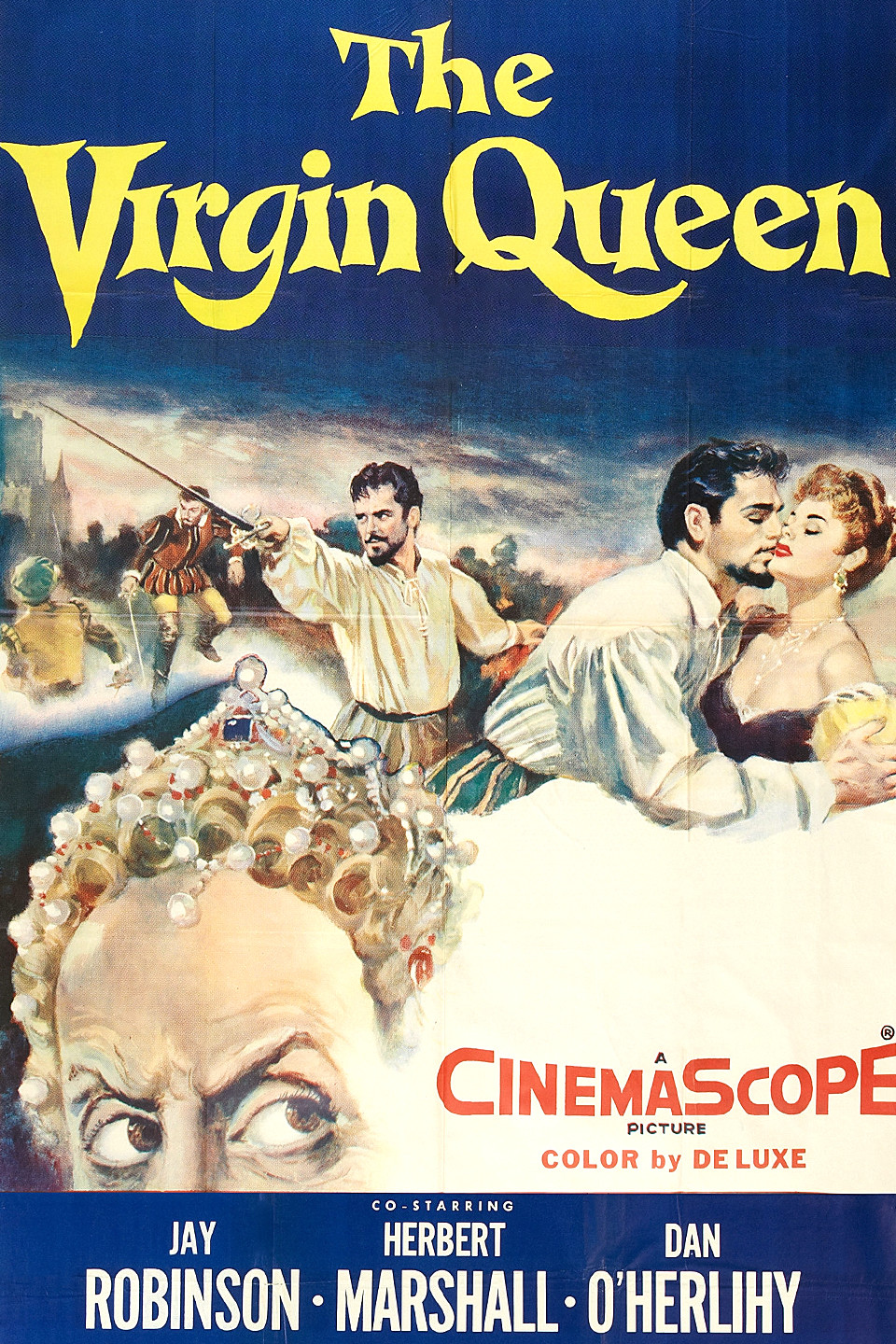 VIRGIN QUEEN, THE
(director: Henry Koster; screenwriters: Harry Brown/Mindret Lord; cinematographer: Charles G. Clarke; editor: Robert L. Simpson; music: Franz Waxman; cast: Bette Davis (Queen Elizabeth I), Herbert Marshall (Robert Dudley, the Lord Leicester), Richard Todd (Sir Walter Raleigh), Dan O'Herlihy (Lord Derry), Joan Collins (Beth Throgmorton), Jay Robinson (Chadwich),  Robert Douglas (Sir Christopher Hatton), Romney Brent (French Ambassador), Marjorie Hellen (Anne), Lisa Daniels (Mary), Lisa Davis (Jane), Barry Bernard (Patch Eye), Robert Adler (Postillion Rider), Noel Drayton (Tailor), Iain Murray (Gentleman of the Bedchamber), Margery Weston (Dame Bragg), Rod Taylor (Corporal Gwilym), David Thursby (Landlord), Arthur Gould-Porter (Randall, Ship Builder), John Costello (Town Crier); Runtime: 92 ; MPAA Rating: NR; producer: Charles Brackett; 20th Century Fox; 1955)
"A star performance by the 47-year-old Bette Davis, dressed in a red wig, gets the acting honors, as she impressively revisits a role she did 16 years before."
Reviewed by Dennis Schwartz

An historical 16th century costume drama set in Tudor England, that's shot in lush Cinemascope. Even if not always historically correct, it gets the spirit of this story right and comes across as a pleasant viewing experience.

The German-born American director Henry Koster ("The Robe"/"The Singing Nun") crisply directs, and it's sharply written by Harry Brown and Mindret Lord. A star performance by the 47-year-old Bette Davis, dressed in a red wig, gets the acting honors, as she impressively revisits a role she did 16 years before (Essex and Elizabeth-1939).

When Robert Dudley, Earl of Leicester (Herbert Marshall), finds his carriage on the road to London stuck in the mud, no one in a nearby pub would help him except for Walter Raleigh (Richard Todd, Irish actor). He helps free the carriage along with his friends. At the time, Raleigh served in the English Army in Ireland. When he asks Dudley to introduce him to Queen Elizabeth, it's arranged to meet at the court. The Queen is taken with Raleigh's good looks and manners (laying down his cloak so she walks over a puddle), and he tells her about his grand plans of English sea exploration to the New World but needs financing by the Queen. From there on they become lifetime friends, as she knights him and finances his voyages. But he also meets at the court Beth Throgmorton (Joan Collins), the tempting younger beauty, the lady-in-waiting, and they try to keep their relationship secret from the jealous aging Queen. When at last they dare to marry, the raging lonely Queen sends them both to the tower (not chopping off their heads).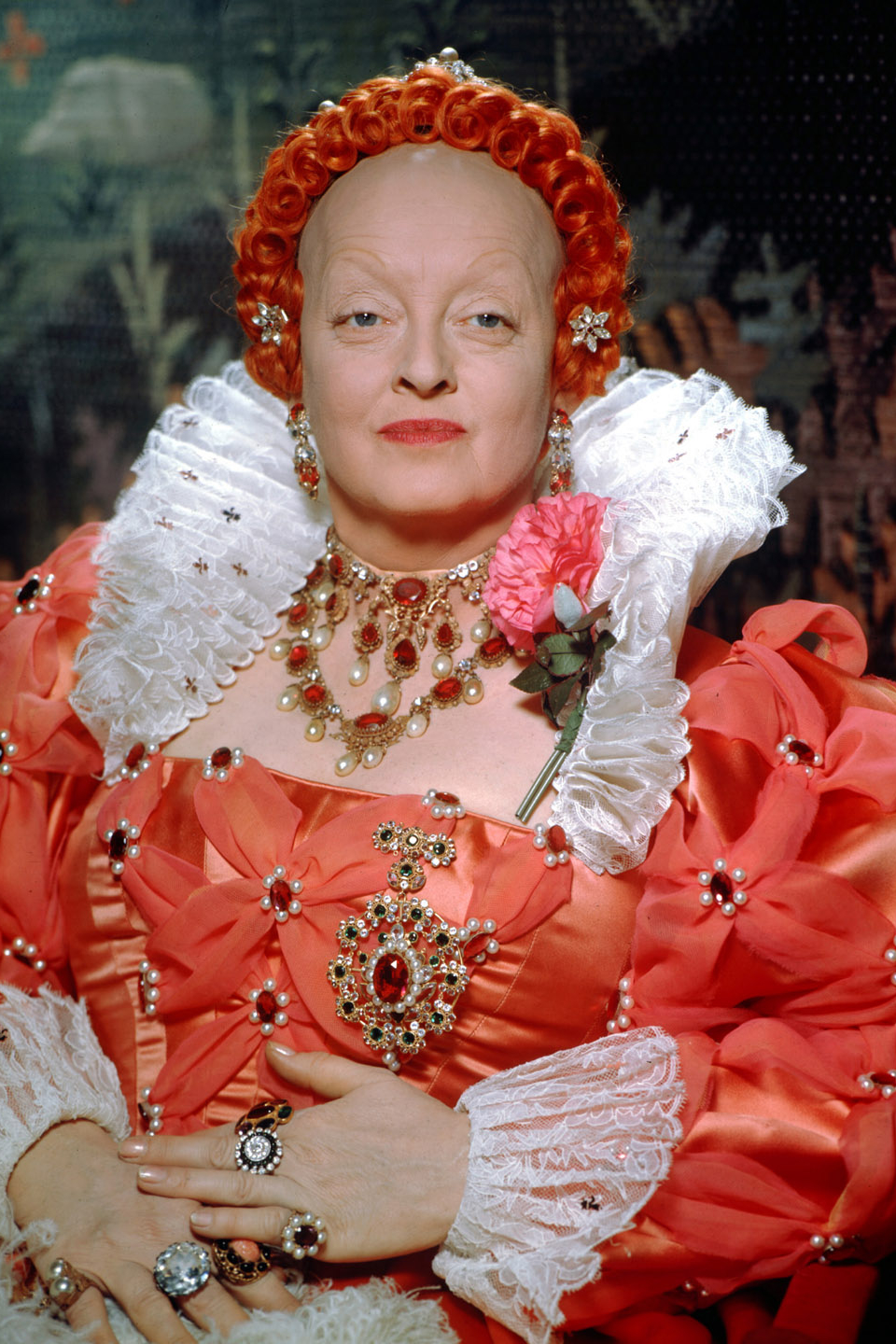 REVIEWED ON 11/12/2022  GRADE: B-