VICIOUS FUN
(director/writer: Cody Calahan; screenwriters: James Villeneuve/story by Cody Calahan; cinematographer: Jeff Maher; editor: Mike Gallant; music: Steph Copeland; cast: Evan Marsh (Joel), Alexa Rose Steele (Sarah), Ari Millen (Bob), David Koechner (Zachary), Robert Maillat,  (Massive Mike), Sean Baek (Hideo, Cannibal), Julian Richings (Fritz, Clown), Amber Goldfarb (Carrie), John Fray (Officer Tony), Gord Rand (Jack Portwood), Joe Bostic (Phil); Runtime: 96; MPAA Rating: NR; producers; Chad Archibald, Cody Calahan: Shudder/Black Fawn Films; 2020-Canada)
"Aims to give its viewers what its title says."
Reviewed by Dennis Schwartz

Cody Calahan ("The Oak Room") directs this playful Canadian slasher film geared for fans of 1980s horror films. He co-writes it in a tongue-in-cheek manner with James Villeneuve.

The setup has a 1980s nebbish, obnoxious horror film critic, Joel (Evan Marsh), the "deputy assistant editor" and film reviewer for the horror magazine Vicious Fanatics, get accidentally trapped in a serial killer self-help group session, in a Chinese restaurant's back room, after following the lady roommate he pines for, Sarah (Alexa Rose Steele), on a date.

The serial killers confront him assuming he's one of them, there for support and to share his experiences. The group includes the sociopathic Ted Bundy type of killer Bob (Ari Millen), the emotionally ice cold clown-faced killer Fritz (Julian Richings), the cannibal chef Hideo (Sean Baek), the lurking in a summer camp masked killer of teen girls Mike (Robert Mallet), the soldier mass-murderer Zachary (David Koechner), and the femme fatale leather-clad sicko slasher Carrie (Amber Goldfarb).
It's a hoot as each killer's MO is explored.

The best scenes might be between Carrie and Joel conversing, as she tries to give the lovelorn nerd a heads up on romance and a lesson on how to escape from the serial killers when they detect he might not be one of them.

It's a setup that allows for gross comedy, suspense and some gruesome developments.

It works as a kind of uncensored SNL skit or as a novelty film filled with nostalgia, one that aims to give its viewers what its title says.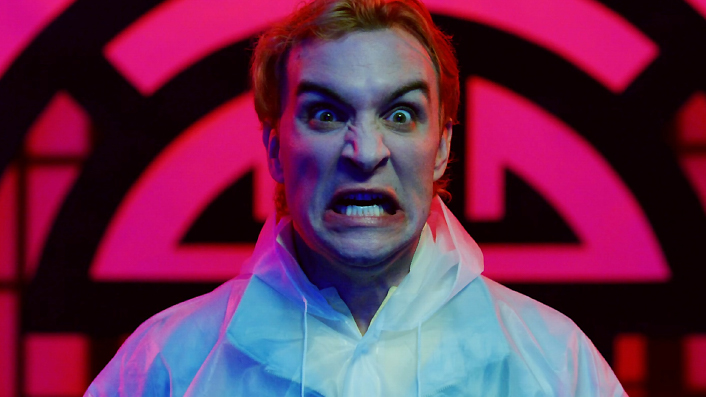 REVIEWED ON 7/2/2021 GRADE: B