VERY EXCELLENT MR. DUNDEE, THE
(director/writer: Dean Murphy; screenwriter: Robert Mond; cinematographer: Roger Lanser; editors: Peter Carrodus/obert Mond; music: John Foreman; cast:  Paul Hogan (himself), Shane Jacobson (Neville Dundee ) John Cleese (John), Chevy Chase (Chevy), Olivia Newton-John (Olivia), Rachael Carpani (Angie), Mel Gibson (Himself), Reginald Veljohnson (Reggie), Luke Bracey (Self), Jim Jefferies (Self), Kerry Armstrong (Ella), Jacob Elordi (Chase), Charlotte Stent (Lucy), Wayne Knight (Wayne), Nate Torrence (Luke, aspiring paparazzo); Runtime: 88; MPAA Rating: NR; producers: Nigel Odell/Dean Murphy; Lionsgate; 2020)
"It's just a cringe-inducing film that one wonders why it was made."
Reviewed by Dennis Schwartz
A dated film about a dated Aussie star from the 1980s, Paul Hogan, who is now divorced from his "Dundee" co-star Linda Kozlowski and is 80-years-old, living in Los Angeles with his grown son, Chase (Jacob Elordi). He has long been away from the Hollywood scene, ever since his two Dundee sequels bombed quite a while ago (1988 & 2001).  

The Crocodile Dundee star pokes fun at himself in a good-natured way and at how his career went down the tubes, but nothing is funny or anything you should care about. It's just a cringe-inducing film that one wonders why it was made.
Aussie director Dean Murphy ("Strange Bedfellows"/"Charlie & Boots"), the actor's favorite, is clueless on how to film it and makes it into a ponderous, irrelevant film that's poorly executed. Murph co-writes it with Robert Mond. They tell the dull story of what happens to Hogan while waiting for a knighthood, an award for comedy that incidentally is no longer presented in Australia. He tells how the non-controversial Hogan accidentally created bad publicity for himself before being knighted. That happens when a not too bright studio head wants another Dundee sequel, but this one with Will Smith as his son. Hogan laughs this off and tells the bright-boy exec it won't work for the obvious reason that Will is black. The even dumber tabloids accuse Hogan of racism.

The film pads its slight story with Hogan horsing around in dumb slapstick bits with celebratory actors in cameos, with the likes of Chevy Chase, John Cleese and Wayne Knight. The film's best sequence is a musical number that doesn't fit into the story, as John Foreman's "That's Not a Knife" is performed.

The film gives off self-pitying crocodile tears over whatever misfortunes they think Hogan endured.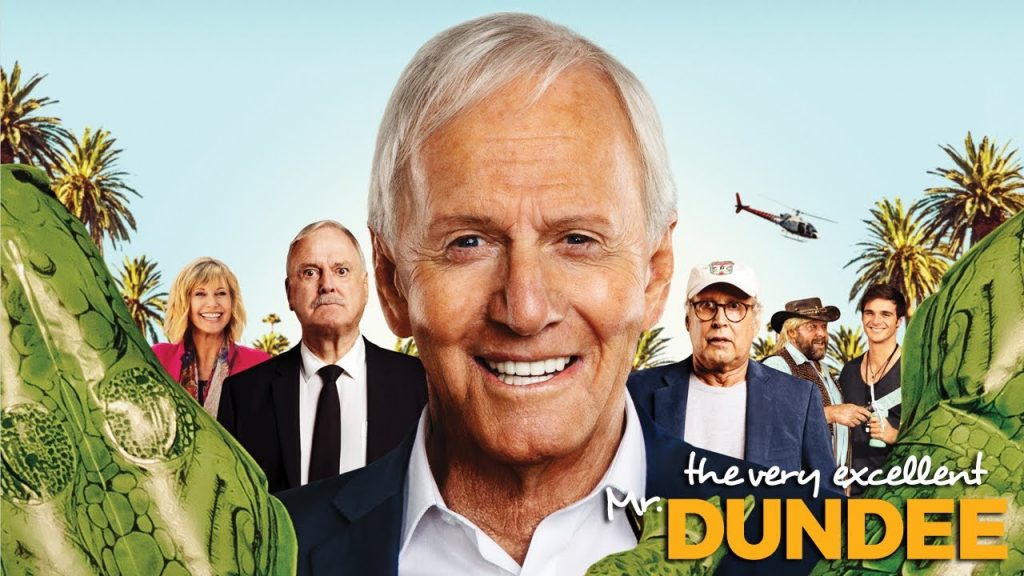 REVIEWED ON 1/2/2021 GRADE: D