VENOM: LET THERE BE CARNAGE
(director: Andy Serkis; screenwriters: Kelly Marcel, story by Tom Hardy, Todd McFarlane & David Michelinie created Marvel characters; cinematographer: Robert Richardson; editors: Stan Salfas/Maryanne Brandon; music: Marco Beltrami; cast:  Tom Hardy (Eddie Brock/Venom), Naomie Harris (Frances Barrison/Shriek), Michelle Williams (Anne Weying ), Reid Scott (Dr. Dan Lewis), Stephen Graham (Detective Mulligan), Woody Harrelson (Cletus Kasady), Peggy Lu (Mrs. Chen), William W. Barbour (Sedan Driver); Runtime: 86; MPAA Rating: PG-13; producers; Avi Arad, Matthew Tolmach, Amy Pascal, Kelly Marcel, Tom Hardy, Hutch Parker: Columbia Pictures/Sony; 2021)
"I was too turned off to get into how much fun it can be as simply a goof."
Reviewed by Dennis Schwartz

A low-expectations and high energy sequel to the Venom franchise started in 2018 as a disposable Marvel film, whose ragtag comical antics was not received well by critics but its silliness hit it big at the box-office with a world-wide 850 million dollar take. The original director, Ruben Fleischer, was replaced by Andy Serkis ("Breathe"), the actor who played Gollum in "The Lord of the Rings." Sony now presents the sequel, with Serkis and the returning screenwriter Kelly Marcel keeping it as light and moronic as the 2018 version. But the story penned by their star, Tom Hardy, moves it along at an even goofier and darker tone than the original as an unhealthy mixture of monster, rom-com, sci-fi thriller and comedy.

The crusading San Francisco journalist Eddie Brock (Tom Hardy) still finds his relationship is over with former fiancée Anne (Michelle Williams), from the previous film, and that inside him a killer alien parasite called Venom (the alien, also played by Hardy, who when visible turns Eddie into a CGI created giant with tentacles, fangs and super-strength). The demanding and bickering alien remains mostly invisible as he demands to be fed human flesh — or, at least some kind of eats like chicken or chocolate. While in a voice only Brock hears,Venom hollers out about its yearning to solve crimes and eat the bad guys.

The film's villain is the serial killer on death row, Cletus Kasady (Woody Harrelson). After the killer requests a prison visit with Brock and promises him an exclusive story, he accidentally bites Brock and gets some Venom in his system that creates Carnage (the red gooey parasite with spikes). This helps the inmate escape San Quentin, as his death injection turns him lobster red and he's now armed with the killer power of his alien guest.

Absurd romances occupy the screen, as Cletus-Carnage's romance with the mutant Shriek, the screamer Frances (Naomie Harris), that blossoms after he pushes his grandmother down the stairs. Shriek has since been arrested by the government and is now housed in a secure San Quentin prison cell.

The pic gets playful with its slapstick blood bath high jinks, even setting a scene at an L.G.B.T.Q.-friendly disco where Venom dresses himself in glow sticks and shouts out about his single life that: "I'm out of the Eddie closet!".

I found it all so stupid, and the slight story became more than stupid when its alien parasites were expected to act as super-heroes to save the world. If viewed only as an Odd Couple rom-com, it might have been bearable–except I was too turned off to get into how much fun it can be as simply a goof.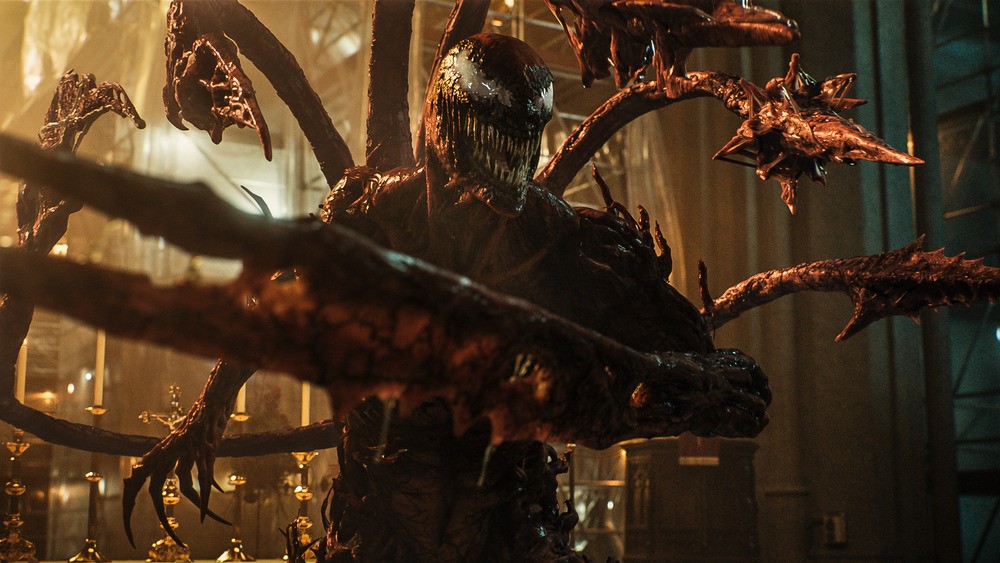 REVIEWED ON 10/5/2021 GRADE: C