VAULT, THE (WAY DOWN)
(director:Jaume Balagueró; screenwriters: writers and story: Rafa Martínez, Andres Koppel, Borja Glez Santaolalla/Rowan Athale & Michel Gaztambide; cinematographer: Daniel Aranyó; editor: David Gallart; music: Arnau Bataller; cast: Freddie Highmore (Thom Laybrick), Famke Janssen (Margaret), Astrid Berges-Frisbey (Lorraine), Liam Cunningham (Walter Moreland), Daniel Holguín (Muñoz), Sam Riley (James), José Coronado (Gustavo), Luis Tosar (Simon), Axel Stein (Klaus), Emilio Gutiérrez Caba (Bank of Spain Chairman); Runtime: 118; MPAA Rating: R; producers: Ghislain Barrois, Álvaro Augustín, Francisco Sanchez Ortiz, Eneko Lizarraga Arratibel; Saban Films release/Think Studio; 2021-Spain/UK-in English)
"It aims to do for future heist films what Ocean's Eleven has done for the genre. But they did it first and did it better."
Reviewed by Dennis Schwartz

Spanish filmmaker Jaume Balagueró("Muse"/"Rec") directs this spirited but not too interesting by-the-numbers heist thriller set in Spain. It's written by Rowan Athale & Michel Gaztambide from a story by Rafa Martínez, Andres Koppel and Borja Glez Santaolalla. It aims to do for future heist films what Ocean's Eleven has done for the genre. But they did it first and did it better.

While Spain watches its soccer team win the 2010 World Cup in soccer, held in South Africa, a gang of amateur thieves attempts to rob Madrid's most secure bank vault at the historic Bank of Spain. It's rumored to be holding the 17th century ancient Spanish treasure (The Spanish authorities took it away from a crusty veteran blue collar deep sea "salvager" named Walter Moreland (Liam Cunningham). The irate Walter is the leader of a gang trying to get back the treasure he believes should be his. He recruits the 21-year-old Brit Cambridge engineering grad Thom (Freddie Highmore) to break into the safe. The rest of the international gang includes his right-hand workplace crew member James (Sam Riley), the driver, during the bank robbery. Meanwhile the French pickpocket Lorraine (Astrid Berges-Frisbey), Walter's romantic interest, and the German government official lawyer Margaret (Famke Janssen), who argued in a losing battle against Spain's right to confiscate the treasure and has her own agenda, side with Walter.

They scheme over building plans and computer monitors, and must pull off the heist while being watched by the former military fanatical Spanish security chief Gustavo (Jose Coronado).

It's a glossy, tepid and derivative film, one that's humorless, slick and immediately forgettable. But some Euro heist pic fans might still like it as a heist film that they can imagine to be better than it is.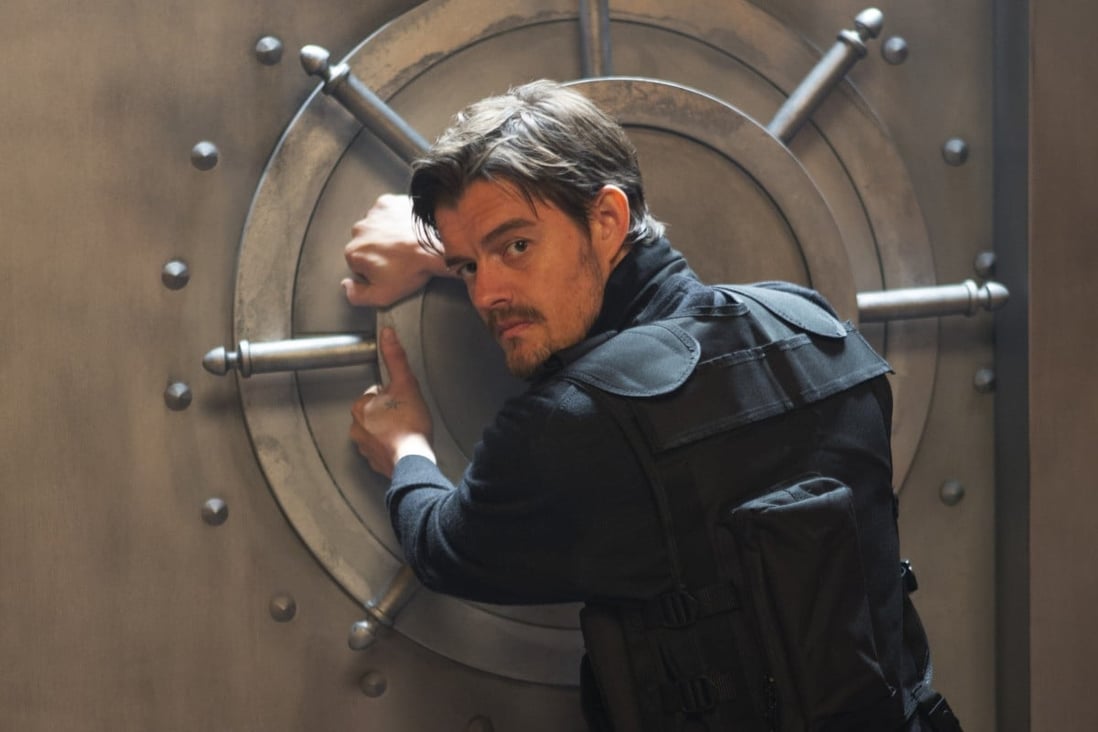 REVIEWED ON 4/26/2021 GRADE: C+