UNDINE
(director/writer: Christian Petzold; cinematographer: Hans Fromm; editor: Bettina Boehler; music: Bach/Bee Gees; cast:  Paula Beer (Undine Wibeau), Franz Rogowski (Christophe), Maryam Zaree (Monika), Jacob Matschenz (Johannes); Runtime: 90; MPAA Rating: NR; producers: Florian Koerner von Gustorf, Michael Weber; Schramm Film; 2020-Germany/France-in German with English subtitles)
"A thriller with an unsettling otherworldly twist."
Reviewed by Dennis Schwartz

German writer-director Christian Petzold ("Phoenix"/"Barbara") reunites with his Transit stars Paula Beer (in a magnificent sublime performance) and Franz Rogowski, for another astounding film set in the modernized urban world of Germany. It's a thriller with an unsettling otherworldly twist. The film is based on the classic fairy tale about a water spirit named Undine, who marries a knight named Huldebrand in order to gain a soul. Its roots go back to classical Greece. For the film, it originated as a German novella written by Friedrich de la Motte Fouqué in the early 1800s. .

The stylish Undine (Paula Beer) works for the Berlin City Models as a historian lecturing on Berlin's urban development and giving tour guides to tourists on Berlin's architecture history at the museum. She's also involved in an affair with Johannes (Jacob Matschenz), which sadly concludes as the two argue at a cafe. The unhappy Undine threatens him with violence if he dumps her for another as he plans to do (as the myth goes she can marry a mortal man, but must kill him if he is unfaithful).

When Undine finishes her municipal job she goes to meet Johannes at the cafe as planned, but he split. Instead she meets the nice but strange Christoph (Franz Rogowski), an industrial underwater diver who has just come from her lecture. He admires her lecture so much that he believes he's fallen in love with her. Before long Undine and Christoph are getting it on sexually, and he takes her into his mysterious professional world. She surprisingly takes to the water even more readily than even he has (with hints that she could be a siren).

Undine is once again happy, but things change again when she visits Johannes and he's swimming in his home pool (her strength is derived from the water).

The flimsy film nevertheless reaches an emotional high as a love story with fairy tale undertones, telling about the need for romance. It's a fantasy film that's skilfully made, wonderfully acted and its visuals are beautiful to behold.

Paula Beer won the Silver Bear award at Berlinale .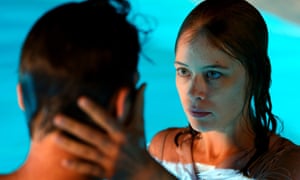 REVIEWED ON 3/26/2020 GRADE: B+