UNDERTOW
(director/writer: Miranda Nation; cinematographer: Bonnie Elliott; editor: Nick Myers/Julie-Anne De Ruvo; music: James Orr/Raul Sanchez/Lisa Gerrard; cast: Laura Gordon (Claire), Rob Collins (Dan), Josh Helman (Brett), Olivia Dejonge (Angie); Runtime: 96; MPAA Rating: NR; producer: Lyn Norfor; Emerald Productions/Mind Blowing World; 2018-Australia)
"A gripping psychological thriller pertaining to a woman giving birth to a stillborn child and grieving over the loss while trying to gain her bearings."
Reviewed by Dennis Schwartz

Undertow premiered at the Melbourne international film festival.

It's the auspicious feature-film debut of Victorian filmmaker Miranda Nation, the former actress, who offers a gripping psychological thriller pertaining to a woman giving birth to a stillborn child and grieving over the loss while trying to gain her bearings. Using water as a recurring symbol of life, death and rebirth, the arty narrative keeps flowing into the directions that dramatically keep blurring reality from fiction. Through the probing compositions of the first-rate Australian cinematographer Bonnie Elliott, the relationships between people and places act as visual motifs.

The vulnerable but creepy Claire (Gordon) is a pregnant photojournalist in the Australian seaside city of Geelong, who loses her baby after driving herself to the hospital while husband Dan (Rob Collins) is out partying. He's a former footballer star for the local Aussie Rules. Later she spots her possibly unfaithful husband at a motel with the teenager who was also at the party with him, the sexy Angie (Olivia Dejonge). The upset Claire keeps that to herself, and later follows the teen.

Angie spots Claire following her and when she questions Claire is led to believe she's a talent scout for a modeling agency and sets up an appointment to be photographed by her. During the course of their conversation she casually mentions to Claire that she's pregnant. Thereby Claire becomes fixated on her pregnancy, thinking it might be from her husband.

During a group counseling session for bereaved parents, when Dan speaks from his heart about their loss, Claire only gives him some dirty looks.

Nation clamors about how toxic is the macho football culture in Australia (which probably doesn't mean much to those not from Australia) and how the country idolizes the wrong people (though this should connect with an international audience). The director uses as an example the 'bad boy' footballer, Brett (Josh Helman), and points to his tawdry relationship with the uncouth Angie and how immoral it is.

An awkward relationship develops between the women from different generations, as tension in the domestic drama grows and questions of morality arise as well as many plot twists. Things become unpredictable, as Nation leaves us thinking what might seem real could just as easily be something imagined and only is taken for our truth because we wanted to see something in a certain way. What's more important than the truth in this tale is what the character feels is right or not.

The story hinges on finding a meaning to a complex relationship that develops between the women opposites that belies an unpleasant universal truth that some women want so much to give birth while others are sickened at the prospect.
It's a compelling psychological film about feminine issues that is filled with pertinent Australian background lore. Universal women issues are boldly tackled by getting to the inner forces (the undertow) that compel women to act out the way they are wired.
The needy and self-absorbed Claire might be obsessive but is directionless, while the also creepy and aimless Angie might be strong but in her youth is naive.
The Swedish director Ingmar Bergman in his 1966 masterpiece Persona also evoked Freudian-like symbolism over personal identity issues, as Nation's film explores many of the same underlining sexual themes as Bergman and her experimental film does justice to such radical findings.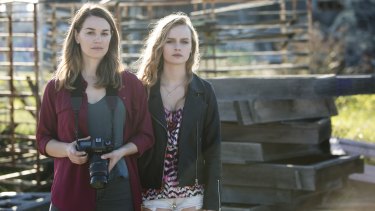 REVIEWED ON 3/8/2020  GRADE: A-