UNCHARTED
(director: Ruben Fleischer; screenwriters: Rafe Lee Judkins. Art Marcumand,Matt Holloway/story by Judkins; cinematographer: Chung-hoon Chung; editor: Chris Lebenzon; music:Ramin Djawadi; cast: Tom Holland (Nathan Drake), Mark Wahlberg (Victor "Sully" Sullivan), Antonio Banderas (Santiago Moncada), Sophia Ali (Chloe Frazer), Patricia Meeden (Spanish Woman), Tati Gabrielle (Braddock), Rudy Pankow (Young Sam); Runtime: 116; MPAA Rating: PG-13; producers; Charles Roven, Avi Arad, Alex Gartner: Sony Pictures; 2022)
"It follows an all-too-familiar charted map."
Reviewed by Dennis Schwartz

Ruben Fleischer  ("Venom"/"Zombieland") directs this dumb over-the-top fantasy action pic based on the Sony PlayStation video game. It's written by Rafe Lee Judkins (from his story), Matt Holloway & Art Marcum. And, it's loosely based around the best-selling PlayStation video game series by Naughty Dog. Without a conscience it rips off Indiana Jones and Nicolas Cage's National Treasure films, as it follows an all-too- familiar charted map.

The experienced treasure hunter and unscrupulous thief, Victor "Sully" Sullivan (Mark Wahlberg), hires the young street-smart pickpocket Nathan Drake (Tom Holland), a NYC bartender, to recover a fortune amassed by the Portuguese explorer Ferdinand Magellan that was lost 500 years ago by Spain's the House of Moncada. The kid learned about the treasure from his missing older brother who went searching for it and vanished.

On their perilous quest, the lovable rogues, come across some bad guys also after the lost treasure: the sexy but tough gold hunter Chloe (Sophia Ali) and the no-nonsense killer martial arts warrior Braddock (Tati Gabrielle). He's been hired by the smooth-talking money-man villain, who makes some nice scowls, Santiago Moncada (Antonio Banderas).

It's one of those soulless Blockbuster films packaged to make money but at least comes up with a a pirate-ship battle in the end to give its undemanding paying customers and probably most of its video game fan viewers at least a few cheap thrills. The location shots are pretty to look at, the Brit actor Holland (the popular Spider Man, who is ripped for the film) gives his max effort to try and make such schlock work (while his co-star seems to be winging it).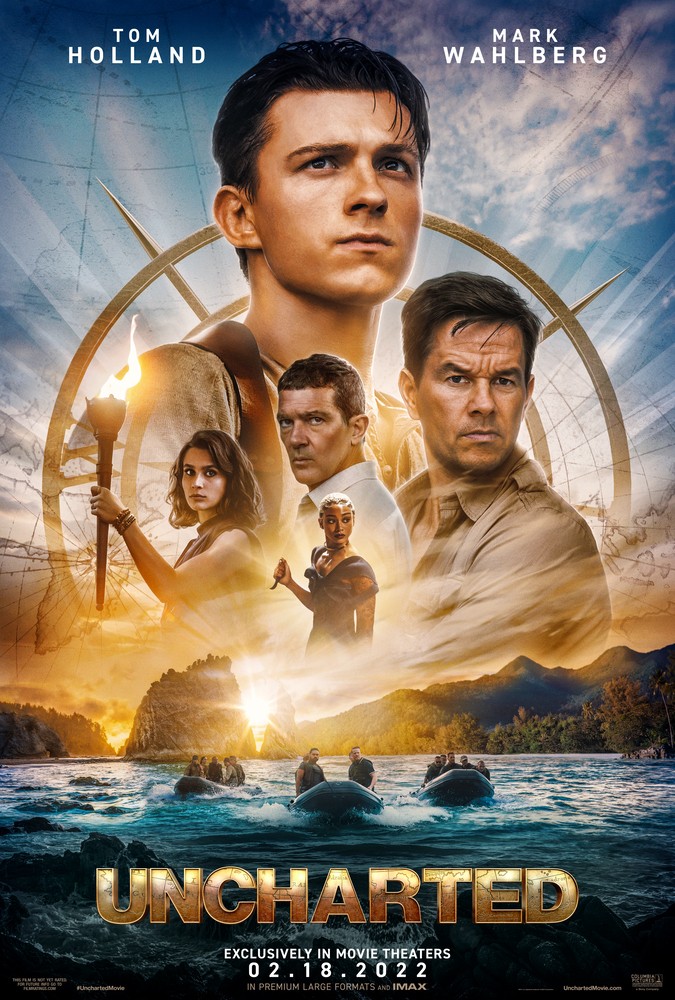 REVIEWED ON 2/18/2022 GRADE: C