TWO POPES, THE
(director/writer: Fernando Meirelles; screenwriter: Anthony McCarten; cinematographer: Cèsar Charlone; editor: Fernando Stutz; music: Bryce Dessner; cast: Jonathan Pryce (Cardinal Bergoglio), Anthony Hopkins (Pope Benedict), Sidney Cole (Cardinal Turkson), Federico Torre (Medina Estevez), Juan Minujín (Pope Francis Young); Runtime: 125; MPAA Rating: PG-13; producers: Dan Lin, Jonathan Eirich, Tracey Seaward; Netflix; 2019-USA/UK/Italy/Argentina-English, Spanish, Italian, French, Portuguese, German, Latin, with English subtitles)
"A bromance between two popes of different stripes who manage to get along when they meet."
Reviewed by Dennis Schwartz
Brazilian director Fernando Meirelles ("Blindness"/"City of God") helms this fictionalized religious drama in the form of a bromance between two popes of different stripes who manage to get along when they meet even though they have different personalities and philosophies. Their meeting comes about because of the unusual agreement by the Vatican to allow in 2013 the current frustrated dogmatic aristocratic pope, Anthony Hopkins's German Pope Benedict XVI, to retire but remain in office quietly behind the scenes in an inaccessible spot behind the Sistine Chapel. Meanwhile there's an election of a new pope, Jonathan Pryce's guileless man of the people, the Argentinian Cardinal Bergoglio, who will be the future Pope Francis. The a.k.a Joseph Aloysius Ratzinger, Pope Benedict, becomes the first pope since 1415 to resign.
The film is the imagined dramatization inspired by the facts of the relationship between the two popes–the conservative and dogmatic German Benedict and the church reformer liberal Francis. Anthony McCarten provides an intriguing screenplay that balances the heavier liturgical moments (things dividing the modern-day church such as questions over celibacy and the handling of the abusive priests) with lighter personal ones (watching a soccer game on TV after dinner). When they meet the pope's measure each other by trying to get each other to talk openly about their views and by each showing off their ability to speak several languages like English, Latin, Italian and Spanish. They seem to like each other despite everything that would suggest differently.
It opens with Pope John Paul II's death in 2005, who just finished serving in office for 26 years. It makes an attempt to give us a backstory through flashbacks on the two popes and their main regrets: Bergogliois is ashamed of his failure to act against the military dictatorship in Argentina's oppressive days in the 1970s and to protect those who disappeared who spoke up against the regime; while Benedict is haunted that during his seminary years he served in the Hitler Youth Movement.

The fast paced mostly secular movie features brilliant acting by both Hopkins and Pryce, a loaded screenplay crowing about the church's pageantry and offering enough tidbits about the church's richness to hold your attention even for those like me who have little interest in the church and have been critical of the Vatican, especially in its poor handling of the pedophile priests in America. The film, a mostly fictional take about how well the popes got along, is more apologetic to the church than critical and more hopeful that they like each other than reality would have us believe. But if all you want is an intelligent and well-executed fairy tale film that is not out to smear the church for its religious lapses, you've got it here.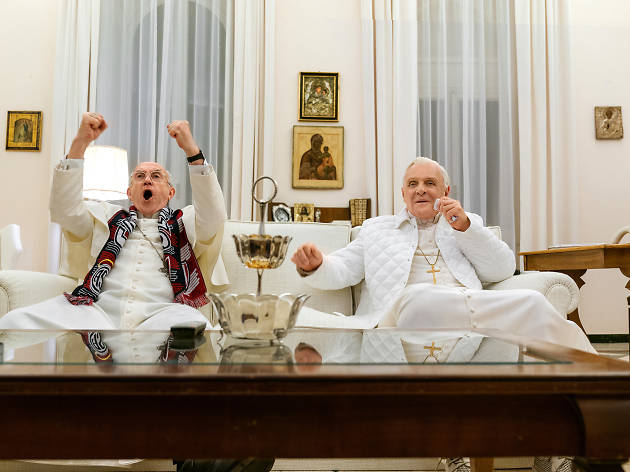 REVIEWED ON 12/5/2019 GRADE: B- https://dennisschwartzreviews.com/