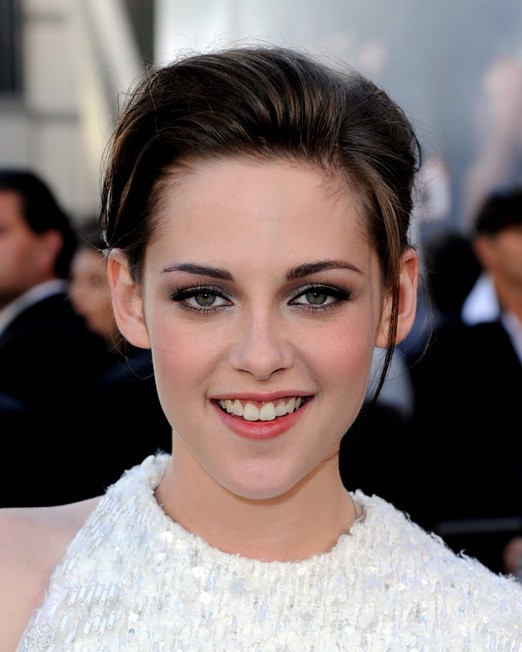 THE TWILIGHT SAGA: ECLIPSE

(director: David Slade; screenwriters: Melissa Rosenberg/based on the novel by Stephenie Meyer; cinematographer: Javier Aguirresarobe; editors: Art Jones/Nancy Richardson; music: Howard Shore; cast: Kristen Stewart (Bella Swan), Robert Pattinson (Edward Cullen), Taylor Lautner (Jacob Black), Bryce Dallas Howard (Victoria), Billy Burke (Charlie Swan), Dakota Fanning (Jane), Peter Facinelli (Dr. Carlisle Cullen), Elizabeth Reaser (Esme Cullen), Jackson Rathbone (Jasper Hale), Kellan Lutz (Emmett Cullen), Ashley Greene (Alice Cullen), Julia Jones (Leah Clearwater), Nikki Reed (Rosalie Hale), Anna Kendrick (Jessica Swan), Xavier Samuel (Riley Biers), Jodelle Ferland (newborn vampire); Runtime: 124; MPAA Rating: PG-13; producers: Wyck Godfrey/Karen Rosenfelt; Summit Entertainment; 2010)

"A brutal watch until the supernatural battle scene."
Reviewed by Dennis Schwartz
A brutal watch until the supernatural battle scene between an army of "newborns," newly recruited vampires, who threaten the Cullen clan of reformed vampires in their hometown of Forks, Wa. The attackers are led by the youthful pawn Riley (Xavier Samuel), who was attacked by vampires a year ago, during a vampire led killing spree in Seattle, and is the tool of the vengeance seeking redhead Victoria (Bryce Dallas Howard)–pissed that her boyfriend was slaughtered by one of the Cullen clan. In an unlikely scenario the Cullen clan unite with their rival werewolves, the Volturis, to form an uneasy alliance against this formidable challenge from the new vampires, who are crazed with a thirst for blood and more deadly than the older ones. Watching the vampires and werewolves go at each other was the only part of the pic that was watchable without yawning.
This third film installment, based on the popular supernatural forbidden love story by Stephenie Meyer, is again faithfully scripted to follow the novel by Melissa Rosenberg and is helmed this go-around by David Slade ("30 Days of Night"/"Hard Candy"). The new director, taking over for the 2008 Catherine Hardwicke's Twilight and the 2009's campy New Moon version of Chris Weitz, is edgier and revs up the action-horror sequences but fails to make the mushy squeaky-clean romantic stuff from the earlier versions even barely interesting for those who are not female teenagers. The dialogue is banal, the acting is wooden and the story line of a soap opera love triangle is too sudsy for my taste. It shows the romantic rivalry between a sincere heart-stricken 109-year-old vampire teenager, Edward Cullen (Robert Pattinson), and an aggressive lover boy hunky werewolf youth, Jacob Black (Taylor Lautner), prone to showoff his bod and tattoo as he goes shirtless. Both boy toys are obsessed suitors for the affections of the plain looking human virgin coed, Bella Swan (Kristen Stewart). The trophy prize lives with her divorced clueless small-town policeman father, Charlie Swan (Billy Burke), and is graduating this semester from high school. The troubled Bella is forced to choose which of these two beastly suitors to marry, and decides on giving up her virginity and humanity to the bloodsucking heroic gentleman vampire. It's a decision which left me feeling as if I was watching a new version of "The Dating Game," instead of just watching a pic that stunk like werewolf stench.
It's a film for the faithful to go into a swoon for, while others might find all this vampire-werewolf rivalry stuff over eternal love a hard sell to buy into and the whole supernatural scene mundane. I found Hardwicke's first version at least appealing in a limited way because it talked the talk of romantic female teens and caught their angst, but by this third version I felt as enough is enough and I am beginning to feel the pain of watching such bloodsucking pap.
REVIEWED ON 6/30/2010 GRADE: C