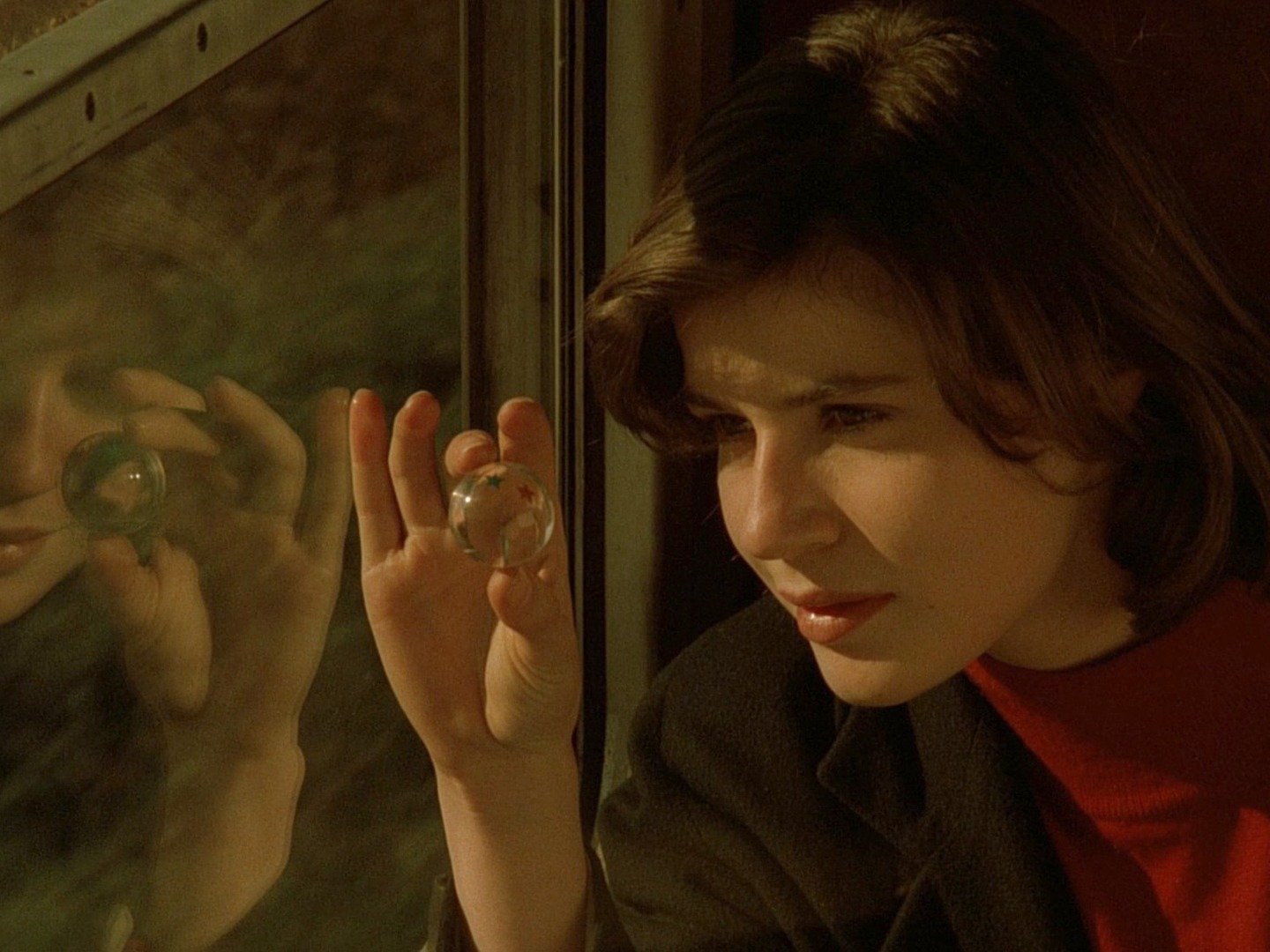 DOUBLE LIFE OF VERONIQUE, THE (Double vie de Véronique, La)
(director/writer: Krzysztof Kieslowski; screenwriter: Krzysztof Piesiewicz; cinematographer: Slawomir Idziak; editor: Jacques Witta; music: Zbigniew Preisner; cast: Irène Jacob (Veronika), Halina Gryglaszewska (La Tante), Kalina Jedrusik (La femme barjolée), Aleksander Bardini (Le chef d'orchestre/Conductor), Wladyslaw Kowalski (Veronika's father), Jerzy Gudejko (Antek); Runtime: 98; MPAA Rating: R; producer: Leonardo De La Fuente; Miramax Films; 1991-Poland/France-in Polish with English subtitles)
"Satisfies as a study of spiritual unrest."
Reviewed by Dennis Schwartz
Polish director-writer Krzysztof Kieslowski ("Decalogue"/"Blue"/" White"/" Red") presents an engaging psychological drama that ultimately satisfies as a study of spiritual unrest. Irène Jacob, whose illuminated sensual performance as both the Polish Veronika and French Veronique, won the 1991 Cannes Film Festival award for best actress. The featured women are born on the same day in 1966; one in Poland and the other in France. They both are mysteriously linked by such things as having lovers who leave them with doubts, weak hearts and an interest and talent in music. Veronika is a choir singer. Veronique is a music teacher. The women grow up unaware of each other, except for one moment when Veronika unknowingly photographs her counterpart.
The film opens in Poland. Veronika is a soprano in a choir. She meets a handsome motor scooter riding lover, and wins a starring role in a concert in an audition. She has a troubling dream and tells her father that "I have this feeling that I'm not alone." She suffers from chest pains. During her debut performance, she collapses on stage and dies. On the same day, at the same moment of the Polish Veronika's death, the French Veronique is making love with her boyfriend and stops seemingly in recognition of that death. She quits her music career and becomes a music teacher. While visiting her father at his country place, she tries to explain this love she has for a puppeteer who writes children's books, Alexandre Fabbri (Philippe Volter), someone she knows only through a number of concealed messages he sends via telephone calls where he hangs up before speaking, sends a shoelace in the mail (one of his books is about a shoelace), and finally a cassette. On the tape she listens to the sounds of a train station, the movements of a waitress and a car crash, and figures out the tape was recorded at the St. Lazare station. She goes there to hunt down the haunting possibility of connecting with a possible lover to fill a terrible void in her life and making contact with her double through a photograph.
Kieslowski's simple plotted narrative remains enigmatic in its deeper suggestive meanings that one can take succor in relating to their double (the open-ended meaning leaves itself open to a wide range of opinions of where Kieslowski was going with this captivating theme). It's a visually stunning film that offers a dreamlike atmosphere and subtle use of other- worldliness images to reflect that it's possible to have a soul-twin and our kinship with our other self is meant to give greater understanding of our place in this world (identity) and how we are never quite alone (connected to others). Whether you accept such a spiritual outlook as possible or merely as fanciful conjecture, the film-maker has nevertheless created a richly derived spectral film filled with suggestions of supernatural powers topping one's ordinary existence. It's something that has to be taken on faith–just like religion. "Double Life" reflects an intelligent outlook on life, but though superbly directed it's not without some fuzzy moments of doubt and a leaning for too much arty pretensions.
REVIEWED ON 11/7/2005 GRADE: B+