TRUTH, THE (LA VERITE)
director/writer: Hirokazu Koreeda; screenwriter: translated from the original into French by Léa le Dimna.; cinematographer: Eric Gautier; editor: Hirozaku Kore-eda; music: Alexei Aigui; cast: Catherine Deneuve (Fa bienne Dangeville),  Juliette Binoche (Lumir),  Ethan Hawke (Hank), Christian Crahay (Jacques), Clémentine Grenier (Charlotte), Alain Libolt (Luc), Manon Clavel (Manon Lenoir), Ludivine Sagnier (Amy), Roger Van Hool (Pierre, ex-husband), Laurent Capelluto (Journalist), Jackie Berroyer (Chef); Runtime: 106; MPAA Rating: PG; producer: Muriel Merlin; IFC Films; 2019-France-in English & French with English subtitles when needed)
"The film is noteworthy for bringing together French acting legends Catherine Deneuve and Juliette Binoche, who are magical together."
Reviewed by Dennis Schwartz

The noted Japanese film director Hirokazu Koreeda ("Shoplifters"/"Still Walking"), in his first film abroad and first in English,  presents an entertaining family drama that is both appealing and funny (the film's imperious star, played by Catherine Deneuve, who casually states that all of France's great female stars have surnames that begin with the same letter as their first names such as Simone Signoret, but fails to take into account that her initials don't match).

The film is noteworthy for bringing together French acting legends Catherine Deneuve and Juliette Binoche, who are magical together.

The aging but well-preserved in her mid-70s acting icon of French film, Fabienne Dangeville (Catherine Deneuve), is not that happy to be in the new science fiction film, entitled Memories of My Mother, by the American writer Ken Liu,  because the co-star will be the much younger beautiful rising star Manon Lenoir (Manon Clavel). It's interesting to note this futuristic movie about the Deneuve character, inflicted with a terminal disease, who visits her young daughter at various times but never ages while living for extended periods in outer space even if her earth-bound daughter ages. In the real-world it was made into a short film in 2012 called Beautiful Dreamer by commercials director David Gaddie.

Since the opinionated and vain Fabienne has just published her memoirs, entitled La Vérité, she  gets a visit from to her spacious country chateau outside of Paris from her Manhattan-based, screenwriter daughter Lumir (Juliette Binoche). Also present will be Lumir's just out of rehab, nice guy but failing American TV actor husband Hank (Ethan Hawke), who doesn't speak French, and their bilingual adolescent daughter, Charlotte (Clémentine Grenier).

The supposed truthful tell all autobiography has upset many, as it's filled with omissions and manufactured stories. It upsets her long-time personal assistant (Alain Libolt) so much because he's not even mentioned in the book that he quits. But Fabienne wants us to believe she could care less if the book disturbs people.

The gist of the narrative has us eavesdrop on Lumir and Fabienne, as they furiously clash over the book's faulty memories and misleading items. But they try to still connect with the other and keep their fragile mother-daughter relationship intact.

There's also another subplot about a dead actress Sarah, apparently once a rival of Fabienne for France's top actress, that goes nowhere.

The story has its shining moments, morphing into an elusive magical realism tale; and, even if it might lack greatness it still might be a great film, if not an absorbing one with much to ponder about family relationships and life experiences.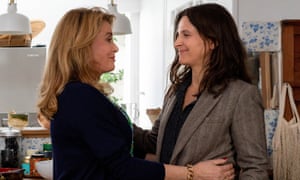 REVIEWED ON 7/9/2020 GRADE: B+