TRAINWRECK
(director: Judd Apatow; screenwriter: Amy Schumer; cinematographer: Jody Lee Lipes; editors: William Kerr/Paul Zucker; music: Jon Brion; cast: Amy Schumer (Amy Townsend), Bill Hader (Aaron Connors), Brie Larson (Kim), Colin Quinn (Gordon Townsend), John Cena (Steven), Vanessa Bayer (Nikki), Mike Birbiglia (Tom), Evan Brinkman (Allister), Ezra Miller (Donald), Randall Park (Bryson), Norman Lloyd (Norman), Dave Attell (Noam), Tilda Swinton (Dianna), Jon Glaser (Schultz), LeBron James (Himself), Marv Albert (Himself), Chris Evert (Herself), Matthew Broderick (Himself), Tony Romo (Himself), Amar'e Stoudemire (Himself; Runtime: 122; MPAA Rating: R; producers: Judd Apatow/Barry Mendel; Universal; 2015)

"A raunchy comedy with poignant romantic moments."
Reviewed by Dennis Schwartz
A raunchy comedy with poignant romantic moments woven into a sitcom-like rom/com story set around a sports milieu and an ongoing unsettling domestic drama. Television star of Comedy Central, Amy Schumer, has written a juicy part for herself, as the stand-up comedian tries her hand in her first starring movie role. The uneven film has its moments, but gets boring in the middle and weakly concludes with an unconvincing happy ending. But there's good chemistry between the leads and some good insights into a troubled relationship to help push this along as a good relationship flick between a mismatched couple, who find they love each other and therefore can forgive their mate's flaws.
Director Judd Apatow("The 40 Year Old Virgin"/"Knocked Up"/"This Is 40") awkwardly directs, never establishing a rhythm. When no longer going hipster, he becomes impishly squarish. But he finds some rhythm when he gets away from all the cliches and the overuse of crass sex jokes and lets his couple work out their weighty problems in their own way.
Amy (Amy Schumer) is a NYC staff writer for a fluff men's magazine, S'Nuff. The husky gal, a twentysomething party-animal who screws around for lots of one-night stands, is a heavy drinker and has followed her sour-puss loudmouth alcoholic divorced father's (Colin Quinn) advice in not believing in monogamy or commitments. She also must deal with dad just placed in an expensive assisted living residence and not fitting in. Her younger sister Kim (Brie Larson) is her opposite, who lives a happy quiet suburban life with her nice guy hubby Tom (Mike Birbiglia) and her smart well-behaved stepson Allister (Evan Brinkman).
Amy's bossy Brit female editor (Tilda Swinton) assigns her to do an eyeopening story on famed bachelor sports-medicine doctor Aaron Connors (Bill Haden), whose celebrity clients include the basketball stars LeBron James (brilliantly playing a penny-pinching version of himself) and the Knick's Amar'e Stoudemire. She is chosen because she hates sports and the editor feels an edgy story will result. When the nerdy Aaron turns out to be Mr. Right, the messed-up and vulnerable Amy, a neurotic, can't handle this and the relationship is threatened by her deviant behavior.
In a serious note, when for a few moments not dropping Fuck Bombs or telling crass 'going down' jokes, we get to see how good this pic could've been. It unnervingly shows how damaged Amy is from so many horrible relationships and how the bashful doctor has been so hurt by past rejections. Though so many things don't work here, what does work is that the deep emotions of the struggling couple is revealed in a way that seems real.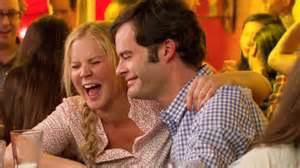 REVIEWED ON 8/1/2015 GRADE: B-