TOUCH
(director/writer: Paul Schrader; screenwriter: based on the novel by Elmore Leonard; cinematographer: Ed Lachman; editor: Cara Silverman; music: David Grohl; cast: Bridget Fonda (Lynn Faulkner), Christopher Walken (Bill Hill ), Skeet Ulrich (Juvenal), Tom Arnold (August Murray), Lolita Davidovich (Antoinette Baker), Paul Mazursky (Artie), Janeane Garofalo (Kathy Worthington), Gina Gershon (Debra Lusanne), Virginia Worrell (Conchata Ferrell), John Doe (Elwin Worrel); Runtime: 97; MPAA Rating: R; producers: Lila Cazes/Fid Attieh; United Artists; 1997)
"I saw it as a plot searching for a director."
Reviewed by Dennis Schwartz
Paul Schrader's ("Hardcore") religious satire is based on a novel by Elmore Leonard. It's a lighthearted film about divine intervention, that somehow never catches fire to come more than slightly amusing or even have enough balls to offend anyone. It plays out more as a bland love story with religious trappings than getting at anything too vital about anything–though I think saying something relevant about religion was something the reared as a strict Calvinist director was aiming for but never achieved. The story starts with questions of faith and turns on the dime to chronicle the exploits of stigmatic faith healer Charlie Lawson going on the street by his new religious name Juvenal (Skeet Ulrich). The former Franciscan monk has returned to Los Angeles following time spent in a remote Brazilian jungle monastery and takes a job in a rehab center as an alcohol rehabilitation counselor.
Bill Hill (Christopher Walken) is a former Southern preacher now an RV salesman, who is first seen trying to rescue his former church organist Virginia Worrell (Conchata Ferrell) from her abusive drunken husband Elwin in their trailer park abode. While Bill gets between the bickering couple Juvenal, a stranger to them, suddenly appears. When he lays his hand on the blind Virginia, she immediately has her sight restored. Also, her volatile hubby calms down. But even more startling, his laying on of his hands causes his palms to bleed with the stigmata of Jesus Christ.
Bill, always the con man, sees big money in this miracle healing act and sends a sexy ex-baton twirler at his church, Lynn Faulkner (Bridget Fonda), to pose as an alcoholic and get close to the healer and check him out to see if he's a fake or authentic. The plan is to put him on TV like one of those popular TV evangelists and rake in the coin.
August Murray (Tom Arnold) identifies with Christian martyrs and dresses in a paramilitary uniform. He leads a fanatical fundamentalist Catholic fringe group called "Outrage!" that rallies to return the Catholic Church to its glory days of Latin Mass (the same group Mel Gibson belongs to!). Murray comes into contact with the healer and sees him as a sign from God that his zealot group is absolutely right on the money.
But Lynn fouls up Bill's plans as she falls for the dreamy looking healer and her mission becomes secondary to nailing him, as the farce turns from religion to romance. What follows are some zany attempts to lure Juvenal away from his true mission and make him their meal ticket. There's Bill and the obsessed woman-hating Murray who wants his boy to remain pure without a woman, as well as a reporter and an agent (Janeane Garofalo and Paul Mazursky) and a talk show host (Gina Gershon) of a trashy program who's ego couldn't be more inflated–so if Jesus himself came on her show he would only get second billing to her.
Touch never gets its act together. But there are some laughs from the one-liners, but most jokes are cheap shots taken at the expense of the phony evangelists. There should have been more laughs given all the bizarre characters and the ridiculous plot line. Schrader just could never draw out the comedy and the romance story died with a miscast Fonda and a dullish Ulrich in lead roles. It's too bad, this film had potential and in the right hands could have been a real delight. But the film was wrestling if it wanted to be a satire or romance, and the never won battle deadened everything. It seems Schrader is better at handling film noir than comedy. Schrader has said his movie has "a whole cast of ironic characters, with an existential character in the center." But somehow it all seemed too muddled and too much for the viewer to decifer if that was so or not. I saw it as a plot searching for a director (the Coen brothers perhaps!). While judgment on Leonard's rare crack at writing comedy for film as opposed to his usual Detroit based mystery story is still up in the air.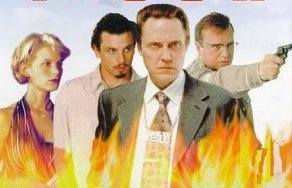 REVIEWED ON 3/30/2004 GRADE: C