TOP GUN: MAVERICK
(director/writer: Joseph Kosinski; screenwriters: Ehren Kruger, Eric Warren Singer, Christopher McQuarrie/story by Peter Craig and Justin Marks; cinematographer: Claudio Miranda; editor: Eddie Hamilton; music:Harold Faltermeyer, Lady Gaga, Hans Zimmer; cast: Tom Cruse (Pete Mitchell, Maverick), Jennifer Connelly (Penny Benjamin), Kelly McGillis (Charlie Blackwood, astrophysicist), Miles Teller (Bradley "Rooster" Bradshaw), Monica Barbaro (Phoenix), Glen Powell (Hangman), Greg Tarzan Davis (Coyote), Danny Ramirez (Fanboy), Jay Ellis (Payback), Lewis Pullman (Bob), Bashir Salahuddin (Coleman), Ed Harris (Rear Admiral), Val Kilmer (Iceman), Jon Hamm (Cyclone), Charles Parnell (Warlock); Runtime: 131; MPAA Rating: PG-13; producers; Jerry Bruckheimer, Tom Cruise, Christopher McQuarrie, David Ellison: Paramount; 2022)
"An implausible and forgettable retread of the original 1986 Top Gun."
Reviewed by Dennis Schwartz

An implausible and forgettable retread of the original 1986 Top Gun. It makes no changes to its stale plot. The original was directed by the late Tony Scott. The new Top Gun action pic is written and directed by Joseph Kosinski ("Tron: Legacy"/"Only the Brave") and co-written by Eric Warren Singer, Ehren Kruger and Christopher McQuarrie, from a story by Peter Craig and Justin Marks. It's an adrenaline driven crowd pleasing film, another star vehicle for the popular actor Tom Cruise that should do fine with the critics and at the box office. The movie was filmed before the pandemic and was to be released in 2020, but was held back because of Covid-19.

The sequel returns to the elite U.S. Navy's Fighter Weapons School at Naval Air Station Miramar in San Diego, which is nicknamed TOPGUN.

The rebellious Navy Captain Pete Mitchell (Tom Cruise), nicknamed Maverick, is now a test pilot working  in the Mojave Desert. He has been passed over for promotion because of his feisty attitude, but is called back to TOPGUN for one last stint as top teacher to prepare a group of F-18 hotshots, Top Gun grads, for a dangerous overseas mission to fly at low altitudes to destroy a mountain-based uranium plant operated by the unnamed enemy of a rogue nation (supposedly Russia). But he's not to join them in the mission. In the original Cruise was the hotshot student at the Naval school, now he's the 50-something oldster hotshot instructor (that passes for giving things a different plot look).

Maverick relates with flyers like Miles Teller's bitter Bradley 'Rooster' Bradshaw, the unforgiving son of his old co-pilot Goose, now dead, as the kid foolishly blames Mav for his dad's death in a training exercise. There's also a genial on and off romance Mav has with Jennifer Connelly's bar-owning single mom.

Ed Harris pops up as the rear admiral in charge of the Naval base. Jon Hamm plays a bullying vice admiral not pleased with the Maverick teaching appointment or that he's brought back Val Kilmer's Iceman to assist him (Kilmer in real life had throat cancer that has effected his voice). The flyers include–Glen Powell as the overconfident "Hangman," Greg Tarzan Davis as "Coyote," Jay Ellis as "Payback," Danny Ramirez as "Fanboy," Monica Barbaro as "Phoenix," the only female in the group, and Lewis Pullman as "Bob." They love Maverick's badass attitude, while the brass can't stand him.

Besides the set piece action scenes (all finely filmed by Claudio Miranda), there are plenty of zingers and nostalgia moments (like riffs from Kenny Loggins' Danger zone played during a flyover of the base by a squadron of F-18s, using the same music as in the 1986 film).

It's a rah-rah patriotic movie, not my kind of war pic, that might work best for those willing to shut out the real world for Hollywood's version of the real world. But there's no doubt it's a well-made and well-acted film, and has its enjoyable moments.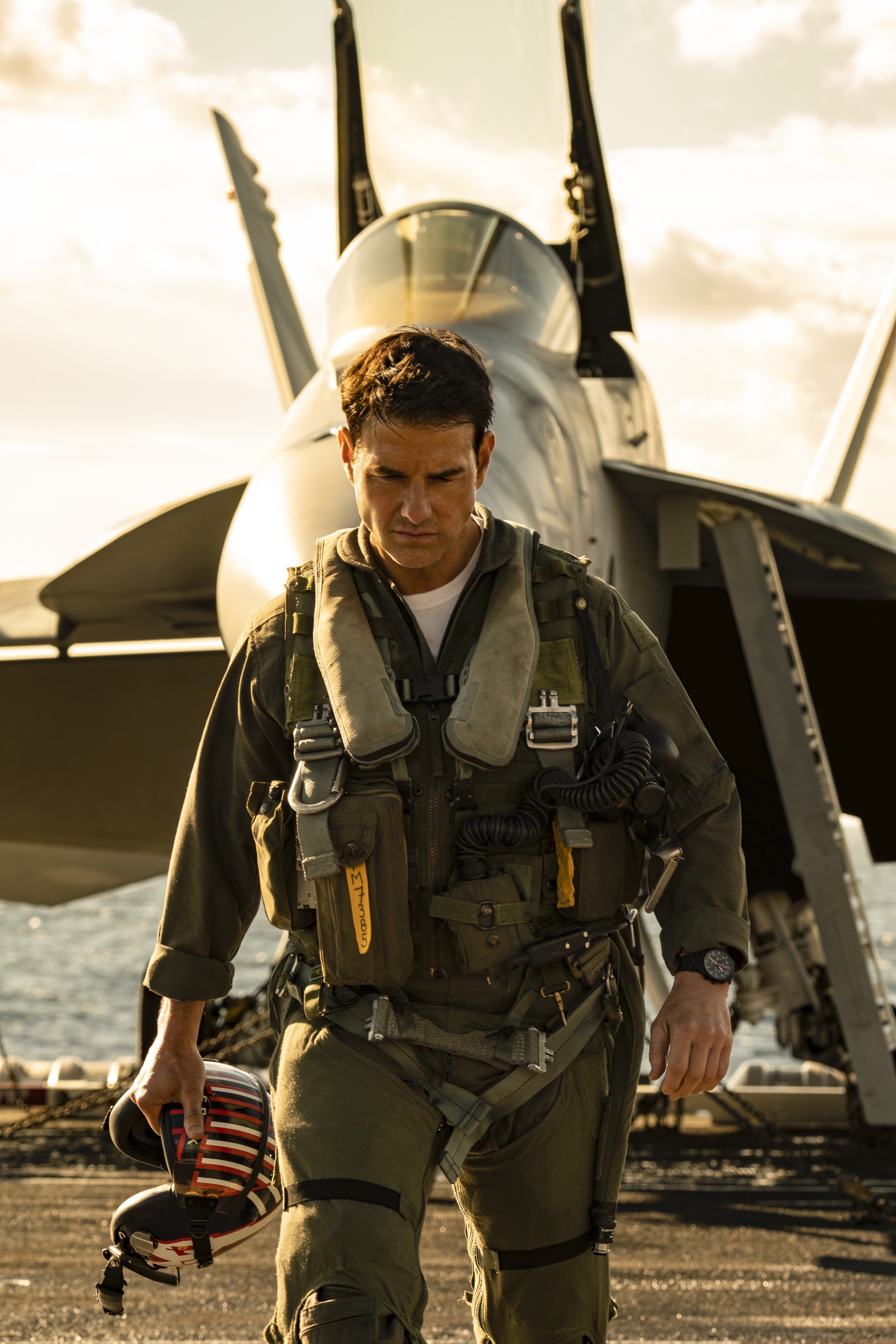 REVIEWED ON 5/13/2022 GRADE: B-