TOMORROW WAR, THE
(director/writer:Chris McKay; screenwriter: Zach Dean; cinematographer: Larry Fong; editors: Roger Barton/Garret Elkins; music: Lorne Balfe; cast: Chris Pratt (Dan Forester),Yvonne Strahovski (Muri Forester), J.K. Simmons (James Forester), Sam Richardson (Charlie), Betty Gilpin (Emmy), Jasmine Mattews (Lt. Hart), Yvonne Strahovski (a colonel), Mary Lynn Rajskub (Norah), Mike Mitchell (Cowan), Edwin Hodge (Dorian); Runtime: 140; MPAA Rating: PG-13; producers; David Ellison, Dana Goldberg, Don Granger, Jules Daly, David S. Goyer, Adam Kolbrenner: Amazon Prime Video; 2021)
"This overlong Tomorrow has no tomorrow on screen."
Reviewed by Dennis Schwartz

A cornball sci-fi thriller, with a laughable ending. It's a film you must suspend disbelief to entertain any hope of enjoying. It's the live-action debut of director Chris McKay ("The Lego Batman Movie"), that's inertly written by Deadfall's Zach Dean, who struggles to write some sensible human drama into the largely special effects action film.

The futuristic film opens in 2022 but is set three decades in the future. It uses the usual sci-fi concept of time travel for its plot, as visitors from 2051 return to earth with a plea for help to survive an alien attack (the ravenous beasts shoot white spikes at their victims) or loss is inevitable for mankind-with the human population of the Earth alarmingly down to under 500,000. The visitors are asking for volunteers to travel to the future and save the planet from destruction from the extraterrestrial invaders. When volunteers are not enough, a civilian draft is put in place and among those chosen to go on the voyage is the high school biology teacher with a military history, Dan Forester (Chris Pratt). He will do a one-week tour of duty. His wife Emmy (Betty Gilpin) and young daughter Muri (Ryan Kiera Armstrong) and his cranky PTSD ex-military dad get left at home.

The doom and gloom mission suddenly becomes personal when Dan hears secrets about his role in the mission from a military scientist colonel (Yvonne Strahovski), in a back story that strains credibility. Dan gamely fights alongside his fellow draftees–his wisecracking college science professor Charlie (Richardson), a three-tour vet Darius (Edwin Hodge), Cowan (Mike Mitchell) and the comic actress Mary Lynn Rajskub.

The derivative film struggles to get out of the confines of being a video game, as it's seemingly all about shootouts and explosions.

Pratt makes for a fine action hero looking for a better script, but this overlong Tomorrow has no tomorrow on screen.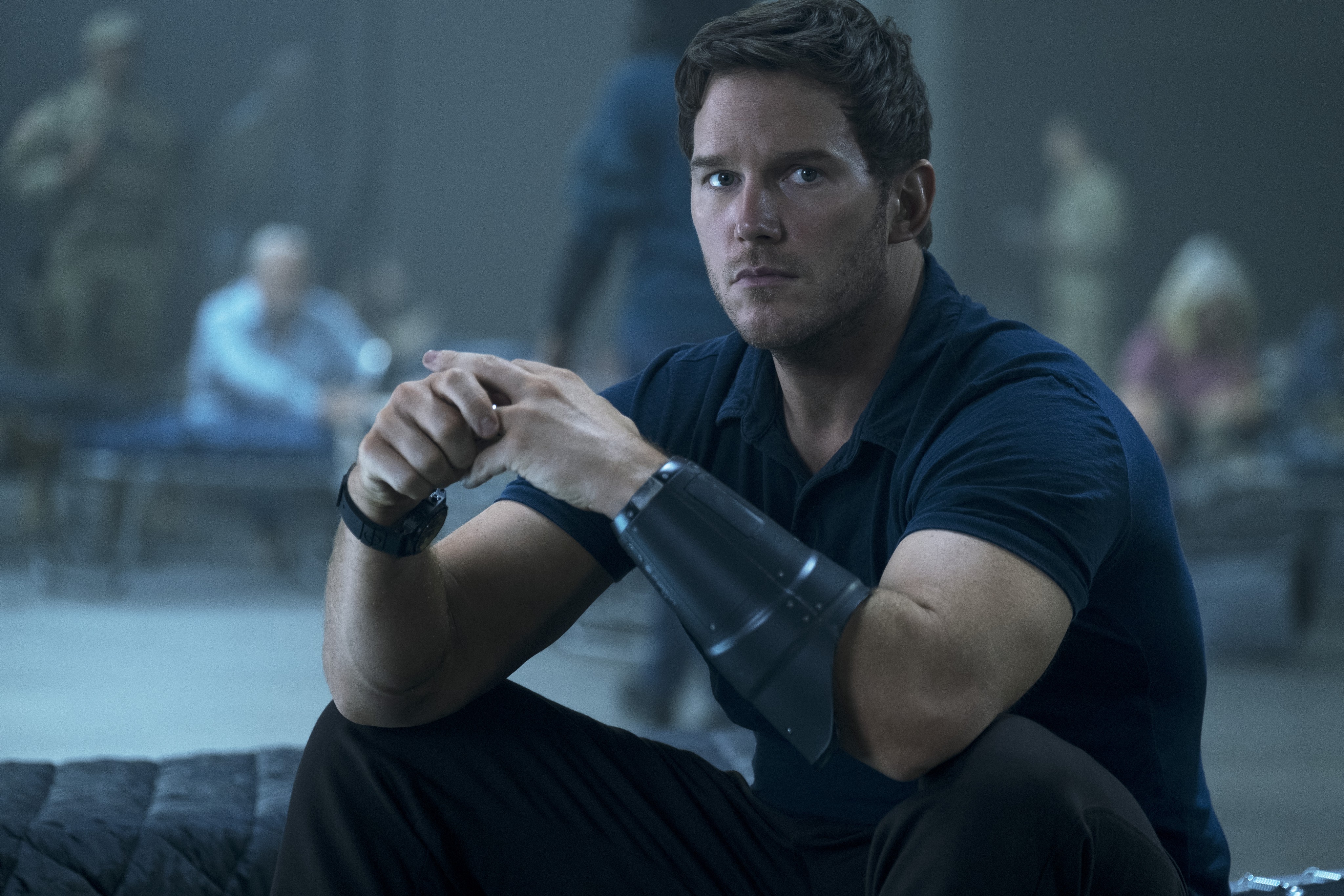 REVIEWED ON 7/6/2021 GRADE: C