TITANE (titanium)
(director/writer:Julia Ducournau; screenwriters: Jacques Akchoti/Jean-Christophe Bouzy; cinematographer: Ruben Impens; editor: Jean-Christophe Bouzy; music: Jim Williams/ Séverin Favriau; cast: Vincent Lindon (Vincent Legrand), Agathe Rousselle (Alexia/Adrien), Garance Marillier (Justine), Laïs Salameh (Ravane), Bertrand Bonello (Alexia's father), Dominique Frot (La dame Macarena); Runtime: 108; MPAA Rating: NR; producer; Jean-Christophe Reymond: Arte France Cinema; 2021-France/Belgium-in French with English subtitles)
"The pointless film does its freaky parts well."
Reviewed by Dennis Schwartz

French director Julia Ducournau ("Raw") crudely helms this gonzo crash film as a freaky reminder of perhaps a David Cronenberg sci-fi film. It wants to say something profound about identity, family and body image through the use of car symbols, but whatever it manages to say sounds clumsy, bizarre and inane. It was the kinky sensation at the recent Cannes Film Festival, as it has some entertainment value despite its lack of substance.

The taciturn Alexia (Agathe Rousselle) is a young woman damaged by a car crash when a child (there's a titanium plate in her skull), an accident caused when the child bangs her foot from her back seat into the driver's seat and her distracted father (Bertrand Bonello, director) loses control hitting a highway guard rail. Ironically she now works as a dancer at car shows and deals with creeps hitting on her. When one of the macho pests goes too far, she takes him out and goes on the lam disguised as a boy named Adrien. She wants to look like a missing boy her age seen on wanted posters, so with the toilet seat breaks her nose to get that look.

When located, the boy's distraught father, the fire chief (Vincent Lindon), is so glad his son has been found that he fails to do a complete check if that's his son.

The pointless film does its freaky parts well, but it's grating when it does an over-the-top scene where the Agathe character has sex with a car (if you can believe that bit you might be either wiser or dumber than I am).

In its crass way it asks questions about gender identity and family relations, but in a strained and unconvincing way.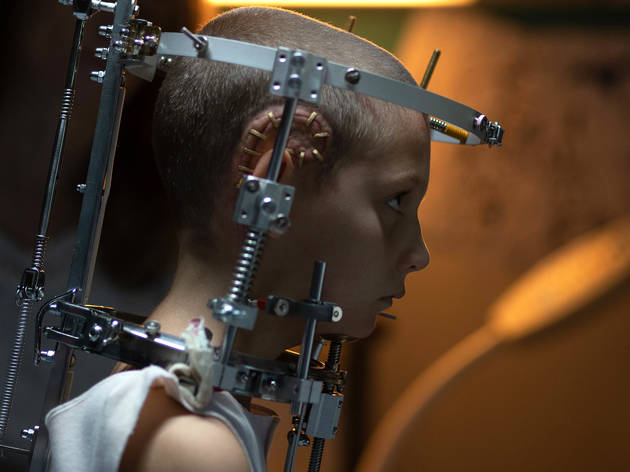 REVIEWED ON 7/27/2021 GRADE: C+