TIMECODE
(director/writer: Mike Figgis; cinematographer: Patrick Alexander Stewart; cast: Xander Berkeley (Evan Watz), Golden Brooks (Onyx Richardson), Saffron Burrows (Emma), Viveka Davis (Victoria Cohen), Richard Edson (Lester Moore), Aimee Graham (Sikh nurse), Salma Hayek (Rose), Glenne Headly (therapist), Holly Hunter (executive), Danny Huston (Randy), Patrick Kearney (drug house owner), Elizabeth Low (Penny), Kyle MacLachlan (Bunny Drysdale), Mia Maestro (Ana Pauls), Leslie Mann (Cherine), Suzy Nakamura (Connie Ling), Alessandro Nivola (Joey Z), Zuleikha Robinson (Lester Moore's assistant), Julian Sands (Quentin), Stellan Skarsgard (Alex Green), Jeanne Tripplehorn (Lauren Hathaway), Steven Weber (Darren Fetzer), Andrew Heckler & Daphna Kastner (auditioning actors); Runtime: 93; Screen Gems; 2000)
"This gimmicky experimental film from Mike Figgis ("Leaving Las Vegas") isn't worth the film it's on…"
Reviewed by Dennis Schwartz
This gimmicky experimental film from Mike Figgis ("Leaving Las Vegas") isn't worth the film it's on…even if one were to applaud the effort and ignore the film itself. Will pretentious crap do for a succinct review! It is more of a joke than a serious film. All it tries to do is push the boundaries of technical innovation, while it neglects the basics of movie making; such as, character development and the telling of a good story. Shot on digital video in real time, with four hand-held cameras filming four different split screens, allowing the viewer to pick his poison as to which screen to watch; the narrative is told without any cuts, therefore no editor is needed. One of the screens has a louder volume, indicating that is the one the director thinks we might be more interested in listening to.
This soap opera story is about the lives and loves of a sundry group of people connected to a Hollywood production company as they cast for their latest film project, which it turns out is similar to the film just seen.
Ana Pauls (Mia Maestro),a heavily foreign accented avant-garde filmmaker, pitches her project at the office of Red Mullet Productions to a roomful of uptight executives. Her preachy lecture is accompanied by the hip-hop music of her boyfriend (Alessandro Nivola). At her side is her wormy agent (Kyle MacLachlan), as she drops names — from Sergei Eisenstein to Walter Gropius — using embellishments to overstate her case as freely as Al Gore does. Ana expounds on the virtue of art and technology "to go beyond the paradigm of collage." This is greeted by a burst of laughter from the studio producer Alex (Stellan Skarsgard), as he can't imagine this as a serious work. Well, at least, there should be something said about honesty in recognizing the worth of the product produced. The filmmaker's attempt here, is to make a stinging satire on Hollywood and himself.
Timecode, under the pretense of being innovative, gets a big studio to take a chance on producing it, which doesn't mean it's worthwhile. The film was most like one of those stationary camcorder sites that they have on the Internet, of say some street corner, where the viewer hopes the time he spends is not wasted and something spontaneous will unfold to make the time spent watching it worth his while.
The prosaic story opens with a therapy session involving Emma (Saffron Burrows) describing her marital crisis to her unfaithful husband Alex, who is a burnt-out drug addict and alcoholic. The haggard producer keeps busy by having several affairs but an affair with an aspiring, voluptuous actress, Rose (Salma Hayek), is the key one. Rose's jealous lesbian lover Lauren (Jeanne Tripplehorn) suspects this affair, and plants a microphone on Rose while they ride to her audition in Lauren's limo. Lauren wishes to confirm what she already knows and when confirmed will commit a bloody deed. The lesbian, naturally, is made the ultimate villain.
At various times, the obvious symbolism of an earthquake is used as an artificial means to shake up all the characters in the quadrant. It was awkwardly done, seemingly ruining whatever natural effect was aimed for in telling this story in real time.
I just couldn't get interested in this experimental film, finding it dizzying to watch and I was also hampered by the story's lack of wit and lack of spontaneous outrage. These are the type of films the Warhol factory used to knock out with clockwork, able to easily get the right freaks to pull off their bizarre free-flowing sordid tales as they did in "The Chelsea Girls."
"Timecode" just couldn't translate its sense of fun to the viewer, at least it couldn't to me. As for the technical feats attempted, maybe a more innovative filmmaker could make something of this format. Other than that this plays mostly as a novelty film, one to see because it's part of movie history.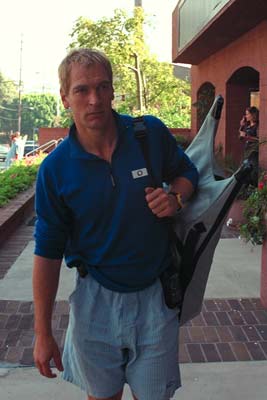 REVIEWED ON 10/16/2000 GRADE: C