THREE HOURS TO KILL
(director: Alfred L. Werker; screenwriters: story by Alex Gottlieb/Richard Alan Simmons/Roy Huggins/Maxwell Shane; cinematographer: Charles Lawton Jr.; editor: Gene Haylick; music: Paul Sawtell; cast:  Dana Andrews (Jim Guthrie), Donna Reed (Laurie Mastin), Diane Foster (Cris), Stephen Elliott (Sheriff Ben East), Richard Coogan (Niles Hendricks), James Westerfield (Sam Minor), Whit Bisell (Deke), Charlotte Fletcher (Betty), Richard Webb (Carter Mastin), Felipe Turich (Esteban), Francis McDonald (Deputy Vince), Carolyn Jones (Polly), Laurence Hugo (Marty Lasswell); Runtime: 77; MPAA Rating: NR; producer: Harry Joe Brown; Columbia; 1954)
"Superior B-western even if filled with plot holes."
Reviewed by Dennis Schwartz

Alfred Werker ("The Last Posse"/"Devil's Canyon") does a good directing job with this superior B-western even if filled with plot holes. It's about a stagecoach driver guard, Jim Guthrie (Dana Andrews), who is framed for a murder he didn't do and nearly lynched by a drunken mob. It's based on the story by Alex Gottlieb and is written by Richard Alan Simmons, Roy Huggins and Maxwell Shane.

One evening in a saloon in Furnace Flats, at a western town dance, a drunk but happy Jim plans to marry Laurie Mastin (Donna Reed) tomorrow and live on a ranch he's borrowing money to buy. But Laurie's possessive gambler older brother Carson (Richard Webb) doesn't think Jim is good enough for her and opposes the marriage. They get into a fistfight outside the bar and Jim is knocked out. When he awakens, Carson has been killed with Jim's gun and Jim is standing over his dead body with the gun in his hand. The mob thinks he's obviously guilty, as even his friends like the unctuous bartender Sam (James Westerfield) and the cowardly barber Deke (Whit Bissel) yell for him to be hung. Jim escapes the lynching with the help of Laurie but has a rope scar on his neck, and goes on the run for three years.

Tired of running, Jim returns to the small town to get the killer of Carter. His good friend Ben East (Stephen Elliott) is now sheriff and gives him three hours to catch the killer or if not he will be allowed to cross the border to Mexico or be arrested.

The four suspects are Sam, Deke, the gambler saloon owner Marty (Laurence Hugo) and the banker/rancher Niles Hendricks (Richard Coogan), who when Jim's gone marries Laurie and accepts her even if she's carrying Jim's kid.

Ironically, the real killer turns out to be the only one in town who tries to help him.

This edgy film holds its own with the same themed brilliant western The Ox-Bow Incident.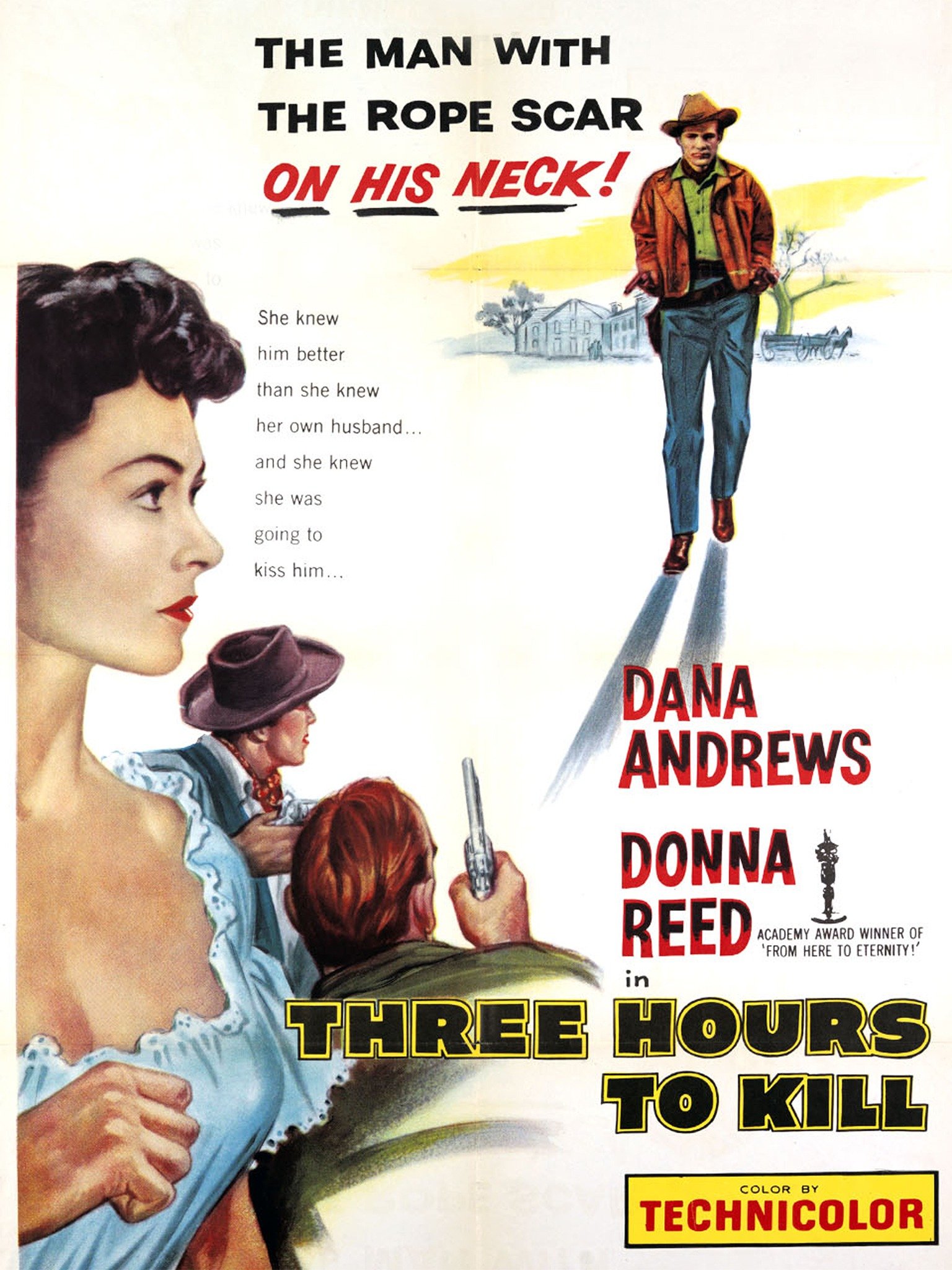 REVIEWED ON 7/27/2022 GRADE: B+