THIS WOMAN IS DANGEROUS
(director: Felix Feist; screenwriters: Geoffrey Homes/George Worthing Yates/story Stab of Pain by Bernard Girard; cinematographer: Ted McCord; editor: James C. Moore; music: David Buttolph; cast: Joan Crawford (Elizabeth Beth Austin), David Brian (Matt Jackson), Katherine Warren (Nurse, Mrs. Millican), Dennis Morgan (Dr. Ben Halleck), Sherry Jackson (Susan Halleck), Mari Aldon (Ann Jackson), Phil Carey (Will Jackson), Ian McDonald (Joe Crossland, Private Eye), George Chandler (Dr. Ryan), Harry Lauter (Trooper), Richard Webb (James A. Franklin), Kenneth Patterson (oculist), Douglas Fowley (Club Manager); Runtime: 97; MPAA Rating: NR; producers: Robert Sisk; Warner Bros.; 1952-B/W)
"Forgettable and unremarkable melodramatic film noir."
Reviewed by Dennis Schwartz

A B-film schematic femme fatale noir, filmed in black and white, that serves as a star vehicle for the ageing, in her forties, Joan Crawford (her last film with Warners and one she hated–calling it the worst film she ever made). Studio journeyman director Felix Feist ("Donovan's Brain"/"The Devil Thumbs a Ride") helms this forgettable and unremarkable melodramatic film noir shot in a glossy style but without catching much drama from all the soap opera hokum. But if you're into B/W cinematography, the cinematographer Ted McCord does good on the filming part. His atmospheric shadows give the noir film just the right kind of dark shots that can sometimes even save a bad film from being that bad.

Beth Austin (Joan Crawford) is a beautiful woman posing as a society dame who plans the robbery at an illegal New Orleans gambling casino. She leads a double life, as she's the brains behind the notorious Jackson Brothers gang of armed robbers.

The volatile younger brother, Will Jackson (Phil Carey), resents having a woman boss, while his more sedate wife Ann (Mari Aldon) craves peace and quiet.

Beth's hot-headed heavy drinking lover, Matt Jackson (David Brian), is the possessive psychopath type.

Worried about losing her eyesight after learning from a N.O. oculist (Kenneth Patterson) she's going blind, Beth gets a risky operation from the Indianopolis residing eye surgeon Dr. Ben Halleck (Dennis Morgan), and when she spends a lot a time with him, her madman boyfriend gets jealous and hires the private eye Crossland (Ian McDonald) to follow her.

The brothers, while back home in their Virginia cabin hide-out, recklessly kill on the road a highway patrolman and are forced to lay low. Instead Matt is so consumed with jealousy, he goes after his unfaithful babe in the eye clinic hospital where she's recouping. The dame has fallen in love with her handsome and sensitive widower, raising a daughter as a single parent. He's a healer, while her brutish gangster boyfriend is a destroyer.

The dull plot is predictable and not believable. But despite Crawford's dislike of the pic, I thought her performance was very good.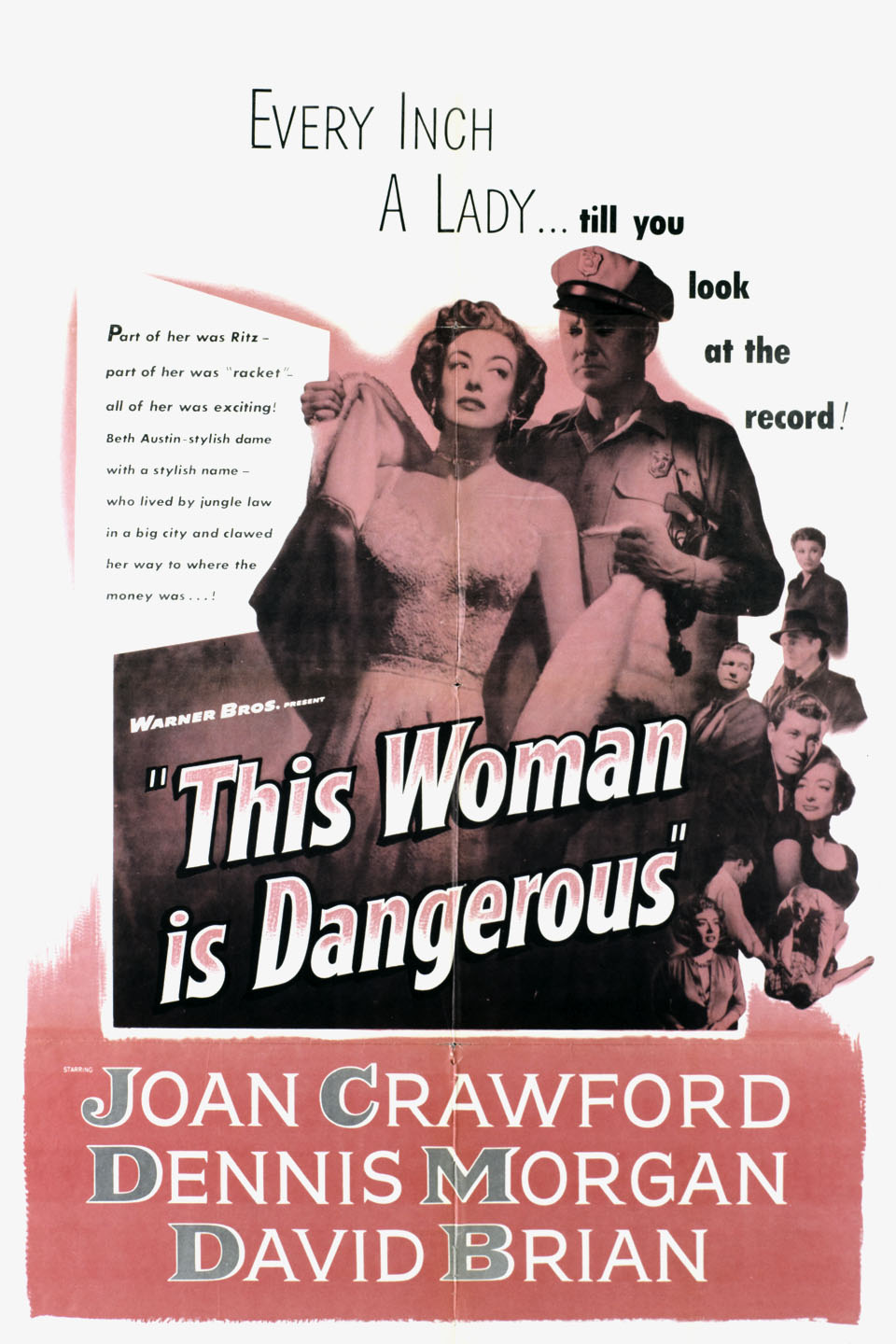 REVIEWED ON 8/21/2022 GRADE: B-