THIS SPORTING LIFE
(director/writer: Lindsay Anderson; screenwriter: based on a novel by David Storey; cinematographer: Denys Coop; editor: Peter Taylor; music: Roberto Gerhard; cast: Richard Harris (Frank Machin), Rachel Roberts (Margaret Hammond), Alan Badel (Weaver), William Hartnell (Johnson), Colin Blakely (Maurice Braithwaite), Vanda Godsell (Mrs. Ann Weaver), Anne Cunningham (Judith), Arthur Lowe (Slomer), Jack Watson (Len Miller), Harry Markham (Wade), George Sewell (Jeff), Leonard Rossiter (Phillips); Runtime: 134; MPAA Rating: NR; producers; Albert Fennell/Karel Reisz: Criterion; 1963-UK-in black and white)
"A skillfully made but glum character study sports film."
Reviewed by Dennis Schwartz

Brit New Wave filmmaker Lindsay Anderson's debut feature ("O Lucky Man! "/"The Whales of August") is a skillfully made but glum character study sports film about Frank Machin (Richard Harris), a rough Yorkshire miner recruited to play pro rugby after getting into fights in the local pubs. Though an unpolished player his rough-house play makes him popular with the fans.
It's based on the prize-winning novel by David Storey, a former rugby player, one that's intense and appealing.

Though not a commercial success, it was an influential film that moved the needle on films that promote social realism and method acting. Even if dated it remains known as a landmark in the history of British cinema as an "Angry Young Man" classic. The raw emotional performances of Harris and his guilt-ridden landlady lover Rachel Roberts are memorable. Roberts is a beauty suffering over the suicide or maybe accidental death in the mill of her husband, who though giving way to Frank's passion and makes love with him still refuses to be emotionally committed. Their rich performances won them both acting honors and praise from the critics.

The British kitchen-sink film is both a tragic love story and a gritty sports film telling how the players are exploited by their club owners (the mill owner (Alan Badel) owns the rugby team).

Its game time scenes are superbly photographed by cinematographer Denys Coop.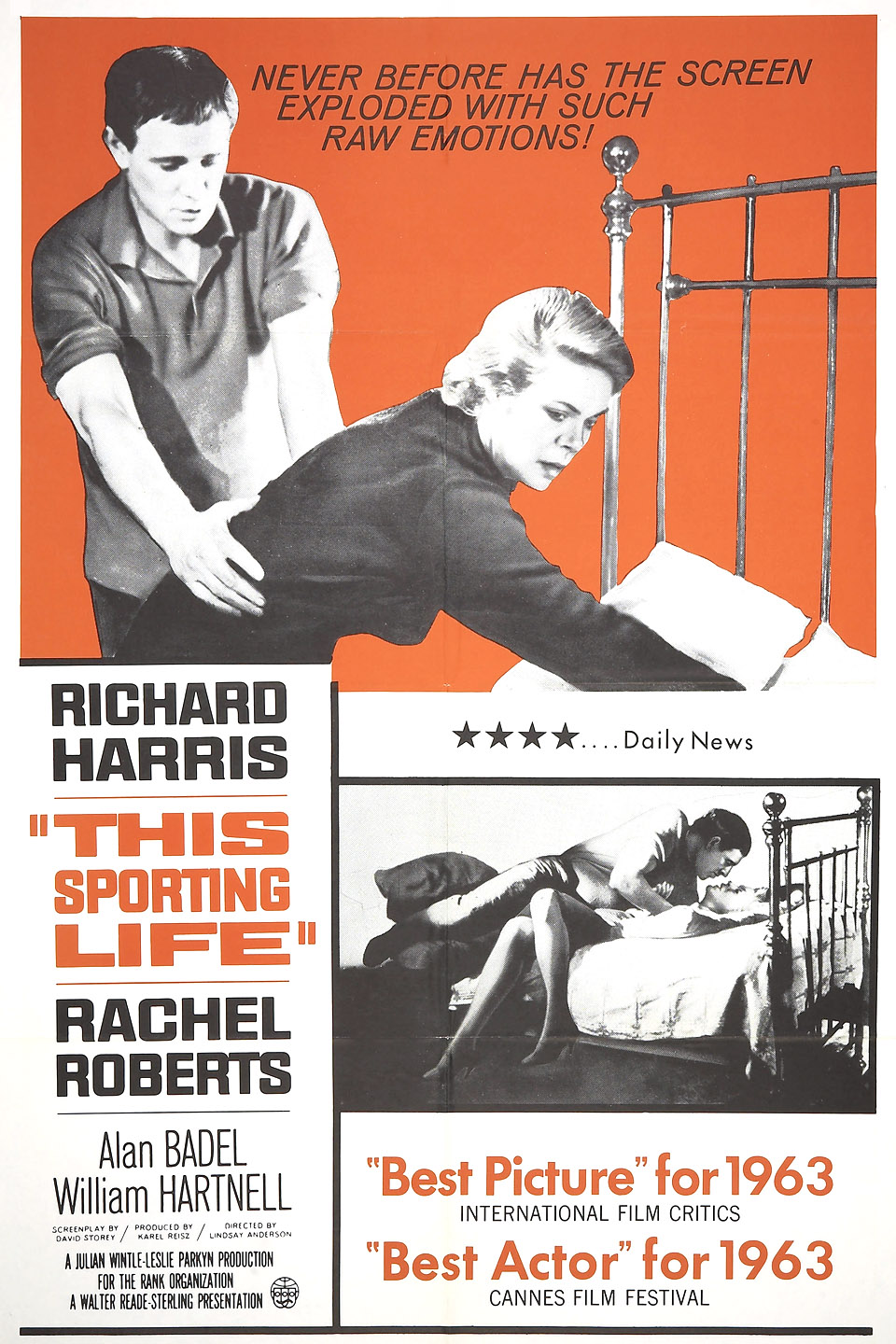 REVIEWED ON 5/3/2022 GRADE: B