THINNER
(director/writer: Tom Holland; screenwriters: book by Stephen king, Michael McDowell; cinematographer: Kees Van Oostrum; editor: Marc Laub; music: Daniel Licht; cast: Robert John Burke (Billy Halleck), Joe Mantegna (Richie Ginelli), Sam Freed (Dr. Mike Houston), Lucinda Jenney (Heidi Halleck), Joy Lenz (Linda Halleck), Kari Wuhrer (Gina Lempke, sexy Gypsy woman), Michael Constantine (Tadzu Lempke), Howaed Erskine (Judge Phillips), John Horton (Judge Cary Rossington), Elizabeth Franz (Leda Rossington), Daniel Von Bargen (Police Chief Duncan Hopley), Lucinda Jenney (Heidi); Runtime: 93; MPAA Rating: R; producers: Richard P. Rubinstein, Mitchell Galin; Paramount Pictures; 1996)
"The thinner the lawyer becomes the thinner the story gets."
Reviewed by Dennis Schwartz

This cartoonish and trashy Stephen King thriller is based on the 1984 novel written under the alias of Richard Bachman (a way he used of getting around the rule of his publisher that he can only publish one book a year).

It's directed by Tom Holland ("Fright Night"/"Child's Play") and co-written by him and Michael McDowell.

The reasonably entertaining story but questionable moral parable is a horror pic with the town infiltrated by the arrival of a gypsy carnival.
Attorney Billy Halleck (Robert John Burke) is the most admired mouthpiece in his law firm after getting his mobster client Richie Ginelli (Joe Mantegna) acquitted from a murder charge. The obese lawyer who weighs around 300 pounds, is on the way home from a country club dinner with his wife celebrating his courtroom victory, when his wife Heidi (Lucinda Jenney) rewards him with a blow job. This distracts him from the road, as he fatally hits an elderly gypsy woman crossing the street after coming out of a drug store.

At the inquest, the judge and police chief do nothing to the well-connected Billy for the crime of manslaughter, calling it an accident. Outside the courthouse, the Gypsy's 109-year-old patriarch Tadzu Lempke (Michael Constantine), the father of the woman run over, touches Billy on the cheek, saying the word "thinner". Soon, Billy finds he has received a gypsy curse and that he is losing a lot of weight – 40 pounds in two weeks. He initially puts this down to his new diet but finds that he continues to lose weight no matter what he eats. He comes to realize that he, as well as the racist judge and self-serving police chief (Daniel Von Bargen), have been the recipients of Gypsy curses and will die unless they reverse the curse. As Billy thins away to near oblivion, he gets nasty, ruminating over his wife's possible affair with the local doctor, as he learns that the only way he can remove the curse is to make the person who cast it voluntarily remove it.

It's a tale of vengeance, with a curious plot and characters who are all caricatures. Burke elicits little sympathy for his amoral dumb-smiling character (either when obese or thin), as the thinner the lawyer becomes the thinner the story gets.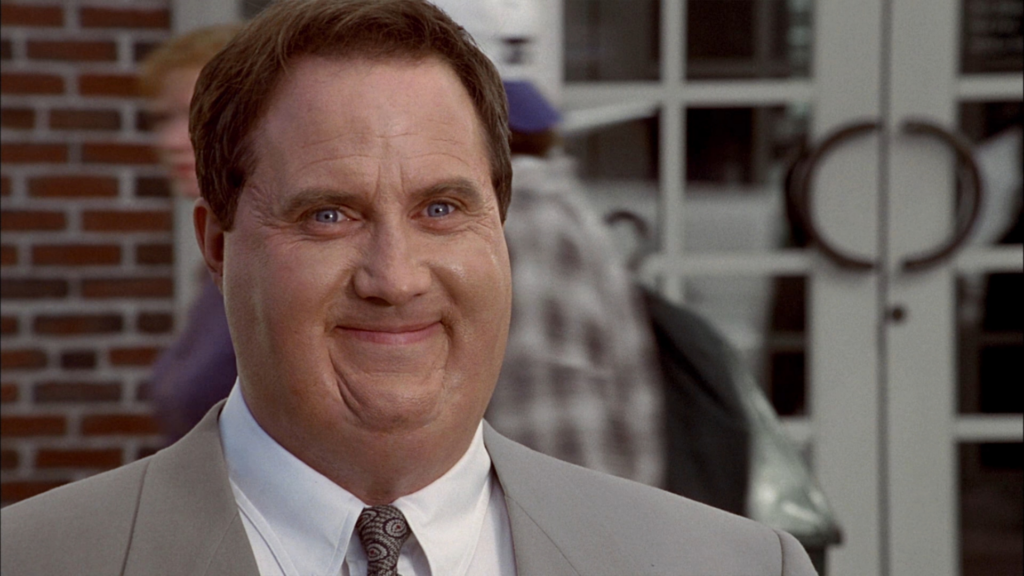 REVIEWED ON 8/17/2023  GRADE: B-