THEM THAT FOLLOW
(directors/writers: Britt Poulton/Dan Madison Savage; cinematographer: Brett Jutkiewicz; editor: Joshua Raymond Lee; music: Garth Stevenson; cast: Walton Goggins (Pastor Lemuel Childs),  Alice Englert (Mara), Olivia Colman (Hope Slaughter), Thomas Mann (Augie Slaughter), Kaitlyn Dever (Dilly), Jim Gaffigan (Zeke Slaughter), Lewis Pullman (Garret); Runtime: 98; MPAA Rating: R; producers: Bradley Gallo, Michael A. Helfant, Gerard Butler, Alan Siegel, Danielle Robinson; Amasia Entertainment; 2019)
"Though competently filmed, the film never had enough bite for me."
Reviewed by Dennis Schwartz

Britt Poulton and Dan Madison Savage, in their debut feature, are co-directors & co-writers of this lethargic indie drama about troubles in an isolated community of Pentecostals, in the Appalachians. It follows the worshipers who believe snakes reflect God's will, and that their religion requires them to be snake handlers. 

Hope (Olivia Colman, the superb Brit actress could never get straight her American accent but her fiery performance still holds the film together) is a God-fearing Appalachian mum, a converted believer, in the small community who follow the Pentecostal preaching of pastor Lemuel (Walton Goggins). The church belief is in following the literal biblical quote of Mark 16:18: "They shall take up serpents; and if they drink any deadly thing, it shall not hurt them; they shall lay hands on the sick, and they shall recover." Unfortunately the church has a poor name in the region and is under police investigation for the previous suspicious death of a young boy worshiper from a snake bite.

The pastor uses poisonous rattlers as examples of sinners in his sermons. A snake bite will result in either death (whereby a dead parishioner is thought of as someone who "couldn't fight off the venom") or recovery. If you live through a snake bite, it's an omen that your faith is powerful and that God must heal you (Oh my! There are still modern-day people who believe in such nonsense).

Mara (Alice Englert) is the true believer pastor's daughter. She's soon-to-be married to the fervent church member Garret (Lewis Pullman), but is involved in a secret romance with the ex-church member Augie (Thomas Mann) and is pregnant by him. He's Hope's son. It's a dangerous situation that can cause ruin for the church or for the individuals involved.

The community is not made up of bad people as much as rigid believers in a cult religion whose lives are shaped by their extreme faith. These snake handlers put their faith in the decisions of rattlers rather than living a religious life through the love of God.

I found little of interest here religiously, a vacuous script and characters who were paper thin. Though competently filmed, the film never had enough bite for me.

Kaitlyn Dever plays Mara's best friend Dilly, whose mother abandoned her. Jim Gaffigan is the devout Zeke, who is married to Hope.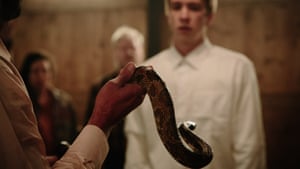 REVIEWED ON 8/5/2019 GRADE: C+
https://dennisschwartzreviews.com/