BLACK  PHONE, THE
(director/writer: Scott Derrickson; screenwriters: C. Robert Cargill/based on a short story by Joe Hill; cinematographer: Brett Jutkiewicz; editor: Frédéric Thoraval; cast: Ethan Hawke (The Grabber), Mason Thames (Finney Shaw), Jeremy Davies (Mr. Shaw), Madeleine McGraw (Gwen Shaw), James Ransone (Max); Runtime: 102; MPAA Rating: R; producers; Jason Blum, Scott Derrickson, C. Robert Cargill: Universal/Blumhouse; 2021)
"Rewards us with a spine-tingling third act."
Reviewed by Dennis Schwartz

Based on the 2004 short story by Joe Hill (the son of Stephen King) entitled "The Grabber." Director Scott Derrickson ("Doctor Strange"/"Sinister") sets it in the '70s , in the Denver area where he grew up, and co-writes it with his regular collaborator C. Robert Cargill by expanding the short story.

The kidnapper called by the police the Grabber (Ethan Hawke) has abducted five teenage boys while riding around in a van dressed as a clown. We don't know his motives since the kids just vanish (almost certainly murdered by the psychopath).

The Grabber's latest victim is Finney Shaw (Mason Thames), a shy bullied child at school, despite being a pitcher on his high school baseball team. He's also bullied at home by his drunken strap-beating repulsive widowed father (Jeremy Davies), who also beats Finney's younger spunky sister Gwen (Madeleine McGraw). Like her brother, she's also bullied in school, but fights back.  

The frightened Finney is locked in the Grabber's nearly empty basement that has a disconnected (cut wires) black rotary phone on the wall. The only salvation for the kid is that the phone mysteriously is ringing (we're asked to from the other world spirits of the former victims kept  in the basement) and when answered the kid hears voices. This leaves him some hope he can get through to someone on the other end of the line. Meanwhile the resourceful kid survives by drinking the toilet water, and viewing the Grabber as just another bully.

Gwen has prophetic dreams, whereby she predicted a few of the recent kidnappings. She tells the investigating detectives about her dreams, as there exchange leads to some levity. But she has no clue regarding the kidnapping of her brother.

The one real hope for the kid might be from the cocaine addict Max (James Ransone), a local civilian who is obsessed with playing detective and finding the hiding place of the kidnapper.

The film moves along at a nice pace, providing a few well-placed jump scares and enough humor from the spunky Gwen to keep its bleak story a bit more cheery.

Its build-up of suspense rewards us with a spine-tingling third act, one that pays respect to how the better serial-killer pics do it.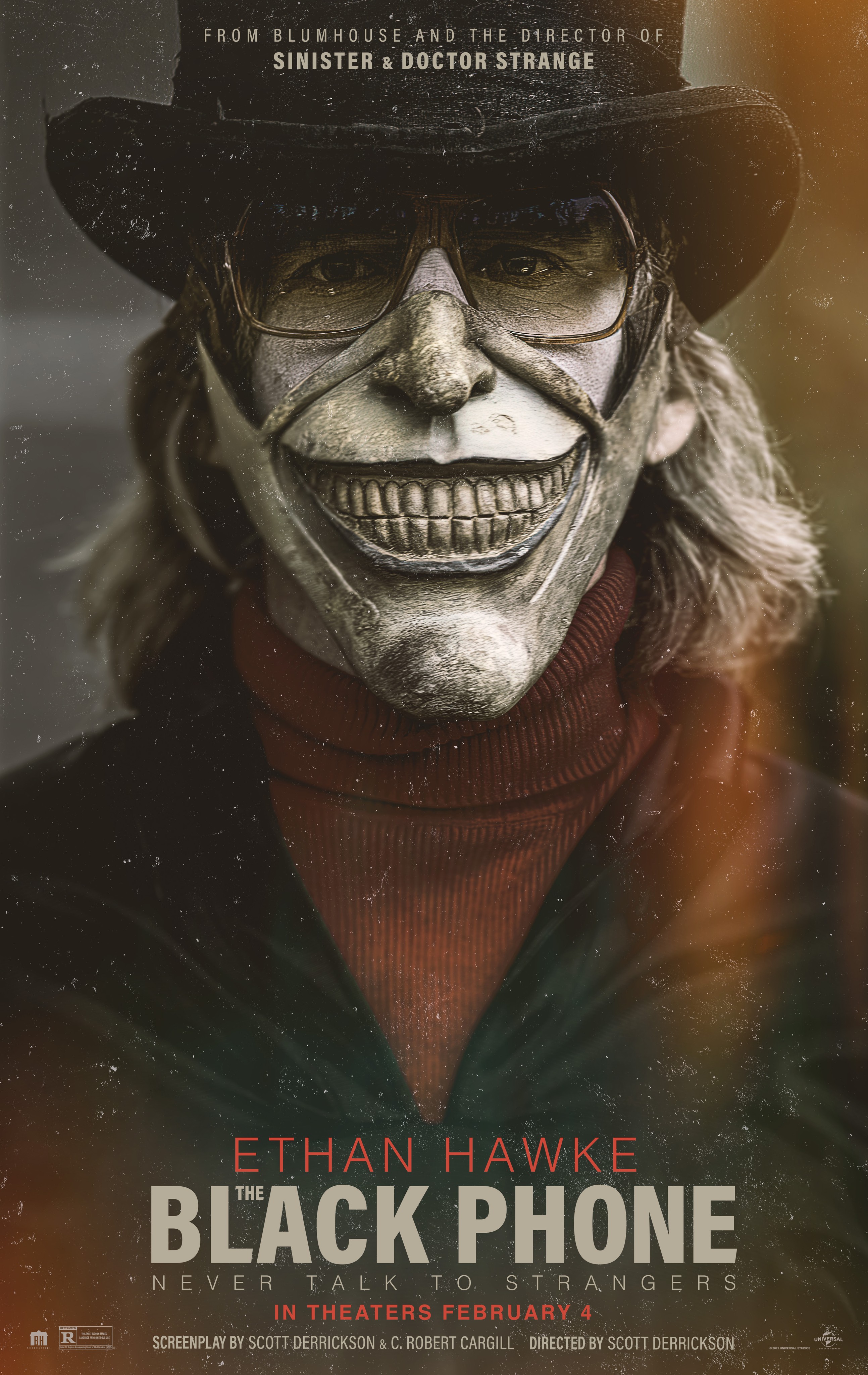 REVIEWED ON 10/15/2021 GRADE: B +