THAR
(director/writer: Raj Singh Chaudhary; screenwriters: Anurag Kashyap; cinematographer: Shreya Dev Dube; editor: Aarti Bajaj; music:Ajay Jayanthi; cast: Anil Kapoor (Surekha Singh), Harshvardhan Kapoor (Siddharth), Fatima Sana Shaikh (Chetna), Jitendra Josh (Panna), Satish Kaushik (Bhure), Mokti Mohan (Gauri), Rahul Singth (Khaavar Khan), Shovan Jaman (Driver), Sanjay Bishnoi (Dhanna), Sanjay Dadhich (Kanwar); Runtime: 108; MPAA Rating: NR; producers; Anil Kapoor, Harshvardhan Kapoor: Netflix; 2022-India-in Hindi with English subtitles)
"Violent cop thriller about a revenge murder over rape in the desert."
Reviewed by Dennis Schwartz
 
The violent cop thriller about a revenge murder over rape in the desert is a well-conceived police procedural drama (one of India's most violent). It's set in 1985.

Directed by Raj Singh Chaudhary("Shaadisthan") in a plodding way. It's set in the Thar desert between India and Pakistan. It's shaped like a Sergio Corbucci Spaghetti Western from the sixties (with Jeeps instead of horses). Raj Singh Chaudhary and Anurag Kashyap do the writing honors. The film stars the father (Anil Kapoor) and son (Harshvardhan) duo, who are both popular in India as screen legends.

A farmer is found hanged and brutally beaten on a tree, in the rural Rajasthani small desert town of Munabao, near the Pakistan border. The veteran police inspector Surekha Singh (Anil Kapoor), set to retire soon, and his corpulent assistant Bhure (Satish Kaushik), investigate. Surekha has never before come across such a nasty crime scene, as he has dealt mostly with petty crimes. This case excites him and he thinks if he solves it he might get a promotion and his middling career would be resurrected.

A tall, mysterious and sinister stranger from the city comes to town named Siddharth (Harshvarrdhan Kapoor), who is a version of the Clint Eastwood character in the Western where he portrays the man-with-no-name. Sid's an antiques dealer looking to hire a few strong men to help him finish some kind of a job that's never explained. Panna (Jitendra Joshi), a local laborer, fits the bill of the kind of worker he's looking for. His abused wife Chetna (Fatima Sana Shaikh) tells him hubby is away on a job. Sid tells her he'll get good wages and stays in town to wait for his return. While waiting Sid becomes friendly with the beautiful and lonely women, and they become intimate. Of course, this signals trouble when hubby returns. Upon his return, Sid hires both Panna and his friend Kanwar (Sanjay Dadhich) for the labor job.

Surekha investigates Sid and suspects him of being a drug runner and hiding the drugs in his antiques.

Meanwhile there have been other murders in town, and the calculating cop, who tortures the suspects he questions, now thinks the murders might be over drug deals with a Pakistani gangster called Hanif Khan (Rahul Singh) or maybe the  local "dacoits," Indian bandits, who are settling some scores.

Thar is a gruesome story, a feminist fable with many murders, a Jeep chase in the desert and a gunfight. It points out when there's a cycle of violence everyone loses, as the film ends with bodies of men strewn over the desert and the village women breathing a sigh of relief that the men who abused them got what they deserved.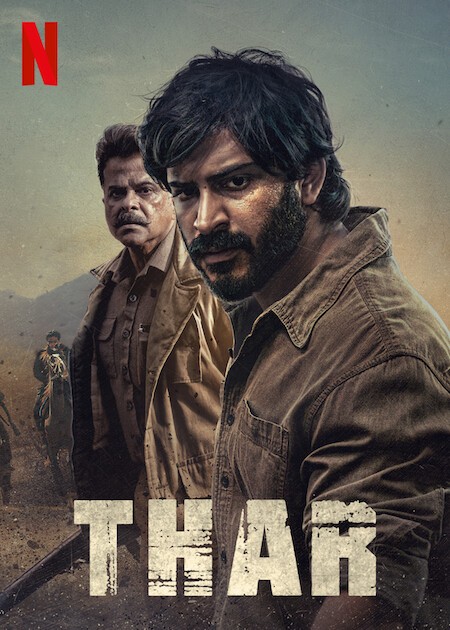 REVIEWED ON 5/13/2022 GRADE: B-