TESLA
(director/writer: Michael Almereyda; cinematographer: Sean Price Williams; editor: Kathryn J. Schubert; music: John Paesano; cast: Ethan Hawke (Nikola Tesla), Kyle MacLachlan (Thomas Edison), Eve Hewson (Anne Morgan, daughter of JP Morgan), Jim Gaffigan (George Westinghouse), Josh Hamilton (Robert Underwood Johnson), Donnie Keshawarz (JP Morgan), Rebecca Dayan (Sarah Bernhardt), Ebon Moss-Bachrach (Anital Szigeti), Lucy Walters (Katherine Johnson), James Urbaniak (Professor Anthony), Blake DeLong (William Kemmler); Runtime: 96; MPAA Rating: NR; producers: Uri Singer, Christa Campbell, Isen Robbins, Lati Grobman, Michael Almereyda, Per Melita; Passage Pictures; 2020)
"As an added feature to this delightfully strange and compelling biopic, Ethan Hawke sings the Tears for Fears song 'Everybody Wants to Rule the World'."
Reviewed by Dennis Schwartz

An energetic but pseudo biopic on the genius electrical engineer inventor Nikola Tesla (Ethan Hawke), the enigmatic visionary Eastern European Serbian immigrant (born in 1856 in Smiljan, Croatia). Tesla was ignored during his lifetime but it was proven over time that he was correct over his one time employer and then rival Thomas Edison (Kyle MacLachlan) when he came up with his breakthrough practical application for delivering an 'alternating current' electrical supply (a machine that could provide electricity to the world for free if not taken over by corporations). Unfortunately Tesla was ignored and the more business-minded Edison had his model used instead. The self-deprecating Tesla died after a long life penniless and unrecognized by the public in a New York City hotel in 1943.

Here Tesla gets his just due from writer-director Michael Almereyda ("Marjorie Prime"/"Experimenter"), whose biopic is an idiosyncratic character study with a deadpan humor telling the misunderstood genius' story in a peculiar way that might displease some viewers as much as delight others. This is not a conventional biopic. Almereyda said a major influence inspiring him was the radical Brit filmmaker Derek Jarman and his take from the Drunk History episode where Tesla was played by John C. Reilly. As an added feature to this delightfully strange and compelling biopic, Ethan Hawke sings the Tears for Fears song "Everybody Wants to Rule the World."

The film was still lovable even if some scenes just didn't work, but there were so many others that were exciting and novel.

Anne Morgan (Eve Hewson) is the narrator, who was used as a substitute voice for the director. She is the philanthropist daughter of one of his sponsor's, JP Morgan (Donnie Keshawarz). Anne's a woman whose perceptive take on the loner is right-on as far as his great accomplishments and penchant for self-destruction, as she remains true to him as a longtime friend despite her apparent disappointment of his failure to return her love.

The story in a nutshell tells how the Edison model takes over the power grid. It paints a picture of Tesla as too idealistic and ambitious for his own good, who foolishly gives up a royalty deal for his genius invention for a relatively small price to greedy corporate entrepreneurs who are without his humanistic concerns and instead pursues work on a wireless power system with a huge potential for everything but to make a profit. As his radical ideas scare off investors because they are perceived as weird, his fortunes dwindle and he dies as a lonely old man not seeing his best visions utilized.
The biopic might not illuminate the viewer on the finer technical details of the inventor's work, but its playful approach should be enjoyable and at least satisfy the viewer's curiosity about what makes makes Tesla such an important inventor  and why he should not be forgotten.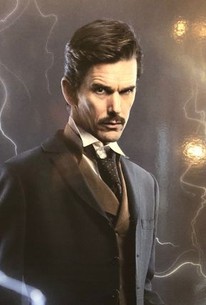 REVIEWED ON 2/6/2020 GRADE: A-