TAYLOR SWIFT: MISS AMERICANA
(director/writer: Lana Wilson; cinematographer: Emily Topper; editors: Paul Marchand, Greg O'Toole, Lee Rosch, Lindsay Utz, Jason Zeldes; music: Alex Somers/Tatlor Swift; cast: Taylor Swift, Joe Alwyn, Andrea Swift, Scott Swift, Tree Paine, Karamo Brown, Brendon Urie, Jonathan Van Ness, Jack Antonoff, Louis Bell, Bobby Berk, Tan France, Calvin Harris, Joel Little, Kamilah Marshall, Melanie Nyema; Runtime: 86; MPAA Rating: NR; producers: Morgan Neville, Christine O'Malley, Caitrin Rogers; Netflix; 2020)
"A lively but superficial portrait film of America's pop princess."
Reviewed by Dennis Schwartz

A lively but superficial portrait is painted of America's pop princess by the usually hard-hitting writer-director Lana Wilson ("The Departure "/"After Tiller"). The biopic tests the sincerity of the singing superstar Taylor Swift, who offers safe but sincere confessionals about her thought process and brand of feminism and liberalism. Wilson celebrates Taylor Swift as being gifted in many facets of the music world and does so visually by going with relentless on-stage costume changes to show the wide range of music she covers.

The singer we're told has attained (7) million-selling albums, two Grammy album-of-the-year award and the loyalty of her devoted fans.

In the opening scene, The 30-year-old Swift is seriously looking over her old diaries. What catches her attention is that she marked down "a need to be thought of as good." Which meant at the time for her to be liked by everyone and not be controversial.

She talks openly on a car ride with the director about how she had an eating disorder caused by her inability to live up to attaining 'perfect' beauty standards set by others, but the film goes no further by asking no more questions. Swift also mentions how she once believed a country artist should keep their opinions private to avoid friction with the public. But over the years she changed her mind. Recently she endorsed for governor the losing moderate Democratic candidate Phil Bredesen, in her home state of Tennessee, during the 2018 election.

In her 15-year career, starting as a teenager, she showed her ability to dominate the pop world in the charts and was blessed with a meteoric rise to fame. What she clues us into, is her inner demons, self-doubts and how she handled a few public spats (at one spat, she was ticked off in 2009 when the crude Kanya West jumped onstage at the MTV Video Music Awards and shouted out, "Beyonce had one of the best videos of all time," which interrupted Swift's acceptance for Best Female Video for "You Belong With Me"). In 2018, in a scene with her lying on her couch waiting to hear from her manager, we catch how she still craves public adulation as she sulks when she learns her 2017 album "Reputation" is rejected for a Grammy.

The film asks the so-called pertinent question, will the likable young star ever grow up and be mature enough to have enough self-esteem so as not to crave all the glitter and attention.
The film is pleasant, does a fine job highlighting how Swift is so musically gifted, and shows its subject as a charmer. But to me, it seemed about as real as a PR piece–so much about Swift still remains unexplored.
The film opened this year's Sundance film festival.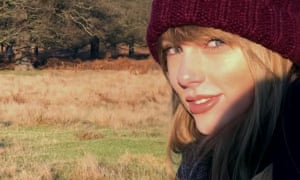 REVIEWED ON 4/23/20 GRADE: C+