TÁR
(director/writer: Todd Field; cinematographer: Florian Hoffmeister; editor: Monika Willi; music: Hildur Guonadottir; cast: Cate Blanchett (Lydia Tár), Nina Hoss (Sharon Goodnow), Sophie Kauer (Olga), Mark Strong (Elliot Kaplan), Julian Davis (Andris Glover), Allan Corduner (Sebastian Goodnow), Sylvia Flote (Krista Taylor), Zethphan Smith-Gneist (Max) Noemie Merlant (Francesca), Adam Gopnik (Himself), Mila Bogojevic (Petra); Runtime: 158; MPAA Rating: R; producers: Scott Lambert/Alexandra Milchan/Todd Field; Focus Features; 2022)
"An elegant musical backstage character study that follows the rise and fall of an egotistical world-famous female conductor. "
Reviewed by Dennis Schwartz
The first film in 16 years from writer-director Todd Field ("Little Children"/"In The Bedroom") is an elegant musical backstage character study that follows the rise and fall of an egotistical world-famous female conductor. The star, Cate Blanchett, delivers an eye-popping Meryl Streep-like nuanced performance, aimed at winning an Oscar.

Lydia Tár (Cate Blanchett), a Harvard Ph.D. and member of the exclusive EGOT club, is a famous but pretentious classical music conductor. She's a lesbian conducting the Germany symphony, who is interviewed on the stage of the New Yorker Festival, in NY, by the fawning New Yorker's Adam Gopnik (humbly playing himself) before she will soon record in New York a live performance of Mahler's Symphony No. 5, her favorite. They discuss such things as the strained marriage between the Mahlers.

The over-praised Tár has a lunch date with one of her oily backers, Elliot Kaplan (Mark Strong), as she's annoyingly revered as a music goddess and eats all the praise up without blinking.

Tár boasts that her mentor was Leonard Bernstein, and tells of her steady ascent from the Cleveland, Boston and New York orchestras, until her current conducting post with the Berlin Philharmonic–the first female conductor of the orchestra.

When she guests lectures at Juilliard, she's condescending to a pansexual Black student (Zethphan D. Smith-Gneist), who disagrees with her view of going ape over Bach and other classical white composers.

Tár lives in Berlin with her professional and romantic partner, the first violinist in her orchestra, Sharon (Nina Hoss), and Sharon's daughter Petra (Mila Bogojevic). Tár is confrontational with all the members of the orchestra, but she's especially fond of the gifted cellist Olga (Sophie Kauer).

Tár also has a likely best-seller book, "Tár on Tár," that will soon be published.
Her eventual downfall is played as either a tragedy or as a satire, whatever.

The bullying Tár constantly prods at her long-suffering assistant Francesca (Noémie Merlant), whose work never satisfies her.

When Tár crashes, so does the film. We are led to believe Tár is art and if she falls our artistic visions will also.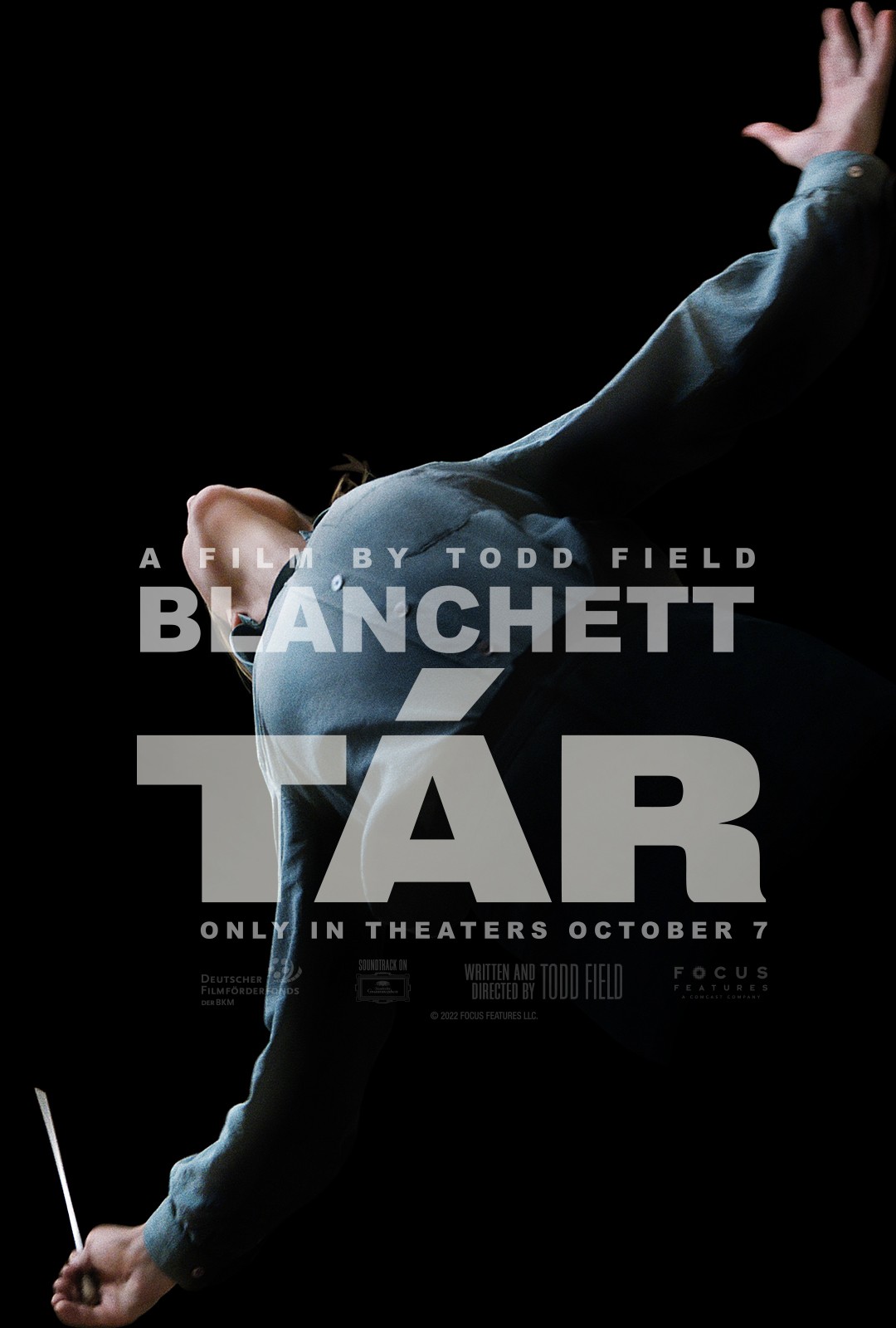 REVIEWED ON 10/12/2022  GRADE: B