SWARM, THE ( LA NUEE)
(director: Just Phillippot; screenwriters: Franck Victor/Jérôme Genevray; cinematographer: Romain Carcanade; editor: Pierre Deschamps; music: Vincent Cahay; cast: Marie Narbonne (Laura), (Suliane Brahim (VirginieHébrard), Raphael Romand (Gaston), Sofian Khammes (Karin); Runtime: 111; MPAA Rating: NR; producers; Manuel Chiche/ Thierry Lounas: Netflix; 2020-France-in French with English subtitles)

"Absurd and tense story seems almost believable as it combines social drama with horror."
Reviewed by Dennis Schwartz

The French filmmaker Just Phillippot's debut feature film. It's based on an original idea by Jérôme Genevray.

It's set in a small town in the rural French countryside. After the death of her husband, who raised goats, Virginie Hébrard (Suliane Brahim) grew grasshoppers to feed her two children–Laura (Marie Narbonne) and Gaston (Raphael Romand). But these are hard times and she's deep in debt, and can't raise enough of the critters to sell to buyers without getting new equipment.

The difficulty of running a small farm affects many farmers in her region, and her suffering speaks for all such farmers in the region.

The wine grower Karim (Sofian Khammes), a friend of her late husband, helps out with a needed loan. But the frustration of trying to keep her farm profitable one day leads to her losing her temper and eventually her mind. When its understood that eating grasshoppers messes with the blood, she becomes stricken like a mad person and gradually develops a dementia. This will only increase her obsession with grasshoppers, and lead to further tragedy.

Disgust of the insect grows as they become louder and more menacing, as the horror pic causes an unease for the viewer.

It's well-executed, finely acted by Brahim as the caring single mom provider for her family and superbly photographed, whose absurd and tense story seems almost believable as it combines social drama with horror.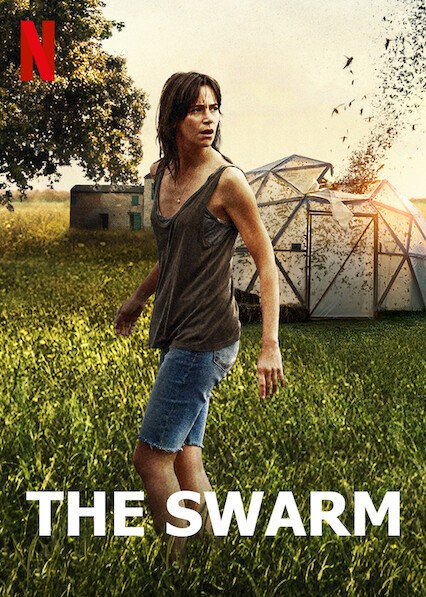 REVIEWED ON 9/10/2021 GRADE: B