SUNRISE
(director: F.W. Murnau; screenwriters: Carl Mayer/from the novel "A Trip to Tilsit" by Hermann Sudermann; cinematographers: Charles Rosher/Karl Struss; editor: Harold D. Schuster; music: Hugo Riesenfeld; cast: George O'Brien (The Man), Janet Gaynor (The Wife), Margaret Livingston (The Woman from the City), Bodil Rosing (The Maid), John Farrell MacDonald (The Photographer); Runtime: 95; MPAA Rating: NR; producer: William Fox; Fox Film Corporation; 1927-silent)
"Sunrise speaks well of the silent screen and its cinematic powers."
Reviewed by Dennis Schwartz
German expressionist director F.W. Murnau ("Tabu"/"Nosferatu") helms this pulpish romantic fable that just might be the best silent film ever made by a Hollywood studio. It's certainly a visual masterpiece, where images of unparalleled beauty fluidly strike a chord between the swaying moods of gloom and cheer. Dramatically, in a dreamlike realism, it uncovers a classical story about passion involving a love triangle that results in an attempted murder, then most of the film is about the couple spending a day together to make up, and ultimately it resolves as a matter of betrayal and redemption. The last scene has the salvaged couple looking up at a sunrise and happy to have survived their ordeal. It's based on the Hermann Sudermann novel "A Trip to Tilsit" and takes place in a farming community, where people from the city sometimes take their weekend holidays.
It opens to a telling quote: "This story of a man and his wife is of nowhere and everywhere, you might hear it anywhere and at any time." The film's characters are not given real names but called by their gender identity. The Man (George O'Brien) is attracted by a visiting city vamp merely known as The Woman from the City (Margaret Livingston), who seduces him by her sophisticated ways and talks him into getting rid of his wife (Janet Gaynor) and living with her in the city. He agrees to take his sweet but plain looking wife into the city by rowboat and drown her on the way. However, he regains his self-control on the boat ride and realizes he cannot go through with the murderous act. But the innocent wife catches on to what he meant to do and is all teary eyed and despondent. She leaves him once ashore and finds her way through the big city streets as a jazz score, which was subsequently added, plays in the background and the din of the city contrasts with the serene farm community. The city plays as a metaphor for evil and temptation, as he chases after her to apologize and in a chaotic reunion these first time visitors to the city only yearn to return to their simple farm life again. But on the way back by row boat, their reunion is in peril when a storm capsizes their boat. George O'Brien is knocked out and when he wakes up and calls to his wife, who may have drowned, the audience might get all teary eyed at the injustice of her paying the price for his wayward acts.
The innovative camera movements dazzle throughout, keeping this trite love story off kilter with humorous and surrealistic shots. One of the great shots is when the Man and Wife appear to be crossing a crowded city street with speeding cars and are suddenly transported to a country field, then back to the city again to kiss in heavy traffic.
Sunrise speaks well of the silent screen and its cinematic powers, as this poignant romantic story is the legacy of a great visual filmmaker who fully caught the heartstrings of human expression without the need of dialogue.
Janet Gaynor won the first-ever "Best Actress" Academy Award, while Charles Rosher and Karl Struss got the first "Best Photography" Oscar. The film itself lost out to the bigger box office hit Wings.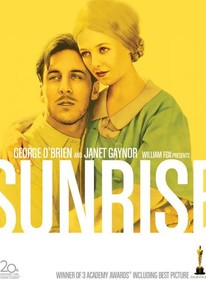 REVIEWED ON 2/19/2004   GRADE: A+   https://dennisschwartzreviews.com/