STOWAWAY
(director/writer:  Joe Penna; screenwriters: Ryan Morrison; cinematographer: Klemens Becker; editor: Ryan Morrison; music: Volker Bertelmann; cast: Anna Kendrick (Zoe Levenson), Daniel Dae Kim (David Kim), Shamier Anderson (Michael Adams), Toni Collette (Marina Barnett); Runtime: 116; MPAA Rating: NR; producers; Ulrich Schwarz, Maximilian Leo, Nick Spicer, Clay Pecorin, Aram Tertzakian, Jonas Katzenstein: Netflix/Rise Pictures; 2021)
"A small-budget space film asking moral questions about a dangerous journey undertaken."
Reviewed by Dennis Schwartz

A small-budget space film asking moral questions about a dangerous journey undertaken. It's directed by musician turned director Joe Penna ("Arctic") and is co-written by Penna and Ryan Morrison, who offer an outlandish man vs. nature plot that's told with a sense of urgency. Stowaway is set at an unnamed time in the future when interplanetary travel occurs.

The company Hyperion gets the Kingfisher crew to go on a two-year mission to Mars. The voyage is led by the experienced astronaut Marina Barrett (Toni Collette). Under her command are the first-time space travelers–the botanist David Kim (Daniel Dae Kim) and the physician/medical researcher Zoe Levenson (Anna Kendrick). When in the flight they find aboard the rocket the unconscious launch support engineer Michael (Shamier Anderson) and learn the frightened stowaway got trapped in an overhead compartment (Yikes!–that's a hard plot line to believe).
The stowaway expresses concern he left his younger sister behind, whom he is responsible for taking care of. He's not trained in how to handle the rocket, and feels useless on board. When there's a problem with the life support system because of the addition of another passenger–in other words the oxygen supply has been diminished–he turns out to be responsible for that.

Since they can't seem to fix the problem, they're left with the moral dilemma whether to do nothing and let several people die or to kill an innocent person to save the others.

The dilemma is an interesting one and how it's eventually handled works, but what doesn't work is that the film is overlong and too plodding. But that's countered by its visual beauty.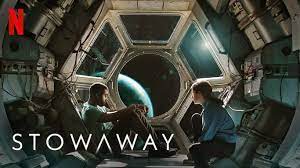 REVIEWED ON 6/29/2021 GRADE: B-