MARCH OF THE WOODEN SOLDIERS (BABES IN TOYLAND)
(directors: Charles R. Rogers/Gus Meins; screenwriters: Frank Butler/Nick Grinde/based on Victor Herbert's operetta/1903 operetta book by Glen MacDonough/Anna Alice Chapin; cinematographer: Francis Corby/Art Lloyd; editor: William Terhune/Bert Jordan; music: Victor Herbert/Frank Churchill/Harry Jackson; cast:  Oliver Hardy (Ollie Dee), Stan Laurel (Stannie Dum), Charlotte Henry (Little Bo-Peep), Felix Knight (Tom Tom),  Harry Kleinbach (Silas Barnaby), Jean Darling (Curly Locks), Angelo Rossitto (Elmer the Pig), Johnny Downs (Little Boy Blue), Virginia Karns (Mother Goose), Florence Roberts (Widow Peep),  Ferdinand Munier (Santa Claus), William Burress (Toymaker), Marie Wilson (Mary Quite), Payne B. Johnson ( Jiggs the Pig); Runtime: 77 ; MPAA Rating: NR; producer: Hal Roach; Eureka Video ;1934-B/W)
"Appealing to both children and adults."
Reviewed by Dennis Schwartz
English director Charles R. Rogers ("Tit fot Tat") and American director Gus Meins ("Money to Burn") joyfully direct this delightful nursery rhyme operetta, which is appealing to both children and adults. It's also known as Babes in Toyland, and is an offbeat minor classic Laurel and Hardy fantasy musical Christmas film. Since it's produced by Hal Roach, slapstick part of the comedy. It's based on Victor Herbert's 1903 operetta, and the lyrics are by Glen MacDonough. The screenplay by Frank Butler and Nick Grinde is not so hot, but Laurel and Hardy do wonders with it.

Stannie Dum (Stan Laurel) and Ollie Dee (Oliver Hardy) rent rooms in the widowed old Mother Peep's (Florence Roberts) shoe in Toyland, where they work in the toyshop for Santa (Ferdinand Munier). Mother Peep's the impoverished old lady who lives in a shoe. Others living in the shoe are Bo Peep (Charlotte Henry) and many other children.
 
The evil landlord Silas Barnaby (Harry Kleinbach) threatens to evict the old woman for not paying her mortgage unless her cute daughter Little Bo-Peep (Charlotte Henry) marries him. She, of course, refuses. The gallant Ollie comes to her aid by saying he and Stan will raise the money from their toymaker boss (William Burress). But instead get fired for screwing up the order by creating giant wooden soldiers. The inept fools try another plan, but get caught trying to burgle Barnaby's house. He agrees to drop the charges if Little Bo-Peep will agree to marry him. This time she reluctantly agrees.

Ollie gives the bride away at the wedding. Before the ceremonial kiss, Ollie secures the mortgage, the "wedding present, " and tears it up, and then shows it was Stannie under the bride's veil.

To get revenge, Barnaby frames Bo Peep's real love, Tom-Tom (Felix Knight) for stealing a pig. This gets him banished to Bogeyland. Those sent there never come back. Furthermore the villain abducts Little Elmer (Angelo Rossitto), one of the Three Little Pigs, and plants sausage links in Tom-Tom's house.

Ollie and Stannie get evidence to show Barnaby is behind the crimes he's accusing Tom-Tom of doing, and a happy ending results with use of the giant wooden soldiers.

The enjoyable romp is better off just taken for what it is and enjoyed, rather than to try and rationalize it.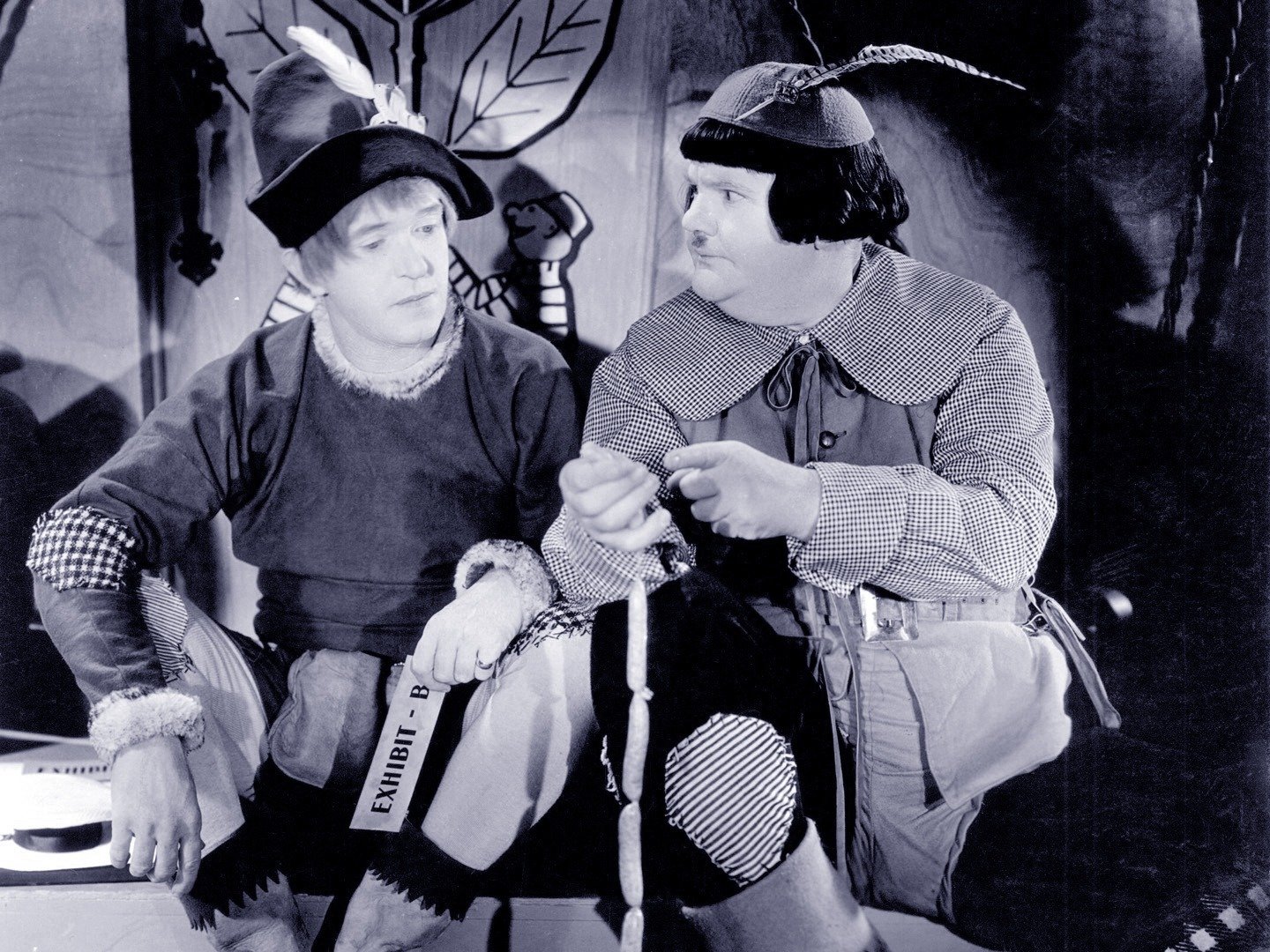 REVIEWED ON 2/23/2021 GRADE: B+