STOP MAKING SENSE
(director/writer: Jonathan Demme; screenwriter: Talking Heads; cinematographer: Jordan Cronenweth; editor: Lisa Day; music:  Talking Heads; cast: Talking Heads; Runtime: 88; MPAA Rating: PG; producer: Gary Goetzman; A24/Arnold Stiefel Company; 1984)
"One of the greatest rock concert films."
Reviewed by Dennis Schwartz

One of the greatest rock concert films. Other great ones include "The Last Waltz" and "Mad Dogs & Englishmen."

The music documentary features the Talking Heads, the iconic off-beat New Wave band, when they recorded a 16-song set of some of their memorable hits such as-  "Psycho Killer," "Heaven," "Found A Job," "Slippery People," "Thank You for Sending me an Angel,"  "Life During Wartime," "Making Flippy Floppy," "Swamp," "What a Day That Was," "This Must Be the Place," "Once in a Lifetime," "Genius of Love," "Girlfriend is Better," "Take Me to the Water," "Burning Down the House," and "Crosseyed and Dangerous."


It opens with the band's dynamic frontman, David Byrne, dressed in a white suit and sneakers, as he appears on an empty stage, with an acoustic guitar, and gradually is joined by bassist Tina Weymouth, drummer Chris Frantz, keyboardist Jerry Harrison and a cadre of backup singers that includes Lynn Mabry and Ednah Holt, the guitarist Alex Weir, the keyboardist Bernie Worrell and the percussionist Steve Scales (the Black vocalists provide some added funk).

It's beautifully directed by Jonathan Demme ("The Silence of the Lambs"/"Married to the Mob"). He inventively shot the film over three nights at the Pantages Theater in Los Angeles, on December 1983. At the time, the band was promoting their album Speaking in Tongues.

In 2023, the film has been re-released with added tech gizmos.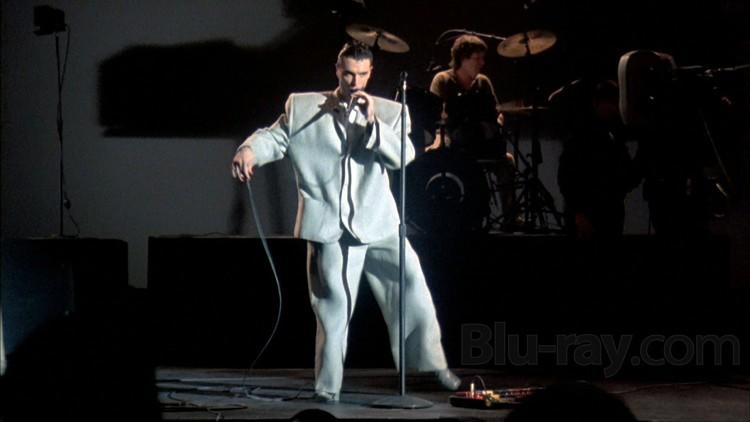 REVIEWED ON 10/5/2023  GRADE: A