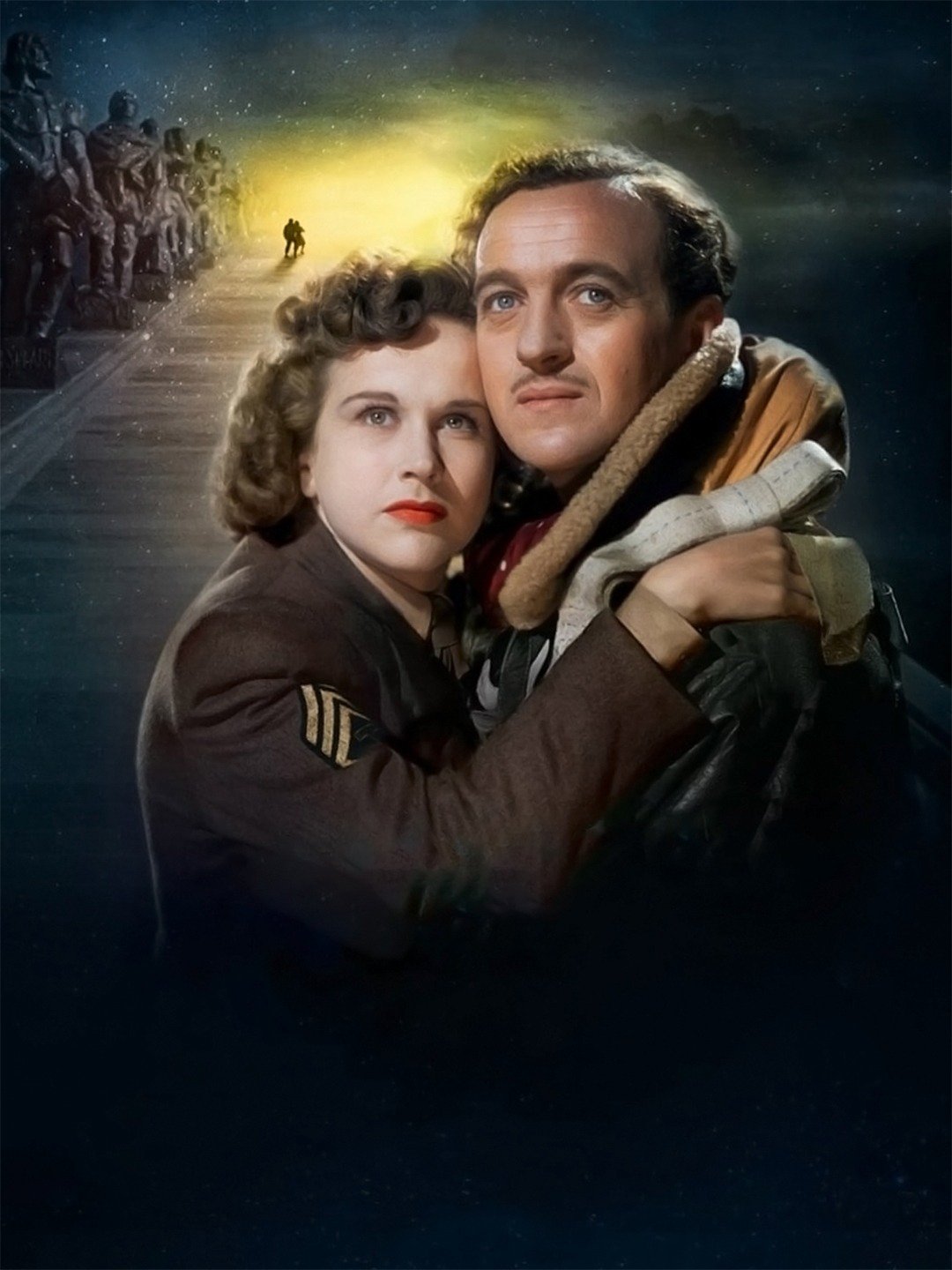 STAIRWAY TO HEAVEN (A MATTER OF LIFE AND DEATH)

(director/writer: Michael Powell/Emeric Pressburger; cinematographer: Jack Cardiff; editor: Reginald Mills; music: Allan Gray; cast: David Niven (Peter Carter), Kim Hunter (June), Robert Coote (Bob), Kathleen Byron (An Angel), Richard Attenborough (An English Pilot), Bonar Colleano (An American Pilot), Joan Maude (Chief Recorder), Marius Goring (Conductor 71), Roger Livesey (Doctor Frank Reeves), Raymond Massey (Abraham Farlan), Edwin Max (Dr. McEwen), Abraham Sofaer (The Judge/Surgeon); Runtime: 104; MPAA Rating: PG; producers: Michael Powell/Emeric Pressburger; General Film Distributors; 1946-UK)
"A very pleasing fantasy film from the team of Michael Powell and Emeric Pressburger."
Reviewed by Dennis Schwartz
A very pleasing fantasy film from the team of Michael Powell and Emeric Pressburger; it's one of their better collaborations. Powell said this was his favorite; though some critics found this fanciful romantic-comedy too fanciful the public adored it. It also answers to the title of A Matter of Life and Death. It was made as a propaganda film to highlight the goodwill between Britain and America at the urging of the Ministry of Information (it seems relations between the two countries was deteriorating at the end of the war). It also acts as a cheerful boost to the English, who could relate to the playfulness and the realistic sharp-edged political satire as they try to get back their footing in the post-war period. The result is a marvelously original supernatural story that even if you don't buy into the fantasy, it's easy to buy into it as a sound cinematic experience that is witty, stylish, highly imaginative and blessed with heavenly sets. The acting is first-class; the script is superbly written; the mystical romanticism is heartwarming. The scenes on earth are filmed in a delicious Technicolor, while the heavenly scenes are in a luminous black and white.
Peter Carter (David Niven) is a World War II RAF squadron leader pilot who is forced to bail out of his burning plane after returning from a bombing raid in Germany. In a ham radio communication he has with June (Kim Hunter), an American radio operator stationed in England, someone he does not know, he tells her he's going to bail out without a parachute: "I'd rather jump than fry." His brave words touch her deeply and she mentions that she could love "a man like you." He's smitten by the sound of her concerned voice, and tells her he's fallen in love with her. Miraculously he falls to safety in the Channel and though he should be dead, he remains alive for twenty hours. While still on earth he meets June. Since this scenario is beyond belief (it can only happen in the movies), the filmmakers have a great deal of fun playing with this ticklish situation. The blame for why Peter isn't in the Other World is attributed to a Frenchman heavenly messenger, known as Conductor 71 (Marius Goring), who failed to deliver him because of the thick fog. That he must now be delivered upsets the former playboy Peter, who at last found his ideal woman and doesn't want to die. Encouraged by the local village doctor, Dr. Frank Reeves (Roger Livesey), he appeals to the heavens and the judge (Abraham Sofaer) grants him that appeal. The heavenly court chooses as its prosecutor an embittered American Abraham Farlan (Raymond Massey), while Peter is defended by Reeves. He just died in an accidental fire, which has no bearing in the celestial courtroom where everyone is a goner. While the trial takes place in heaven, Peter is in two places at once–he's at the celestial trial but is also being operated on for brain-damage while on earth. While drugged for the operation he dreams his spirit is on trial, so the viewer can view the trial either as imagined or real.
In essence, the story is so outrageous but so well presented that it's easier in my opinion just suspending your belief and going along for the ride. Powell's direction is so assured that its beautiful to watch how he manages to make it all work in a dreamlike way. He upset some Brits by taking some swipes at their cherished stereotypes and some felt all the causalities in heaven were too heavy a reminder of their recent losses, but most people enjoyed the absurd love story and took the film in the fun way it was meant to be taken.
REVIEWED ON 9/19/2005 GRADE: A