SPIRIT: STALLION OF THE CIMARRON
(directors: Kelly Asbury/Lorna Cook; screenwriter: John Fusco; production designer: Kathy Altieri; art directors: Luc Desmarchelier/Ronald W. Lukas; animation supervisor: Kristof Serrandeditor; Nick Fletcher; music: Hans Zimmer; cast: Matt Damon (Spirit), James Cromwell (The Colonel), Daniel Studi (Little Creek), Chopper Bernet (Sgt. Adams), John Rubano (Soldier), Jeff LeBeau (Murphy); Runtime: 83; MPAA Rating: G; producers: Mireille Soria/Jeffrey Katzenberg; DreamWorks Pictures; 2002)
"The film meant well in its horse tale about freedom, but wasn't able to reach the heart because it was too overbearing."
Reviewed by Dennis Schwartz
An okay animation from DreamWorks whose fable about a wild mustang stallion in the Old West who won't be broken is more for children than adults. The story itself is predictable, politically correct to a fault and only so-so in its overall effect, but the old-fashioned largely hand-drawn animations and some computer-generated three-dimensional animations are simply gorgeous, especially those animations of horses soaring like eagles. That had a certain beauty to it that can't be denied, even by someone like me who is no great fan of cartoons as cinema and if I had to see an animation I prefer the 3-D explosive effect of the pixel over the flatness of the pencil. The story of how the West was lost to the horses is sadly told by the proud mustang, Spirit (Matt Damon), as this tale comes straight from the horse's mouth (the horse doesn't talk but a voice-over by Damon provides the narration and most of the horse's thoughts). When there's no narration there's plenty of songs from rock singer Bryan Adams, and that's not all good. The songs follow the storyline but add little to the film.
John Fusco cooked up this romantic lament for the way the West was and could have been until white man's civilization destroyed it. It's co-directed by Kelly Asbury and Lorna Cook, who strive and reach accuracy in their depictions of the horses. They have also created a beautiful visual film. It opens as the narration coming straight from the articulate Spirit, a horse that could have been a Harvard grad and who tells it like it is: "not from the saddle of a horse" but supposedly "from the heart of one." The horse is shown from birth until he emerges like his father as head of the herd and thereby a voice-over declares "with that honor comes responsibility." The now proud leader of the herd in his curiosity likes to wander off alone and roam the plains, but never fails to return to the herd and assume his duties. On this one excursion he runs into men for the first time and gets captured by the U.S. Cavalry, who try to break him. Spirit does not take too kindly to the blacksmith Murphy (LeBeau) trying to dress him up while he keeps Spirit tied to a number of tightly wound ropes to keep him from moving and the stern and cocky colonel (Cromwell) who ties him up to a post in the corral without food and water for 3 days. It still doesn't work, as the horse escapes with the help of a captured Lakota Indian, Little Creek (Daniel Studi), who then ropes Spirit and unsuccessfully tries to also break him until he realizes that this stallion doesn't deserve to be broken and lets him go back to run free with his herd.
Even though Spirit doesn't speak he conveys his feelings of homesickness through body language and facial expressions. There are emotionally-drawn scenes of him frightened by the mean blacksmith, sadly calling off his mother while he's in captivity so she also won't be taken, flirting with a painted mare named Rain, and matching wills with Little Creek who tries to break him Indian style. Spirit doesn't understand Little Creek at first but later comes to accept him. In this film all the Indians because they live close to nature are virtuous , while all the white men are ignorant sorts because they lost track of nature. This simplistic and naive story simply didn't reach me, though the visual effects kept me from turning it all off. The film meant well in its horse tale about freedom, but wasn't able to reach the heart because it was too overbearing.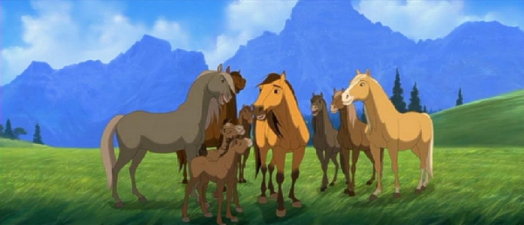 REVIEWED ON 1/2/2003 GRADE: C +