SPIDER-MAN:ACROSS THE SPIDER-VERSE
(directors: Joaquim Dos Santos, Kemp Powers, Justin K. Thompson; screenwriters: Phil Lord, Chris Miller, David Callahan, based on the creation by Stan Lee; editor: Mike Andrews; music: Daniel Pemberton; cast: Shameik Moore (Miles Morales Voice), Hailee Steinfeld (Gwen Stacey-voice), Brian Tyree Henry (Jefferson Davis Voice), Luna Lauren Velez (Rio Morales Voice), Jake Johnson (Peter B. Parker Voice), Oscar Isaac (Miguel O'Hara Voice), Jason Schwartzman (Jonathan Ohnn, The Spot Voice), Daniel Kaluuya (Hobart "Hobie" Brown, Spider-Punk Voice), Issa Rae (Jessica Drew Voice), Shea Whigham (George Stacy Voice), Amandla Stenberg (Margo Kess/Spider Byte Voice), Karan Soni (Pavitr Prabhakar), Andy Samberg (Ben Reilly Voice), Jorma Taccone (Adrian Toomes, The Vulture Voice), Rachel Dratch (Principal Voice), Greta Lee (Lyla Voice), Mahershala Ali (Uncle Aaron Voice), J.K. Simmons (J. Jonah Jameson Voice); Runtime: 140; MPAA Rating: PG; producers: Amy Pascal, Phil Lord, Christopher Miller, Avi Arad, Christina Steinberg; Sony Pictures; 2023)
"An irresistible and energetic animation Spidey sequel."
Reviewed by Dennis Schwartz

An irresistible and energetic animation Spidey sequel that's splendid visually. Though I liked it more for its colorful arty production design than its bloated story. I still liked it. It's co-directed and co-written with pep by Joaquim Dos Santos ("DC Showcase: Jonah Hex"/"Soul"), Kemp Powers ("Soul") and Justin K. Thompson (Production Designer "Cloudy With A Chance of Meatballs").

The teenager Miles Morales (voiced by Shameik Moore) lives with his Puerto Rican mother, Rio (voice of Luna Lauren Velez), and Black father, Jefferson (voice Brian Tyree Henry), a policeman soon to be a police captain. The loving family are unaware that Miles is actually Spider-Man and that his new girlfriend, Gwen Stacy (voice of Hailee Steinfeld), is actually Spider-Woman (we see how that occurred in a few scenes showing her backstory). She cherishes her humanistic motto of "Let's do things differently", and while living at home she hangs a banner on her bedroom wall that says"Protect Trans Kids."
 
The film starts slowly and after it connects us to Miles' family life and humanizes them, it moves on to its complex plot and action scenes.

After the drawn-out opening family scenes for Miles, he enters the multiverse together with Gwen. The pic then becomes more energetic, has some neat surprises and twists, a zany story-line, refreshing comical moments, a rich dialogue and lively characters you may find interesting. The new character Hobie (Daniel Kaluuya), a spider-punk anarchist, caught my attention.
 

When the superheroes are in the multiverse together, that's when the film's narrative  picks up steam and it becomes a thrill ride worthy of a top-flight superhero tale.

In the multiverse Miles and Gwen use their superpowers to do good, like going after villains such as Dr. Jonathan Ohnn, a.k.a. The Spot (voice of Jason Schwartzman), as he robs a bank.

The aesthetic film mixes 2D and 3D into its story-line, relies on its dazzling visuals to get over, and embraces its stylish presentation to wow the viewer with comic book fluff and uses its fast pace to keep the viewer aroused for its entire overlong length.

Can't say I loved it, but I did admire it. It shows how the trio of writers and directors loved Spidey and made him touch our hearts in animation, while the film largely appeals to its fanbase and comic book lovers of all stripes. Miles makes for a joyful and sympathetic Spiderman, playing his part with a kid-like enthusiasm. While Daniel Pemberton's score always hit the right notes of tension.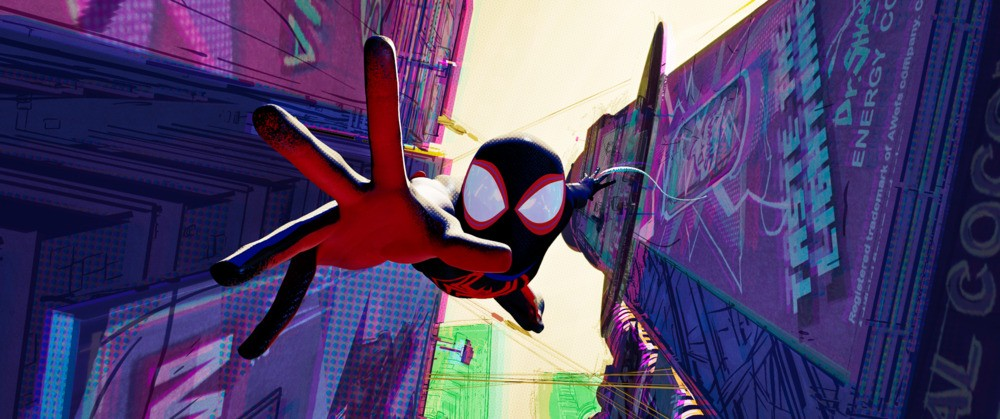 REVIEWED ON 6/9/2023  GRADE: B