SPIDER-MAN: NO WAY HOME
(director: Jon Watts; screenwriters: Chris McKenna, Erik Sommers, based on the Marvel comic book by Stan Lee; cinematographer: Maurio Fiore; editor: Jeffrey Ford/ Leigh Folsom Boyd; music: Michael Giacchino; cast: Tom Holland (Peter Parker-Spider-Man), Zendaya (MJ), Benedict Cumberbatch (Doctor Strange), Jacob Batalon (Ned Leeds), Jon Favreau (Happy Hogan), Marisa Tomei (May Parker), J.K. Simmons (J. Jonah Jameson), J.B. Smoove (Mr. Dell), Tony Revolori (Flash Tompson), Benedict Wong (Wong), Angourie Rice (Betty Brant), Jorge Lendeborg Jr (Jason Ionello), Hannibal Buress (Coach Wilson), Willem Dafoe (Norman Osborn / Green Goblin), Alfred Molina (Dr. Otto Octavius / Doc Ock), Jamie Foxx (Max Dillon/Electro), Thomas Haden Church (Flint Marko / Sandman), Rhys Ifans (Dr. Curt Connors / The Lizard), Tobey Maguire (Peter Parker-Spider-Man), Andrew Garfield (Peter Parker-Spider-Man); Runtime: 148; MPAA Rating: PG-14; producers; Kevin Feige, Amy Pascal: Sony/Columbia Pictures; 2021)
"Despite its flaws (too much hokum), I guess friends of the franchise will still dig this version."
Reviewed by Dennis Schwartz

Whose counting, but this is Sony's ninth version of its friendly neighborhood superhero with super powers. Jon Watts ("Cop Car"/"Clown") has the directing honors, while the writing honors belong to Chris McKenna and Erik Sommers.

The plot is muddled (uses unexplained magic to make its main plot point). But the acting is terrific, and emotionally it gets all its beats right and the characters for the most part are finely drawn out (though it could have used more Peter time together with gf to make their relationship more convincing).

You warm up more in this film to the dorky Peter Parker (Tom Holland, third time in the role for the Brit actor) than in the other films because he becomes so vulnerable as the good kid being demonized for being such a caring person.

In the last Spider-Man episode, Peter Parker was outed by a dying evil Mysterio (Jake Gyllenhaal). It results in he and his family being harassed by the authorities and on the airwaves by the vitriol spouting shock jock J Jonah Jameson (JK Simmons) who accuses him of being a war criminal. This results in Spidey rejected by M.I.T as a student.

Aiming to get things back to normal and square things, Peter gets his sorcerer friend, Doctor Strange (Benedict Cumberbatch), to cast a spell on the world making everyone forget his identity. But that fails to work as projected, as Strange rips a hole in the multi-universe allowing super-villains from other worlds to suddenly appear, and Peter now has to find ways of protecting his inner circle (his brainy girlfriend MJ (Zendaya), his bestie Ned (Jacob Batalon) and his aunt May (Marisa Tomei) from them.

This trick plot point allows former Peter Parker's Tobey Maguire and Andrew Garfield to show up as well as the baddies Doctor Octopus (Alfred Molina), Electro (Jamie Foxx), Sandman (Thomas Haden Church), Lizard (Rhys Ifans) and the Green Goblin (Willem Dafoe).

Despite its flaws (too much hokum) I guess friends of the franchise will still dig this spirited version, even if Sam Raimi's Spider-Man 2 is clearly its best franchise film and this version pales considerably in comparison.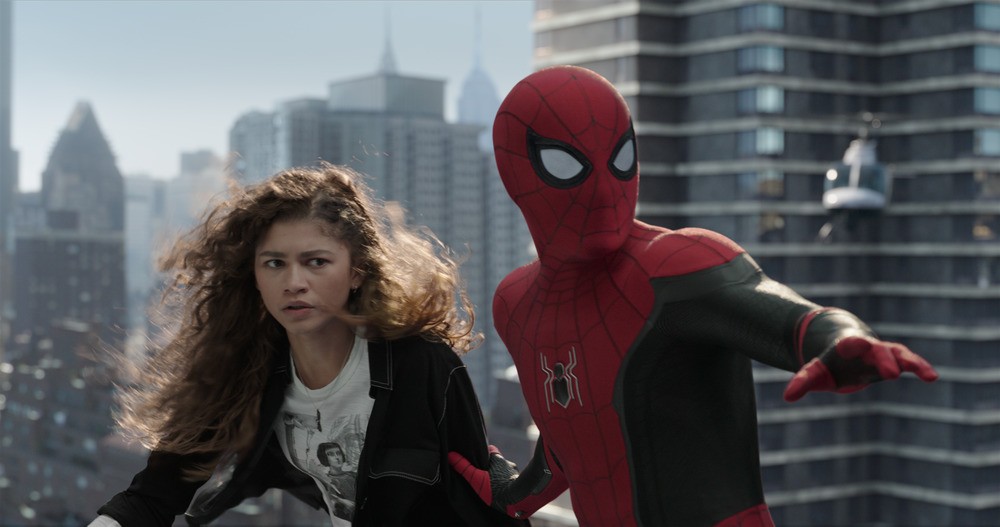 REVIEWED ON 12/18/2021 GRADE: B