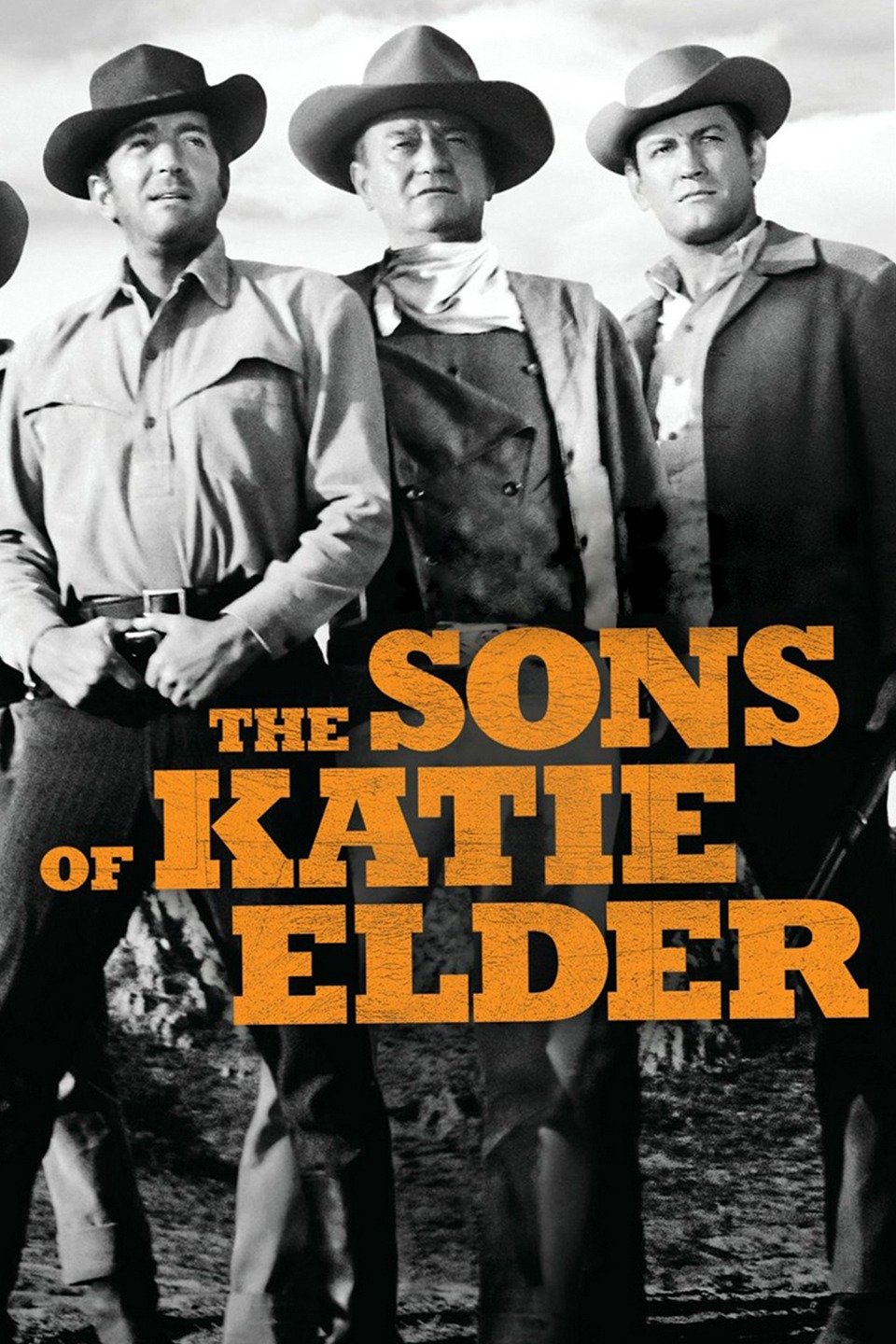 THE SONS OF KATIE ELDER
 (director: Henry Hathaway; screenwriters: William H. Wright/Allan Weiss/Harry Essex/based on a story by Talbot Jennings; cinematographer: Lucien Ballard; editor: Warren Low; music: Elmer Bernstein; cast: John Wayne (John Elder), Dean Martin (Tom Elder), Martha Hyer (Mary Gordon), Michael Anderson Jr. (Bud Elder), Earl Holliman (Matt Elder), George Kennedy (Curley), Dennis Hopper (Dave Hastings), Jeremy Slate (Deputy Ben Latta), James Gregory (Morgan Hastings), Paul Fix ( Sheriff Billy Wilson), Rhys Williams (Charlie Striker), Sheldon Allman (Judge Harry Evers); Runtime: 122; MPAA Rating: NR; producer: Hal B. Wallis; Paramount; 1965)
"Undemanding psychological Western."
Reviewed by Dennis Schwartz
Warning: spoilers throughout the first two paragraphs.
John Wayne's return to the screen after a cancer operation is in Henry Hathaway's ("True Grit"/"North To Alaska") undemanding psychological Western about redemption. It's based on a story by Talbot Jennings and written by William H. Wright, Allan Weiss, and Harry Essex. John Elder (John Wayne) is a gunman with a big rep and the leader and oldest brother of four – gambler Tom (Dean Martin), the quiet Matt (Earl Holliman), the youngest college student Bud (Michael Anderson, Jr.). The brothers reunite after not seeing each other for years for their mother Katie's funeral in their hometown of Clearwater, Texas. The brothers are treated as unworthy sons by the locals for ignoring their saintly mom in her time of need. While in town they learn that after their pa was shot in the back over a blackjack game, their ma lost their ranch to Morgan Hastings (James Gregory) and became impoverished. The greedy land baron who is trying to take over the entire town, now owns the family ranch with his nervous son Dave (Dennis Hopper). Morgan fearing John Elder, hires gunslinger Curley (George Kennedy) to take care of the Elders. Sheriff Billy Wilson (Paul Fix) tries to keep things calm, but his itchy deputy Ben Latta (Jeremy Slate) goes out of his way to confront the Elders. When Billy is ambushed by Morgan, the Elders are accused of the crime because he was on his way to arrest Tom on a wanted for murder charge lodged against him in another territory.
A gunfight breaks out between the Hastings and Elder gangs, and Matt is killed while Bud and Tom are wounded. A kidnapped Dave is accidentally shot by his father and before he dies he admits his dad killed the Elders' father in a crooked card game, as marshal Harry Evers is there as a witness. After John torches Morgan in a final shootout, the wounded Bud is being nursed in a rooming house owned by Mary Gordon (Martha Hyer)–who befriended Kate and now has a better opinion of her sons. Bud the only hope to make good, is being returned to college as a monument to their mom.
It's a standard Western, with plenty of gunplay, that rises above its ordinariness due to Wayne's muscular performance.
REVIEWED ON 10/14/2005 GRADE: B-