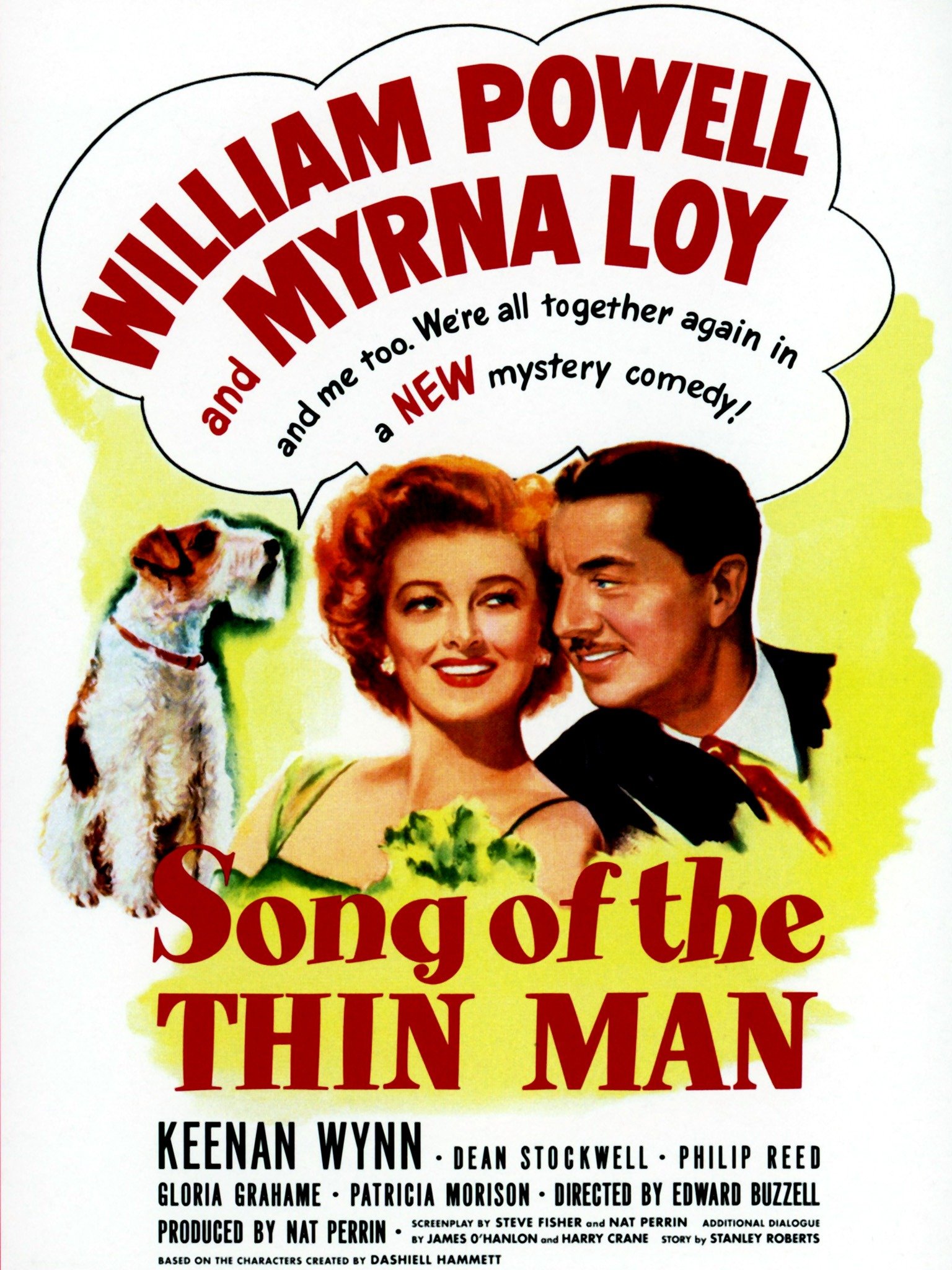 SONG OF THE THIN MAN
(director: Edward Buzzell; screenwriters: Steve Fisher/Nat Perrin/story by Stanley Roberts/additional dialogue by James O'Hanlon & Harry Crane/Dashiell Hammett's characters; cinematographer: Charles Rosher Sr.; editor: Gene Ruggiero; music: David Snell; cast: William Powell (Nick Charles), Myrna Loy (Nora Charles), Leon Ames (Mitchell 'Mitch' Talbin), Keenan Wynn (Clarence 'Clinker' Krause), Dean Stockwell (Nick 'Nicky' Charles Jr.), Philip Reed (Bandleader Tommy Edlon Drake), Patricia Morison (Phyllis Talbin), Gloria Grahame (Fran Page), William Bishop (Al Amboy), Marie Windsor (Mrs. Amboy), Jayne Meadows (Janet Thayar Brant), Ralph Morgan (David I. Thayar), Bess Flowers (Jessica Thayar), Don Taylor (Buddy Hollis), Bruce Cowling (Phil Brant), Warner Anderson (Dr. Monolaw at Valley Rest Home), Connie Gilchrist (Bertha, the Charles' Maid); Runtime: 86; MPAA Rating: NR; producer: Nat Perrin; MGM; 1947)
"The great chemistry between Powell and Loy is still there and their charm carries things a long way."
Reviewed by Dennis Schwartz
This sixth "Thin Man" is the last in the series and holds up to the high entertainment standards set in the other films despite William Powell's expanding waistline and Myrna Loy showing some aging signs (at least they left before they embarrassed themselves!).
Edward Buzzell does a nice job keeping things moving along at a fast pace with his snappy direction; the film is taken from a story by Stanley Roberts; a host of screenwriters handle the clever script.
World famous sophisticated private detectives Nick and Nora Charles (William Powell & Myrna Loy) get invited to a society charity benefit held on the S.S. Fortune by socialites Mr. and Mrs. Thayer. The event is run by Phil Brant, who the Thayers don't approve of because he's not a blue blood and is mixed up with some shady people. Their high-strung independent-minded daughter Janet is in love with Phil and threatens to marry him. The boat docked in the Manhattan harbor is a floating-casino and the wealthy guests are entertained by a jazz band under band leader Tommy Drake. The virtuoso performer is clarinetist Buddy Hollis, who hates Drake because he took away his sweetie pie singer girlfiend Fran Page. During one of their numbers, Drake and Hollis get into a fight onstage. Fran is put off by Drake and leaves him–while Hollis gets canned by Drake and Phil cans Drake. The band leader has an upcoming gig in Miami with club owner Mitch Talbin, but owes dangerous bookie Al Amboy $12,000. The bookie warns him to pay up tonight or else. When Drake asks Mitch for an advance, he's rejected. Later that evening Drake's murdered with an antique gun owned by Mr. Thayer and Phil, who borrowed the gun, becomes the number one suspect. When Phil goes to the Charles' hotel apartment with Janet for help, he tells them they eloped last night and he's innocent. While there someone takes a shot at him but misses, and Nick for his own protection turns Phil over to the police.
Nick is led on a tour of the hipster underground jazz scene by reedman Clinker Krause, using jazz hep cat slang to convey to the square couple what's up as they attend an after-hour jam session in a private pad (the couple is told the party starts at deuce bells). The sleuthing pays off and in the concluding scene the genius private detective invites all the suspects back onto the S.S. Fortune for a command performance by the recovering spaced-out Hollis, who Nick says will tell who killed both Drake and Fran Page.
The murder case wasn't as good as we come to expect in this quality series, but the great chemistry between Powell and Loy is still there and their charm carries things a long way.
REVIEWED ON 6/28/2005 GRADE: B